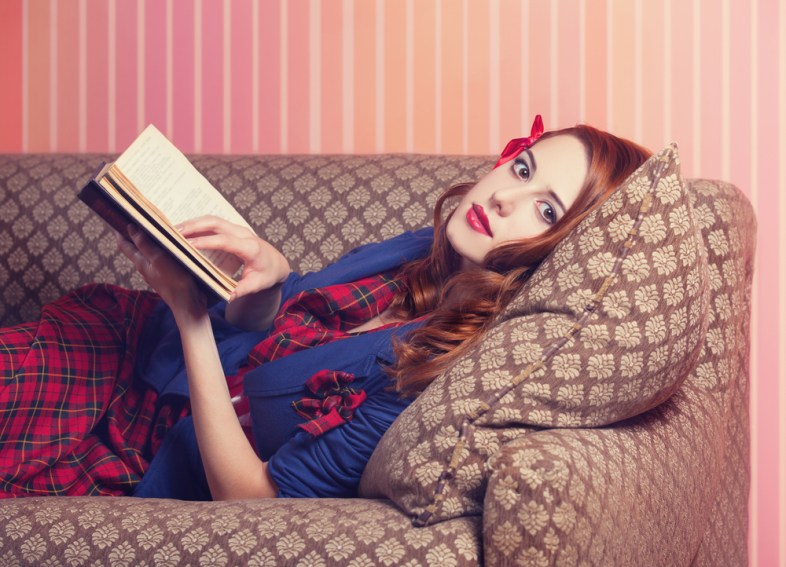 Winter is coming. And if you're like me, you would rather choke on a candy cane than cozy up underneath the mistletoe with anyone other than your Netflix account. Here are some tips to navigating the dangerously romantic holiday season.
1. Line up your favorite holiday movies on your Netflix cue ASAP.
If you're going to spend the winter alone to avoid shaving your legs and pretending to be jolly, you'd better be prepared. Having the best seasonal movies on your queue will help you avoid any seasonal parties ("Oh, sorry I can't go! I already made plans to watch Christmas Vacation tonight!") and also keep you feeling just festive enough to maybe call your parents on Christmas ("Merry Christmas Mom, sorry I couldn't make it home for the holidays, but watching Miracle on 34th Street made me miss you!"). The latter will probably get you a better present next year anyway.
2. Forgo holiday parties.
For one, nobody actually needs ugly sweaters. But also, these are prime hook-up spots for the lonely hearts of the world, so you would do your best to bow out and return to your Netflix Holiday movie marathon (see Tip 1). Seriously, Netflix is the only boyfriend you could ever need.
3. If you are forced into a holiday party, stay near the food.
The holiday season is the best time of year to pack on pounds. Winter layers? Sweater filler? Method acting for the role of Santa Claus? You've got it covered. Also, should anyone try to woo you out of your self-preserved ice castle, nothing is a better deterrent than grabbing a handful of that gingerbread house and shoving it in your face. #callme
4. Avoid all communication with former or current flings.
Nothing makes you more nostalgic for a makeout session than an eggnog binge-fest. Put your phone in a box, wrap said box in festive wrapping paper, put a bow on it, and add a warm thank you note, and don't open it until after New Year's. You will thank yourself when you read all those drunk texts being like "Hey, babe….I've got a present 4 u if u cum over." ABSOLUTELY NOT.
5. Whatever you do, don't tell your family you are still single.
Just don't. Michael who used to throw pudding cups at you in the second grade is not at your family's Hanukkah party because your aunt "happened" to run into him at the grocery store. This is a trap. The main goal is to have you in a stable, (read: not single) situation before the next holiday season rolls around, with a real chance at grandbabies before they get too many wrinkles. Because that would ruin the family holiday card.
6. Should Tip 5 be discovered, bribe your closest family members to secrecy.
You didn't buy them really expensive gifts out of the kindness of your heart – this is strategic. If your brother finds out (he will) you are doomed unless you can blackmail him into spreading your totally plausible "I'm-in-a-relationship-with-an-Italian-supermodel-so-he-can't-be-here-because-he's-hot-and-working-in-Bali-and-stuff" story to the whole extended family. Just be sure to remember you told him to do this when Uncle Bruce asks about your Marco.
7. Buy yourself a nice gift, and enjoy the holiday season – you've earned it!
People don't realize how hard it is to remain comfortably single for as long as you have. Celebrate! Buy those shoes you've wanted, then wear them around your apartment naked because no one is around to see it….for you, that's the most wonderful gift of all.