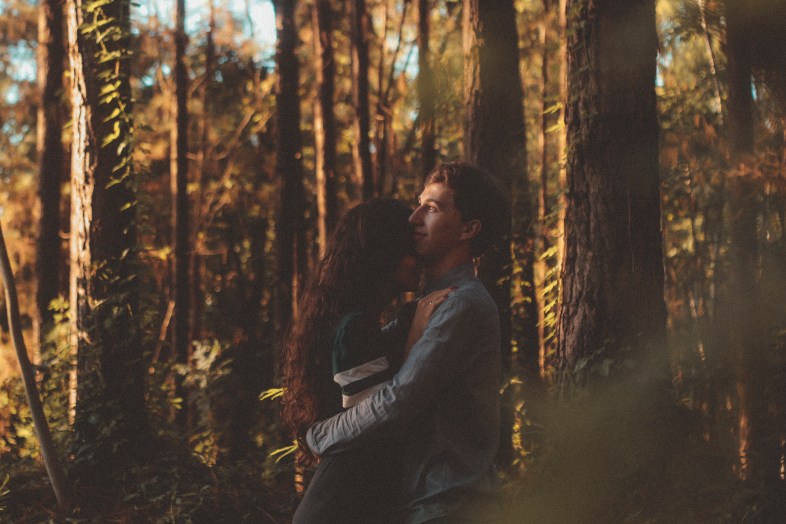 The Pumpkin Spice Latte is back at Starbucks, and that can only mean one thing: the season of sweater weather is upon us. Fall means football games, oversized sweaters paired with leggings and scarves, snuggling into your down comforter with a cup of tea and a new Netflix series. It sounds picturesque, doesn't it? And here's the thing I've always noticed when fall finally swings back around: it's a season perfectly situated for couples.
If you've ever seen Grease, you know that summer lovin' doesn't always last (even though you had a blast and it happened so fast). Summer romances are kind of difficult to maneuver once falls rolls around, because maybe you're moving, or starting school or a new job. But nonetheless, like the leaves, your life changes. The fall, on the other hand, is the perfect time of year to start a budding romance. Maybe you disagree, but here are three reasons why fall is the best season to be in love:
1. Did I mention sweater weather?
Not only is fall the comfiest time of year, the perfect combo of chilly mornings and cool days, but it's the time of year when we're layering. The thing about layering is that you're covering up. Like Nick Miller points out in Fox's New Girl, "Girls are wearing scarves and boots. They have so many layers to them. What is underneath all those layers? I wanna find out!"
From what I've gathering over the years, the greatest power a girl can yield is her ability to be mysterious, to keep him guessing (in the beginning at least). Fall permits us the perfect opportunity to get a guy's attention focused on our personalities instead of how good we look in that little sundress (which wasn't worn for his sake, but because it's too hot for regular clothes and not socially acceptable to walk around naked). Arguably, women are more in control of the physical aspects of the relationship in the fall, because we get to decide whether or not to satisfy his curiosity.
2. Orange you glad it's fall?
The ambiance created by fall is unrivaled by any other season. All the oranges and reds make any date romantic. Literally, I'll walk behind a couple on the way to the coffee shop, and they'll just be holding hands, but to me—an outsider—they look like they're in a movie.
(Not to be that person, but fall is hella Instagrammable.)
3. The cute, low-stakes, get-to-know-you dates
Possible fall dates include:
• Coffee/walk through nature (Enter romantic movie montage of you throwing leaves at each other in your fabulous Burberry raincoat and Hunter boots)
• Apple orchard picking (I mean, it doesn't even need an explanation)
• Bonfires (There's something amazing about the crunch of leaves underfoot, the faint glow from the stars, and the smoky smell drifting from a romantic flame—plus what a great way to meet his friends in a casual environment!)
• Tailgate at a local college game (Show him you're interested in the things he's interested in)
• Visit a haunted house or see a scary movie (Clinging to him in flirty fear is a great/non-threatening way to start sorting out your physical boundaries)
• Baking dates (Flirt batter wars, anyone? There's nothing quite like getting to know someone while trying to follow a recipe)
• Tour a local brewery and taste their newest fall-flavored concoctions (Sometimes, a little buzz helps you loosen up—what do you have to worry about? It's fall, after all!)
So now I know you're like, I need to find me a man, because fall is basically here! If you don't have a particular buffalo plaid-clad cutie in mind, don't even worry about it! Fall is for girl friends and family outings, too.
All I'm saying is, fall is a season designed for people in relationships.
It's right before the holiday season, so it's a good way to get to know someone before you start dragging him along to all your holiday festivities, or (gasp) letting him meet your parents. I encourage you to take advantage of all the romantic opportunities fall offers new (and not-so-new) relationships. Grab your designated pumpkin-carving partner and do something! It won't be long before Netflix and chilling is all you can do because, let's not forget, winter is coming.