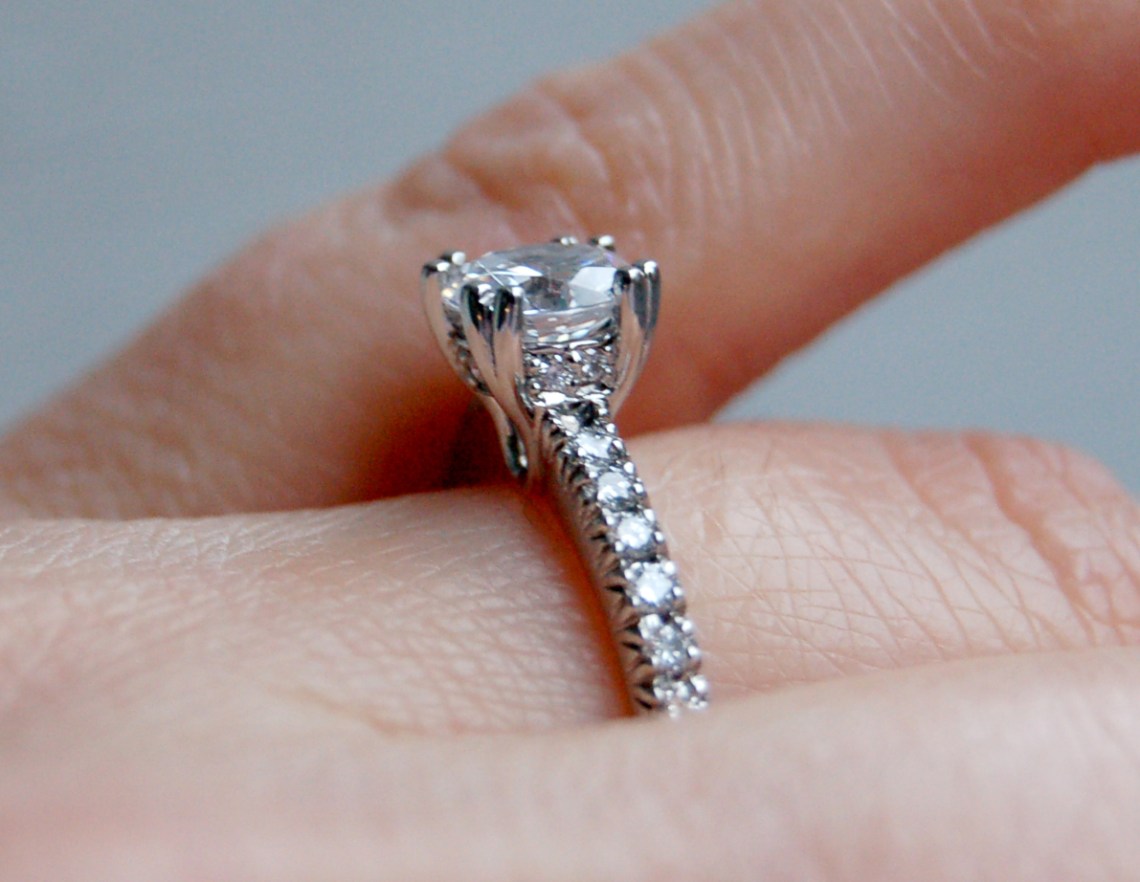 Engagement rings: a fantasy for girls, a nightmare for guys. But you don't always have to spend your life savings on a ring. Especially if you know what to look for. Too often, there are girls who base their satisfaction with their proposals on how much the ring cost or how big the stone is. If you're dating a girl like that, chances are she is very invested in her wedding fantasy and wants everything the way she imagines it. Which is perfectly fine. You still don't need to sell your soul for it.
When you are looking for a ring, try places like Etsy where you can find conflict-free rings. If you're asking yourself what the heck I mean by conflict free, don't fear. Conflict free just means they aren't mined diamonds, so no one was risking their lives trying to get you something the size of a pea. If you're thrown off by the idea of a "fake" diamond, cool your jets bud. If you do your shopping right and pay attention to reviews of the products, no one can even tell the difference. I personally have a conflict free ring and everyone who has ever seen it thinks it is real. And it's honestly more beautiful and has more shine than any real diamond I have ever seen. This isn't to say real diamonds are bad. If you can afford one and that's the way you want to go, do it! But if that's a little too pricey for you but you want to give (or get) the same if not a better wear and shine from your ring, try looking at conflict free.
Now that you've cut out the $1,000+ cost of a stone (the cheapest being miniscule), you can spend the bulk of your money on the band. Which is really the important part, since it sees the most oils and wear from the skin. When looking at a band for your ring, it would be smarter to go with 14K gold. At least. Color wise, it's up to preference. Some prefer yellow gold, some white. Personally, I'm in love with rose gold. If you're scared of paying for solid gold, you're not alone. But I guarantee you can find quality solid gold rings with a 2 carat stone that shines like no tomorrow for just under $400. And they last. Trust me. You just have to do your research. I won't plaster the name of the shop I love all over this piece, but I do have one in particular I know is FANTASTIC for these rings. (If you need a suggestion, I'll share it with you.)
Engagement rings don't have to be scary. You now know there are cheaper (yet just as gorgeous) alternatives to dropping a couple thousand on a ring. You now know the color options for the best lasting band and that you can get a HUGE stone and still be paying half the cost of getting a real diamond that you need a magnifying glass to see. The only thing I haven't addressed is cuts. I can't speak for what is the best or what is the most liked, but I can tell you to go spy through your girlfriend's Pinterest. Or straight up ask her. If you don't or can't do either of those things, a classic solitaire is always beautiful. Oval, pear, and tear shaped often are striking but can sometimes be a little too unique for some people. Never underestimate the classic elegance of a solitaire.
With all that being said, hopefully you are a little less terrified or intimidated by engagement rings. If you're ready to propose, you're under a lot of stress. There's always the hope that you can find the perfect ring and not have to spend all the money you could be using for a house payment or the actual wedding. Because there's no helping you with that one, Romeo.