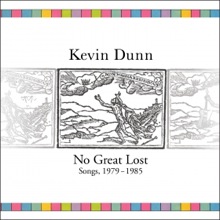 The colleciton cherrypicks from Dunn's later releases, but wisely includes the entirety of his major claim to left-field greatness…
I've never quite understood how the term "art-damaged" became a rock-critical commonplace, but if I had to explain it, I might play my interlocutor Kevin Dunn's "Nadine." The 1979 seven-inch makes creased, crushed junk-sculpture out of a 1963 Chuck Berry song, with Dunn's treated guitar and Tom Grey's synths holding a blowtorch to the familiar boogie-barrelhouse interplay of Berry and his pianist Jimmie Johnson. On top, unsynchronized vocals split the song's cherchez la femme narrative (one voice even calls out for "Maureen" instead of "Nadine" on occasion), coming together at strategic moments to emphasize Berry's sharpest lines: "I was campaign shouting like a Southern diplomat."
"Nadine" isn't the earliest cut on No Great Lost(Casa Nueva), a new reissue of Dunn's seventies and eighties solo output. It's predated by "Cars and Explosions," one side of an earlier single by The Fans, the Atlanta, Georgia outfit Dunn co-founded in the mid-seventies, with Roxy Music and Sparks as touchstones. History has not been kind to The Fans, now remembered mainly for the speed at which they were eclipsed by the crisply danceable strains of the B-52s, and the campy, college-town culture imported from nearby Athens. In Party Out of Bounds, Rodger Lyle Brown's book on the Athens scene, The Fans consistently blow their best chances while behaving as though the world owed them a record deal. Others would tell this tale differently than Brown, no doubt, but one interviewee's comment is telling: "Someone needed to tell them that the pop world does not work on a seniority basis."
Dunn, to his credit, made his peace with the competition early, co-engineering the original, independently released version of "Rock Lobster," as well an early single and album by Pylon, Athens's other great dance-rock band. His own recordings imitated neither the fun-and-funk of those groups nor the self-styled "maximally avant garde" assault of The Fans, but staked out a cluttered corner of their own, combining exploded pop-song forms, dense, multilingual lyrics, and stiff New Wave rhythms. Some of the sonic choices are dated, as are Dunn's vocals, which are clipped and unlovely in the Eno/Verlaine mode. But the variety of guitar textures, and Dunn's concise, well-constructed solos, give notice that he's working within a wider rock-historical frame than many passingly similar artists of the period.
Michael Lachowski
No Great Lost cherrypicks from Dunn's later releases, but wisely includes the entirety of his major claim (along with "Nadine") to left-field greatness, the 1981 LP The Judgment of Paris. Although credited to "Kevin Dunn and His Regiment of Women," the album is, and sounds like, almost entirely one-man affair, relying heavily on drum programs and overdubs. The nine originals range over relatively straight powerpop ("911"), downbeat, spaciously arranged numbers too spiky to count as ballads ("Saturn," "AG"), and piano-driven tracks that evoke David Bowie's cabaret (or Cabaret) side – especially "Giovinezza," with its toe-tapping hook, "Mommy, I don't want to be a fascist." A line from "Creep" nails the persona Dunn projects through most of these songs: "Another prolix prole who got in way too deep." The "prole" part isn't just there for assonance – several songs share a socio-economic thrust, with Dunn siding with the beleagured masses through a scrim of irony. The stately "Private Sector," as surely a product of Reagan-era anomie as any hardcore screed, remains all too timely:
You'd better not do what you want to do
It's bad for the state, but it's worse for you;
It's probably bad for the GNP
I know for a fact that it's bad for me.