The following article contains spoilers from The Bachelorette.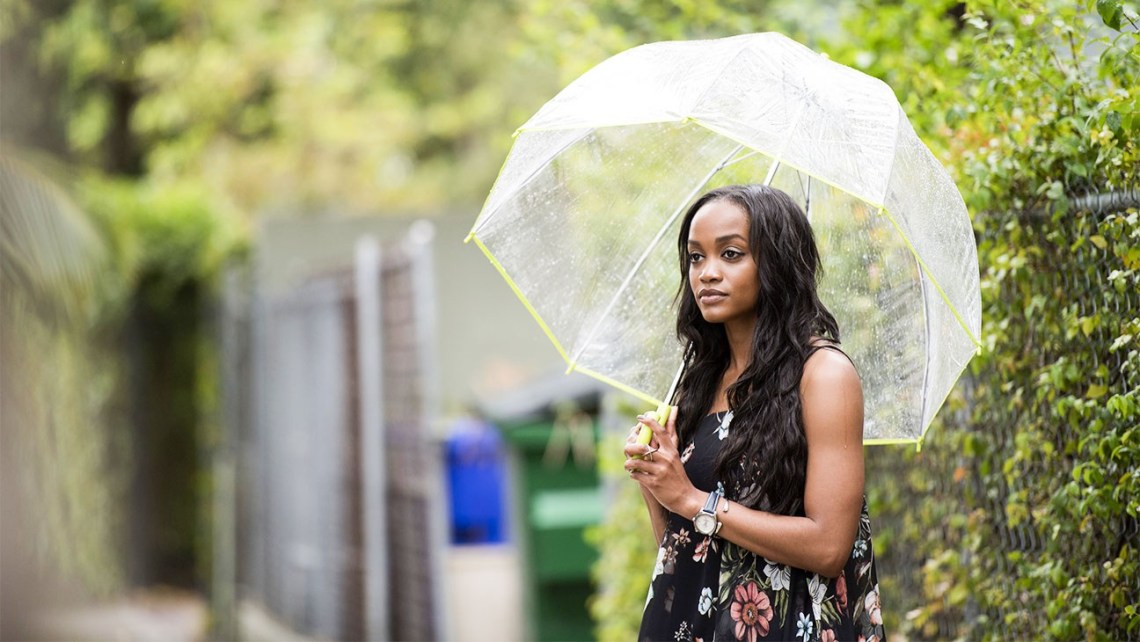 So, last night was hometown date week on The Bachelorette. The remaining four contestants – Eric, Bryan, Peter & Dean – brought Rachel home to meet their families and experience their hometowns.
The dates were mostly nice, unremarkable and par for the course except when it was Dean's turn. Dean has told Rachel (and all of Bachelor Nation, by now) that he is estranged from his father and hasn't spoken to him for two years. So, of course, ABC was down for the drama from a weird family reunion.
It was really uncomfortable to watch Dean's anxiety leading up to the date. At one point he stopped short in front of his dad's house and said "I'm not scared, I'm terrified". The date was kind of awful as Dean confronted his father over family issues and his father stormed out of the house. Rachel tried to bridge the gap between Dean and his dad but of course, there was too much bad blood between them and even the Bachelorette couldn't solve that. Sigh.
At the end of the date, Dean told Rachel he was falling in love with him and she said SHE WAS FALLING IN LOVE WITH HIM, TOO. Which was weird because Bryan also told Rachel he loved her during his hometown date and Rachel didn't say anything back. Eric also, sort of, told Rachel he loved her and she didn't respond in kind to him either. So it was a good sign when she said it back to Dean, right?
WRONG. DEAN WAS LET GO. AND TWITTER (AND I) CANNOT HANDLE IT.
You force Dean to drudge up his past on national TV and then you kick him off??? #TheBachelorette pic.twitter.com/pTzxpSJlf7

— The Bachelor Roasts (@bachelor_roasts) July 18, 2017
Of all the 15 yrs of the Bachelor, I have never been as livid and emotional from an elimination as I am with @dean_unglert #TheBachelorette

— Michelle Medeiros (@MichelleMed27) July 18, 2017
SHE SENT DEAN HOME??? AFTER THAT?!?!?!? pic.twitter.com/t3QlqG9CXv

— Arie (@TheFakeBachelor) July 18, 2017
People were pissed at ABC for broadcasting the painful family reunion.
this isn't Rachel meeting Dean's family. this is abc taking advantage of Dean's toxic family situation #TheBachelorette

— The Bachelor Diaries (@thebachdiaries) July 18, 2017
#TheBachelorette Dean better be the next Bachelor! Shame on you ABC for having Dean exploit his family issues all over National Television!

— Leah Ski (@LeeJaySki) July 18, 2017
Others took heart from the possibility of Dean being the next Bachelor. (PLEASE, ABC, PLEASE, PLEASE, PLEASE 🙏🏼.)
If Dean is not the next Bachelor, I'm done with the franchise. Well, maybe not done, but really mad at it #TheBachelorette

— Pjgiano (@Pjgiano) July 18, 2017
me realizing rachel's gonna pick bryan in the end but then realizing that means peter or dean will be the next bachelor #TheBachelorette pic.twitter.com/ps3R4zuYB8

— mandles_b (@MandyBullock4) July 18, 2017
https://twitter.com/virginia__hobbs/status/887174624378630144
Ugh. We're still not okay but if Twitter is any indication, Dean isn't going to have any trouble finding a new girlfriend.