Sean Hannity, Fox News host, won't give up on a conspiracy theory about the murder of Seth Rich. Rich was a Democratic National Committee staff member who was killed last summer in what police say may have been a botched robbery.
Hannity won't accept that. He is peddling the conspiracy theory that Rich was the source of hacked DNC emails published on WikiLeaks. To be clear, there is absolutely no evidence for this theory.
After backlash, Fox News retracted an article that outlined the theory – which, without evidence, started that Rich had leaked emails and attachments to WikiLeaks. Fox released a statement on its website saying the article "was not initially subjected to the high degree of editorial scrutiny we require for all our reporting".
Seth Rich's family published an Op-Ed in The Washington Post with the headline "We're Seth Rich's parents. Stop politicizing our son's murder.".
"Imagine having to face every single day knowing that your son was murdered. Imagine you have no answers — that no one has been brought to justice and there are few clues leading to the killer or killers," read the Op-Ed. "Every day we wake up to new headlines, new lies, new factual errors, new people approaching us to take advantage of us and Seth's legacy. It just won't stop. The amount of pain and anguish this has caused us is unbearable. With every conspiratorial flare-up, we are forced to relive Seth's murder and a small piece of us dies as more of Seth's memory is torn away from us."
And yet. Even as police and investigators say there is no evidence connecting Seth Rich's murder with WikiLeaks, Sean Hannity won't give up this conspiracy theory. Even as Seth Rich's family details their pain at the propagation of lies surrounding his murder, Sean Hannity won't give up this conspiracy theory. Instead, he promises, he's "closer to the TRUTH than ever".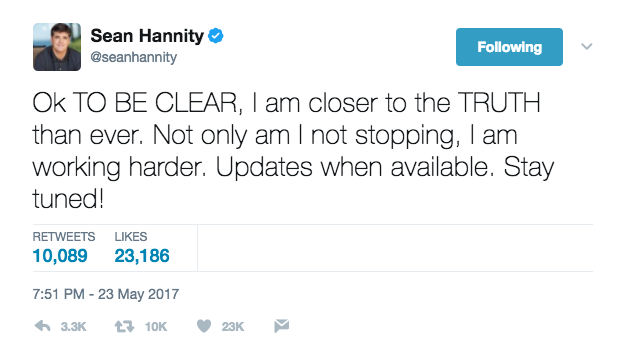 Meanwhile, liberal media group Media Matters For America published a list of companies that advertise during Hannity's show, appearing to call for a boycott of those companies. Media Matters spearheaded the effort that lead to advertisers dropping out of Bill O'Reilly's show before he was ousted from Fox News.
In a tweet this morning, Hannity called the effort "liberal fascism" and accused Media Matters of "trying to silence" his voice. Later, Hannity tweeted that he isn't "giving up" at all. "I'm working harder than ever to get to the truth the family wants and deserves. Stay tuned."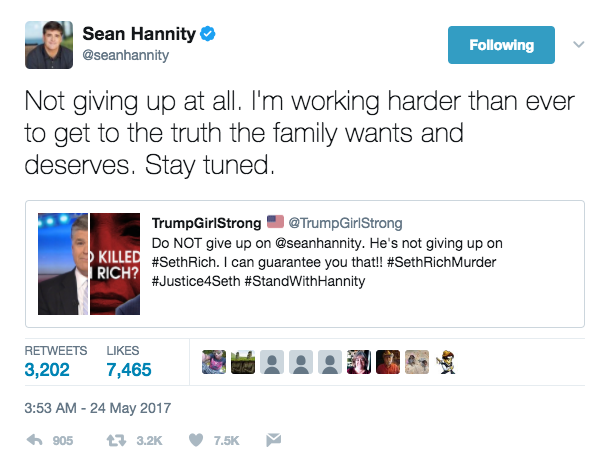 No one wants justice for Seth Rich more than his own family and they are telling the world exactly what to do next: "We ask those purveying falsehoods to give us peace, and to give law enforcement the time and space to do the investigation they need to solve our son's murder.". Let's hope Sean Hannity follows their wishes soon.