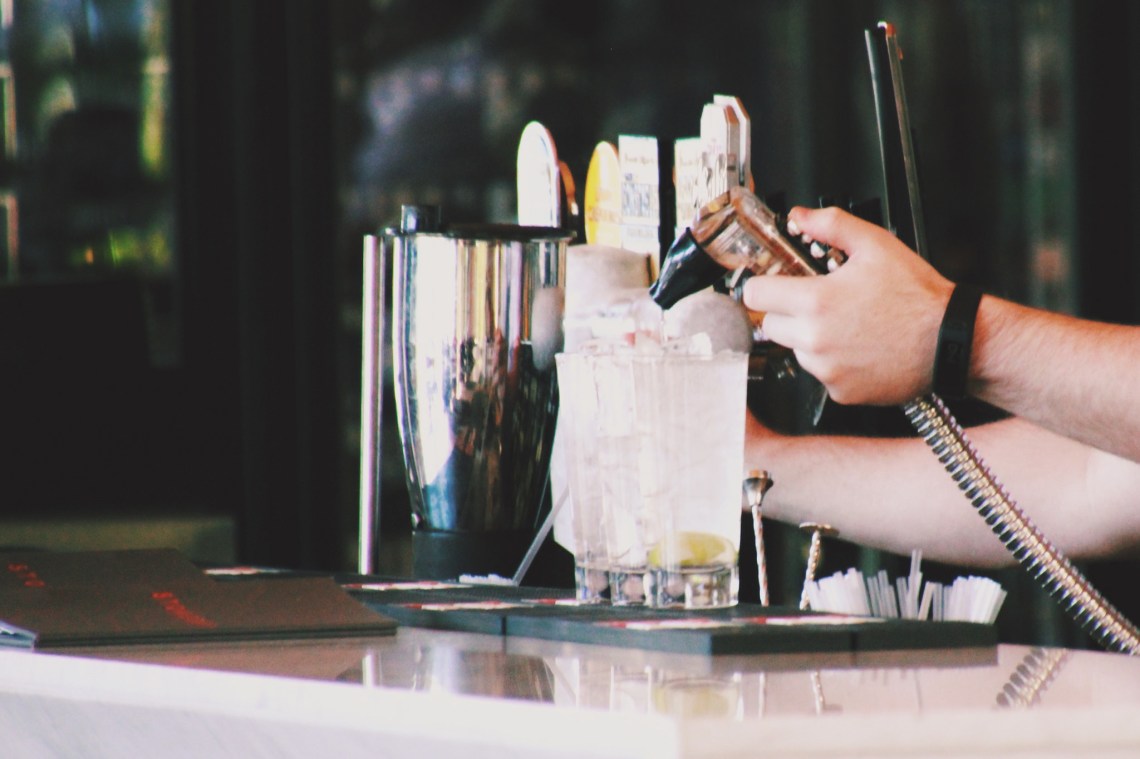 1. Pubs
If you've ever been on a "pub crawl," then you know firsthand just how fun pubs can be. They normally don't have any strict dress code policies enforced and drinks are pretty well priced. From my own personal drinking experience I've noticed that there are three specialty pubs that exist in the United States: college bars, Irish pubs, and taverns. College bars have a minimum age requirement of 18 to enter and 21 to drink and are located on or near very large college campuses. Irish pubs, on the other hand, are steeped in tradition and focus more on serving quality-crafted beers than mixed drinks. I would say the main difference between Irish pubs and taverns today (because they are very similar in their operations) are that taverns more often than not serve food along with their alcoholic beverages. Taverns actually at one point in their history provided lodging for their drunken patrons. I think that tradition started to die out with the growth of tourism and the hotel industry, but I'm just a bartender, so who knows? One thing I do know though is you are sure to find a fair share of foreigners visiting taverns than any of the other pubs. For some reason taverns remind people not from the states of their home country. Go figure.
---
2. Sports Bars
There is no better place to grab a brew or catch the game than a sports bar. These venues are super male-friendly, cater to both the younger and older crowds, and there seems to be a never-ending supply of chicken wings and flat-screen TVs tuned into ESPN. In sports bars the ratio of female to male bartenders borders on the line of 3 to 1. This is because the clientele is typically men in their early 30s to mid 50s who want to enjoy their beer cheese with a whole lot of twenty-something-year-old cuties running around. Good luck picking up a male bartender in a joint like this. The most you can hope for is a manager, who's a dude, doubling as a bartender during a busy shift or catching a glimpse of an exhausted busboy making his hourly rounds. Sports bars are high-energy places with plenty of opportunity to find true romance. My advice for male customers over thirty would be to become a regular at the sports bar of their choice because it would give them a slight edge in approaching the female bartenders working there, simply for the fact that the women working in sports bars tend to date older gentlemen anyways.
---
3. Restaurants/Cafés
Restaurants and cafés are the only establishments that I know of that do not have specific age requirements. So that means you could have some serious flirting going on between you and the bartender and it all can be ruined by a toddler crying at a nearby table. The fact is that families with children are the biggest clientele to restaurants. Bartenders who work in these environments usually don't mind being early birds and grinding out the breakfast or morning lunch shift. A lot of part-time actors or artists tend to migrate to these work environments due to the sheer high volume of customers and the freedom to drop shifts at a whim, because everyone is always looking to pick up an extra shift or two. Restaurants and cafés are great places to meet bartenders who are not yet jaded by the industry. There's still a veil of naiveté surrounding them that doesn't exist with the next three work environments (dives, lounges, and nightclubs). The ratio of male to female bartenders is pretty well balanced in restaurants and cafés and the conversations taking place are on the light and warmhearted side.
---
4. Dive Bars
Cheap hole in the wall… that's the image that comes to mind when you hear the words dive bar, is it not? Neighborhood dive bars are the crème de la crème of what bar culture is all about. They have dim lighting, neon signs, jukeboxes in dark corners, and grimy floors. And who can forget the constant 80s music banging out of used speakers? Believe it or not dive bars are chock-full of full-time and going nowhere bartenders, if that's your preference. The environment is very laid-back (almost too laid-back, I would argue), so picking up a bartender in a dive bar is pretty much like being a kid in a candy store. All you have to do is become a regular. That's it. Dive bars have the "where everybody knows your name" kind of feel to them. If you play your cards right and become friends with the bar staff, it's not at all unusual to eventually ask your bartender out on a date. Dive bars will forever be associated with sassy bartenders and excellent drink specials. If that's your cup of tea, then pull up a barstool and get ready to hear some war stories.
---
5. Lounges/Cocktail Bars
Lounges and cocktail bars are all about the customer's personal experience. These work environments thrive on having amazing decor and the best spirits the cocktail industry has to offer. I've never heard of a lounge that was a hole in the wall, because bar owners who open these venues pay very close attention to the clientele they are trying to market to. So the ambiance must be just right. In a world where anyone can sign a lease, apply for a liquor license, and open their doors, to stand out the work environment of a cocktail bar must have "great music, good vibes, delicious cocktails, and overall friendly service" (Neff, 2011). In terms of dating, the only bartenders in my experience working in either an upscale lounge or a cocktail bar are the Career Craft Bartender and Mixologist. With that being said, bringing your "A" game is a must when approaching these types of bartenders. I've never worked in a lounge or a cocktail bar, but my male and female friends who have tell me of constant stories of being hit on by bankers, supermodels, rich executives, and even the odd celebrity or two. So what will make you any different? Hopefully reading this book and applying the tips I offer will! Lounges and cocktail bars are a great escape from the everyday hustle and bustle of a local bar. The dress code teeters much more business than casual and the atmosphere is more professional, but the service will always be impeccable and the flirting no more than legendary.
---
6. Nightclubs
Upselling is the name of the game in nightclubs. They are 100% about profit and making the house as much money that can be made on a nightly basis. My one piece of advice for trying to approach bartenders working in this environment is simple…don't. Steer clear of bartenders who work in nightclubs, and I say this as a bartender who started his career working at one. Nightclub Bartenders (a cross between The Part-Time Actor or Artist and The Full-Time and Going Nowhere) only care about one of three things: money, sex, or drugs. And even if this was not their initial intention, sooner or later they will fall into one of the three activities (money was my vice). Bartending in a nightclub is an incestuous process, because drinking on the job is highly encouraged and pushing bottle service is more important than the singular drink or customer service. That's why nightclubs have such bad reputations of bartenders being extremely rude or guests complaining about weak drinks. The environment is built on the idea that every patron is a potential business transaction. So the faster one drink or bottle can be sold, the more time there is to handle another transaction. Out the gate that leaves you at a disadvantage if you think you can impress the hottie behind a nightclub bar if you're not going to spend major money. Also it's impossible to carry on a coherent conversation in a nightclub when the latest EDM Top 40 track is blaring in the expensive sound system.
But worst of all, the biggest downside of bartenders working in nightclubs is the unspoken truth that coworkers are guaranteed to sleep with each other. It is bound to happen. A big part of this is due to the long hours. Most nightclubs don't let out until roughly 3am and after cleaning up and counting tips; bartenders won't end up getting home until maybe after 5am. So think about it. You have attractive individuals working in close quarters with each other. Night after night with music thumping in their ears and liquor swimming in their guts, what do you think these adults are going to do? There is no boyfriend or girlfriend at home powerful enough to stop the inevitable from taking place. I'm not saying all nightclub bartenders will end up cheating on their significant others, but I am saying that the possibility of it happening is unbelievably high. Your best bet is to meet a nightclub bartender in the daytime or in a different setting. Have fun in nightclubs without any serious expectation that you'll be going home with the bartender. I've seen it happen before, but only when the bartender is the one making the moves. Some hot stoves are better left untouched.