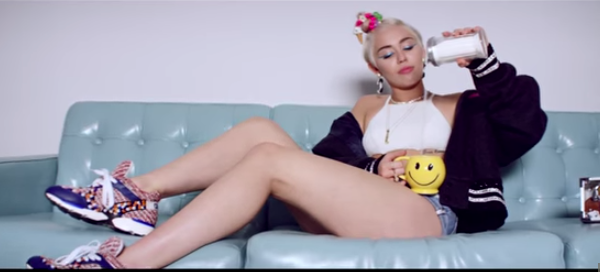 Maybe it's Monday morning, your boss is an incompetent jerk, or someone just stomped all over your heart but I promise these songs will have you feeling on top of the world – or at least as good as Kanye does on a Sunday afternoon. 

1. "IDFWY" – Big Sean




Starting this list off first because sometimes, we have to let someone know, we most definitely do not fuck with them. 

2. "Get On Top" – Red Hot Chili Peppers


If John Frusciante's guitar doesn't get you on top, I don't know what will. 


3. "T.G.I.F" – Kid Cudi ft. Chip Tha Ripper
Lets all thank Kid Cudi for making us feel unbelievably fresh with this song playing as our background. 


4. "The Motto" – Drake ft. Lil Wayne




Made to make us feel like we're 25 sitting on 25 mill, we can pretend right?


5. "Everything I Am" – Kanye West ft. DJ Premier 


Don't be fooled by the tempo and piano melodies, this song will have you so proud to be you, and what could be better than that?


6. "Come Get It Bae" – Pharrell


Not only do all of Pharrell's song give me the energy of life, they make everyone want to move, even your grandma. 


7. "Walking on a Dream" – Empire of the Sun


You're lying to yourself if you're not down this song. Anyone will be on top of the world, just watch Joseph Gordon-Levitt in 500 Days of Summer. 


8. "m.A.A.d city" – Kendrick Lamar


Three words – yak, yak, yak. 


9. "Phresh Out The Runway" – Rihanna
If this song is used to carry Victoria Secret models down the runway trust it can be used to help get ready for your date or at least walk out of the office with your head held high. 



10. "H.A.M." – Jay-Z and Kanye West


The entirety of Watch The Throne will get you there, but listen to this track and evolve into your inner kings and queens. 


11. "Bad Girls" – M.I.A.


Because M.I.A. in infinitely badass, as is this song – I mean c'mon, those white cars? 


12. "Dream II" – BJ the Chicago Kid


Everything BJ the Chicago Kid touches turns to gold and this track is no exception. Perfect for your Wednesday slump, Will Smith will help motivate the shit out of you with his interview excerpts.


13. "Midnight City" – M83




This song will always be played during all scenes epic, ask Ben Epstein at the end of episode 13 in How to Make it in America.


14. "We Major" – Kanye ft. Nas, Really Doe
Because one of the great things about rap is talking shit, so really, can I talk my shit again?



15. "Ima Boss" – Meek Mills ft. Rick Ross




This song will suit you for all occasions, most useful when riding down your block or strolling with greek life.



16. "*** Flawless" – Beyonce ft. Chimamande Ngozi Adichie


Whether you woke like this or not, with the help of Chimamande Ngozi Adichie, you will feel like a flawless warrior after first listen. 


17. "Can't Hold Us" – Macklemore ft. Ray Dalton
Play this gem as the perfect finish to your first 5k or before you step out in the morning to conquer the world/rush hour commute.




For easy listening, check out the playlist on Spotify here!