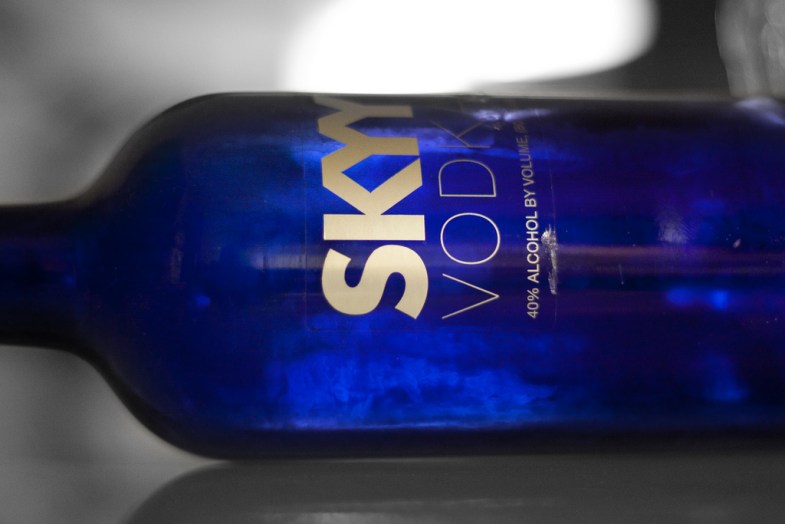 Dear Skyy,
Thanks for taking care of my mother, and by taking care, I mean doing her in. Really, someone has to do it. I don't have the balls and my sister doesn't have the heart. Your vodka gives the woman everything she's ever wanted or needed: a ripping, utilitarian buzz allowing her to function at work. She makes $15 an hour selling wallpaper at a paint store. A typical liter of Skyy cost $23.95. That's just two hours of slinging rolls (after taxes and health insurance). My mother drinks four liters a week, which adds up to 25% of her take-home check, a small price to pay for a ruined sixty-three year old hell-bent on drinking herself to death. Your affordable vodka, in its artsy cobalt blue bottle, allows her to self-destruct with dignity.
In the world of arts and letters, booze-induced cirrhosis is the noblest form of suicide. Unfortunately, my mother is no artist. Nor is she a writer. She can tell a pretty good story after a few Skyys, but five too many renders her slurry, sputtery, and repetitive. My mother only has two creative outlets. The first is repurposing empty Skyy bottles into vases. She'll break your heart with a single yellow carnation. She'll absolutely crush your soul with a bouquet of dandelions. There's something about rich and sunny yellows contrasting with cobalt—subject matter worthy of Monet, an artist who deployed cobalt with bold yet tender impressions. My mother owns a Monet print, Venice Palazza Da Mula. It struck her eye at a yard sale, or rather the cobalt canal water reminded her of a Skyy bottle. My mother bought it for $2.50. That's like ten minutes of slinging wallpaper. She hung it between two windows that overlook the ocean. My mother lives beachside, the second floor studio of a dilapidated building in a gruff fishing village. It's a far cry from Venice, and her building is an even further, much harder cry from the villa depicted by Monet, but the print there on her wall is a similitude nonetheless.
My mother's other creative outlet is beachcombing for sea glass. Can you guess her favorite color? Yup! Blue! But not because it's the rarest color sea glass. She collects blue sea glass because it reminds her of a Skyy bottle. Would you absolutely die if I told you that my mom keeps a collection of tiny blue sea glass inside a cobalt Skyy bottle? Filling that bottle has become her raison d'être. It's taken her fifteen years to get it half full, or half empty depending on your outlook. My mother certainly sees it as half empty. She won't die until that bottle is full. Her liver is shot. Her vitals sky-high. She's hanging on, and it ain't pretty. She used to look like Jackie O, but now she looks like Boris Yeltsin. Fucking Russians.
It's not just the physical deterioration that makes my mother unbearable. It's also her temperament. She gets violent. Right about the time her storytelling abilities go south, my mother's fists head north. Over the years, she's coldcocked me, my sister, her four siblings, nieces, nephews, her ex-husband, and dozens of boyfriends. She ain't slowing down either. Last Christmas, she dry-gulched her sister-in-law with a forearm to the throat. My uncle's wife hadn't thanked her enough for making the lasagna. She's dangerous to be around. We've tried everything. Tough love. Group hugs. Interventions. We love the woman, but wish she'd just die already. It's what she wants. She's right there at the gate. Her organs are ready to blow, but her will still has some fight. It's the half-empty, blue sea glass masterpiece. It gives her too much purpose.
For years, I wimpily stood by while you heroically fulfilled my mother's death wish. It's insane to expect that much valor from anyone, like asking a soldier to perform multiple tours of duty. My conscience can no longer allow it. You are officially relieved. I've decided to man up and be the son she needs. There's a long jetty by her beach. For the past few months, I've been hiking out to the tip of the jetty with cases of Skyy bottles and smashing them upon the rocks. I'm not sure how long it takes for Atlantic swells to polish thick shards of glass. Hopefully, sooner rather than later, the sands of her beach will be glistening with burnished cobalt. I will continue smashing bottles until my mother's masterpiece is corked, and we are all spared the suffering of her art. You'll be short five thousand bucks a year, a high price to pay for being damn good at your job. I would love to counterbalance that deficit, but unfortunately I'm a Ketel One man.
Sincerely,
Eugenio Volpe