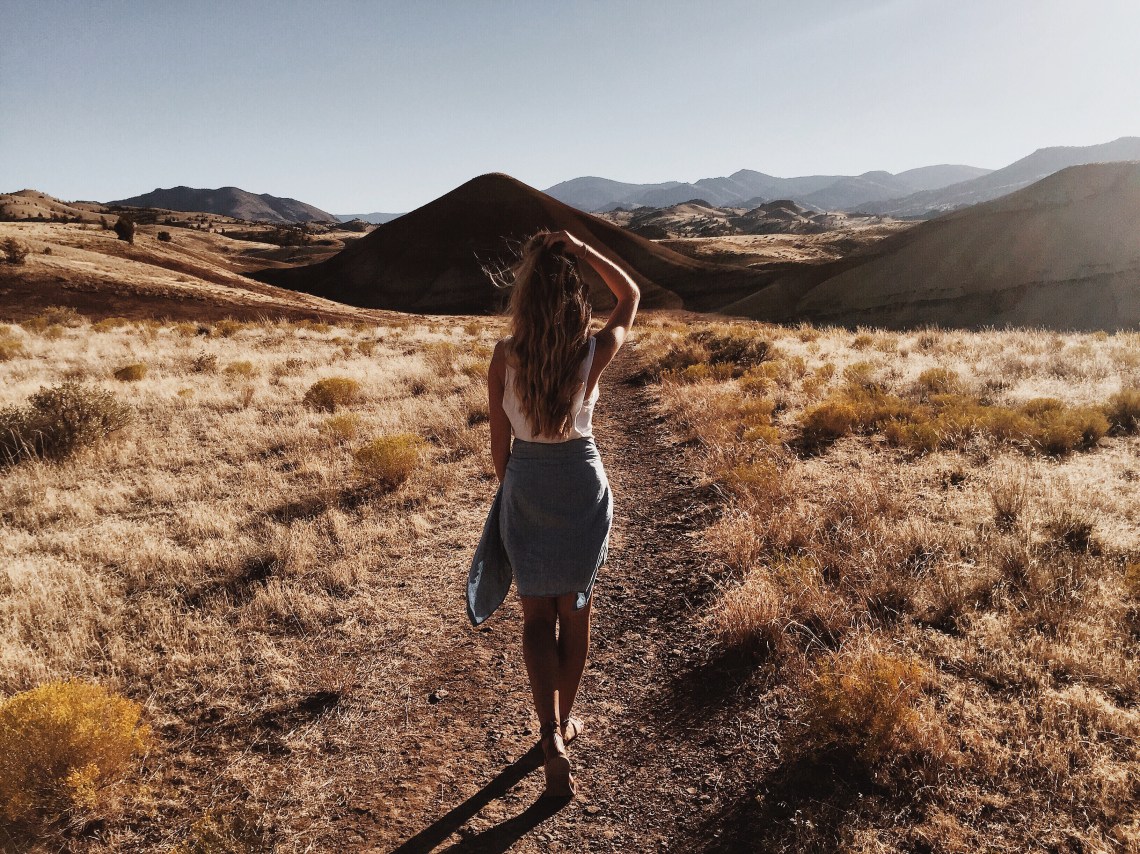 Travel: it's magical, life-changing, soul shifting, beautiful, fun, and freeing. At least that's what it's supposed to be, right? That's how it looks from the outside. All highlight reel and no struggle. All mountaintops and no sweaty climb. All peaceful sailing trips and no violent puking off the side of the boat.
There are countless lists on why we should "just go", and it totally makes sense for these things to be inspirational and aspirational. Travel is all of those things. But nobody tells you about the doubt, anxiety, or depression– and loudest of all, guilt– that comes with the amazing stuff.
It's easier to talk about what's easy, and it's more fun to share what's beautiful. But you have permission to struggle.
On my first big solo trip, I felt like I was failing. I was drowning in doubt, and I felt so guilty about it. It was hard and I was surprised. I didn't expect it to be hard. I was going down and I was bringing my dreams with me.
I wondered what I was doing wrong. I had it all planned out: a place to live, an internship, cheap flights to neighboring cities on the weekends. But I didn't factor in my own loneliness and inexperience. It didn't occur to me that it was at all possible that a wide range of emotions and challenges would still exist in this new, more photogenic setting.
Nothing was wrong with me. Nothing is wrong with you, either.
We are human. It's unfair to assume that all of our challenges will evaporate just because of a change in location. In fact, the stuff we're working on at home will often get a lot louder for us when we travel. When we're in a new place, when we're living in circumstances that are different than what we are used to, all of our self-critique, bad habits, and anxieties are magnified. And travel is the zoom lens. It's the microscope.
You are not doing anything wrong.
A few places I have had a bad time: Portugal, Spain, Australia, China, New Zealand, Costa Rica. Mountains, beaches, waterfalls. Postcard-worthy locations where my anxiety drowned everything else out. Add in the acute awareness that travel is a massive and wonderful privilege in the first place, and guilt will follow you around like a cartoon rain cloud. After all, you chose to be here, so why are you whining? I've often asked myself that.
Look. You are allowed to have a bad time. It is normal, and it is most likely temporary. And if it isn't, you can go home. Going is just as much of a choice as staying is.
For most people, including me, travel is hard. Especially solo travel. There are a lot of logistics. Unknowns. Language barriers. Lost luggage. Questions within yourself that you thought you'd addressed. Feelings you thought you dealt with but surprise, here they are again.
Things will go wrong. You'll look around like, "daaaang, who is gonna deal with this shit right now?" and realize… oh, it's me. Yep. I am going to deal with it.
You will stress out about making friends, and you'll wonder how everyone else in the hostel already knows each other. You will rehearse openers and practice them in your head. And maybe you'll try convince yourself that you don't need to make any friends– at least then you wouldn't have to put yourself out there. You wouldn't have to take the risk.
Travel is full of risk. And at times, you'll feel inadequate, you'll get lost, you'll wonder why you put yourself in this situation to begin with. So let the guilt go– it's not serving you. Feel what you're feeling. There is no shame in admitting that you're having a bad time. Let the shame go too.
Maybe you're reading this because your trip isn't seamless. Know that it's normal, and perfectly so. It's part of the process. It's not supposed to be easy, and there isn't one quick fix, because these matters are complicated. They are matters of the heart. They are matters of the self. They are woven within our identities and our connection to the world. It's no surprise– we are just trying to find our place here.
It's OK to have a bad time. It's OK to wonder why. Be kind to yourself. See it, own it, and get on with the show.