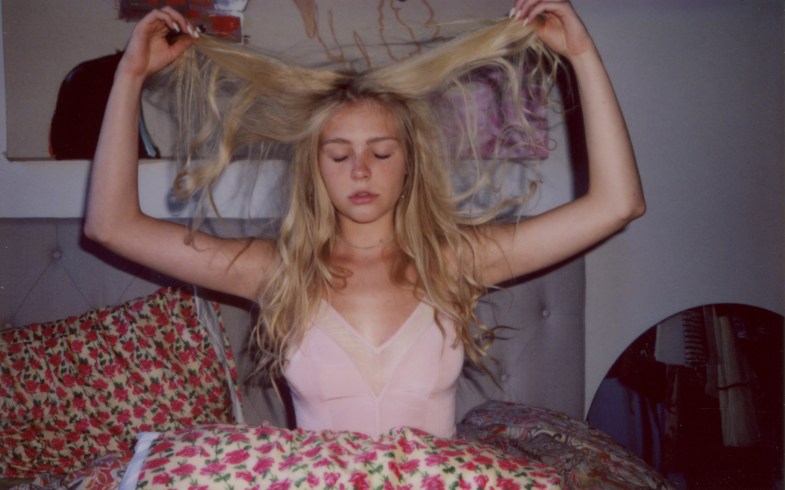 ***

"I probably just swiped for your dog"
***

"I can probably drink more than you."
***
"Venmo me $5 and see what happens 😏"
***

"I like food and Netflix."
Ok great.
***

I never knew taking a selfie in a car was so ridiculously popular until I got on Tinder/Bumble. It's never even occurred to me to take a picture like this.
Some girls even have profiles where the only pictures they have are like 5 different selfies in the car.
***
Doing a yoga stance on the beach.
***

Dog Face filter.
***

The real basic one on Tinder is:
The dog face filter.
"proud mother to a furbaby"
"not here for hookups"
"love to travel"
having an emoji associated with everything in their profile
More localized to my area (very rural):
Pictures with a fish/gun
Listing being taken mudding as an interest
referring to herself as a "country girl"
"I can probably drink more than you"
"faith, family, friends"
***

instagram esque pictures with a colorful graffiti wall in the background or lots of group photos that leave you wondering who the hell you are even swiping on.
***

Stereotypes I've seen on Bumble:
– No bio
– Group photo with the same people in them 3+ times
– Snapchat filters (especially if it's every freaking photo)
– An 👏emoji 👏after 👏every 👏freaking 👏word 👏
– Travel, Netflix, Witty quote from a popular sitcom
– Using "Hi" as an opener (even when I give you an in by putting a question in my bio)
– ONE WORD RESPONSES
***

I'll go with the high school/college white girls posing with African/Caribbean kids surrounding them.
***

Men might use quotes from The Office, but I see a ton of women who are a "Leslie looking for her Ben," or a "Pam looking for her Jim."
***
Travel. I don't know how people can travel to 30 different countries on a grad student's budget.
***

Adventuring. What the fuck does that even mean? Is that like questing? Because I could get behind that. It seems like it's just a generic term to make boring people sound less boring, because they don't have anything interesting in their lives. Because how else do you mention that trying a different kind of cheddar is the highlight of your month?
***

In the Pacific Northwest, I see a bunch of people that love hiking. I'm not sure how many people actually enjoy hiking versus the idea of hiking, but I'm going to go with the latter.
***

"Just ask." "I'm bad at writing about myself." Like. Holy shit. Those topics aren't for you to brag about yourself. It's so that I can have something to talk to you about it. It's not that hard.
***
Fluent in sarcasm.
***

Pretend kissing your straight friend with duck lips.
***

"Don't bother messaging me if…X, Y, & Z (usually height, race, or personality related)." – There is always a nicer way to say this.
***

"I won't respond to messages that say 'hi.' Come up with something creative! – it's problematic enough that you're making someone work for your attention but when he actually does obey your instructions, he doesn't get a respond back or gets a "hi." It's demoralizing.
***

Cats.
***

Live laugh love.
***
90% of Tinder (in my area at least) is just girls bragging about their last holiday accompanied by ten million beach selfies.
***

If you live in Colorado, it's basically mandatory that you have a picture of you standing on top of a 14er.
Edit: Probably should have specified: a 14er is a mountain that is over 14,000 feet tall. There are tons of them in Colorado and it's a trendy thing here to hike them, then take a picture on top holding a cardboard sign that says the mountain's name and your current altitude.
It's Colorado, we love mountain stuff.
***

Girl 1, Girl 2, Girl 3, Girl 4
All look the same, try and figure out the puzzle to which girl is the actual profile girl.
***
"Proud dog Mom"
***

IF YOU CAN'T HANDLE ME AT MY WORST, YOU DON'T DESERVE ME AT MY BEST.
***

"Buy me food and call me pretty"
***

Every other woman says they like adventure and it's like they think they're the only ones saying that.
***
"I probably can [Traditionally masculine activity here] better/more than you."
***

3 or more pictures of her and some random girl, both with a red solo cup, with some shitty frat house or bar in the background. They look like they're half smiling, half screaming.
***

Hyperbole about the level of affection they have for a specific animal
***

(If blonde) "Blondes have more fun"
***

Some remark to make it sound like she was forced to be there or indifferent to the app. "My friends made me do it"/"I'm just here for ___"
***

Comment about how sarcastic/funny/sassy she is.
***

Chicken nuggets or something that they think is unique and quirky that every other girl lists too.
***

"Not here for hook ups". These are the girls that always fuck on the first date. You know a girls a hoe if she has to actively say how shes not a hoe.
***

Those numbered Birthday Ballons.
***

"Not on here very often"- as if you're too good for dating apps, but still want to be able to swipe right when you need attention/validation
***

Ladies posing with other men and children. Presumably someone else's familes, but who knows? Swipe left.
***

5'3 but my attitude is 6'4
***
Mentioning how they love the oxford comma. I'm not sure where this idea could have spawned from, but it's like the majority of profiles that bother to have a bio. Everyone must have seen like one profile do it, think it's a clever thing they could steal without others noticing, not realizing its actually everyone.
***

As a former 40 something tinder user, a multitude of women with crossfit pics and talking about how often they work out and how driven they are.
It was super intimidating as I'm a little more laid back than that. Fortunately I found a wife on tinder with whom I fit with nicely.
***

Photo of her in sports jersey, or at the game — friendly to male lifestyle!
***
"If I super liked, it was an accident."
***
"Let's go on an adventure!" Real creative there.
***

General misandry: "I hate men/you men on here are all the same."
***

Pics with their kids or the kids by themselves (Really? Who does that?)
***

hotdog-legs on a beach
***
"I'm only on here for free dinner"