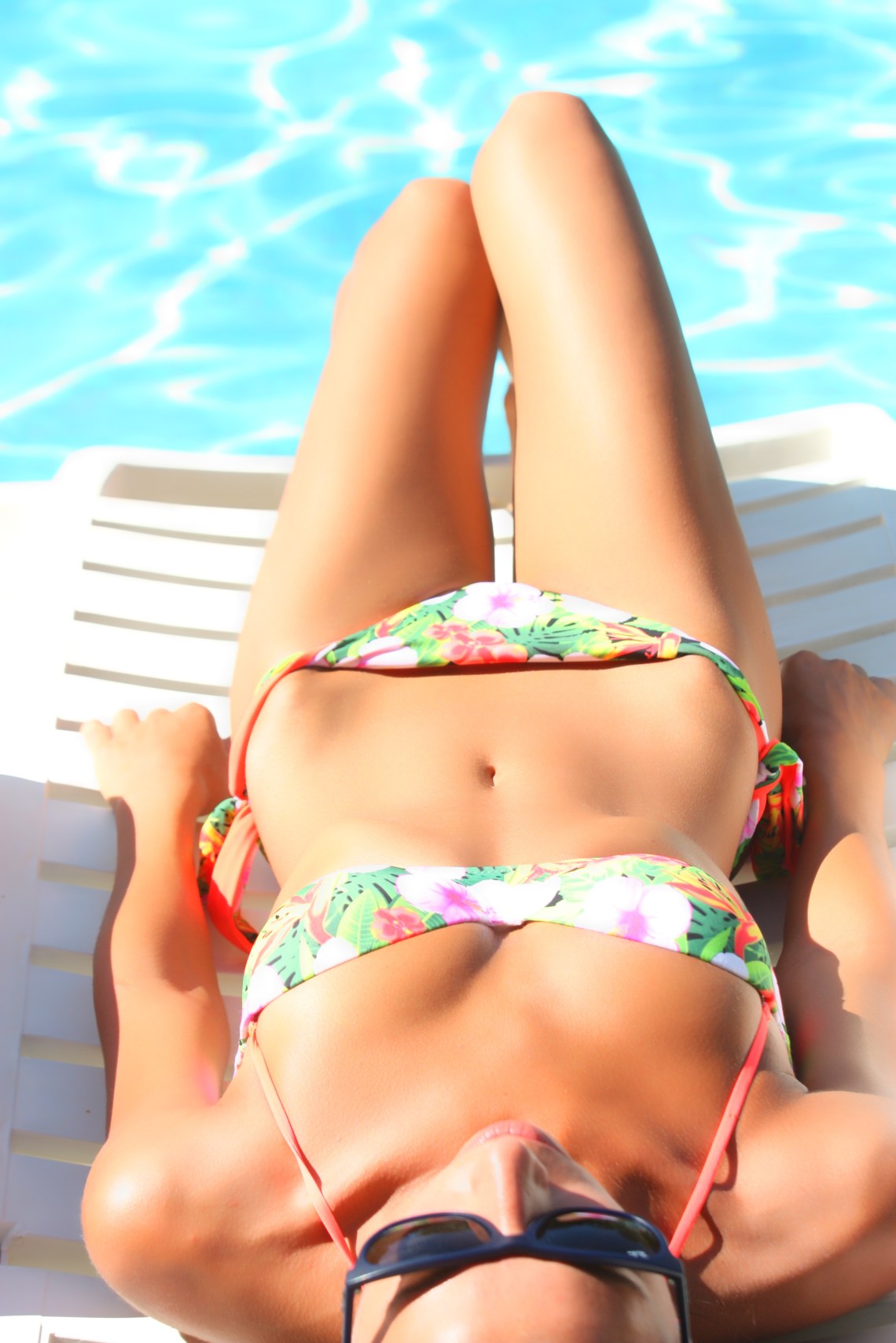 It's no secret that many of us look better with a tan, and with more and more health concerns surrounding sun exposure, spray tans (also known as sunless tanning) are becoming the preferred method of achieving that sexy tan. The flawless glow you'll achieve with a spray tan will give you confidence and help you look way hotter than buying a new outfit would. In case you're unfamiliar, a spray tan is a fine mist of self-tanning product that is sprayed onto your body while you stand in a booth, and most of these booths actually have nozzles that measure your height and width to ensure the perfect application. This mist has an ingredient in it called Dihydroxyacetone (DHA) that interacts with your own skin's chemistry to turn it tan. Within 4 – 8 hours, the color has developed and may look dark, but the actual result won't be seen until you shower it off and reveal the natural-looking tan beneath. It's an incredibly effective alternative to sun-bathing, and it's an alternative that doesn't age your skin. (The same goes for when you apply self-tanner.)
With the newest technology in spray tanning booths available today, you can now achieve a flawless, bronzed-goddess glow and a natural-looking tan the safe way: via a spray tan. Gone are the days when you'd run the risk of looking orange or streaky. Now, you can expect an even tan that looks amazing, and you can customize your session to get the intensity you desire and the color you desire. Here are some facts that you need to know about spray tans:
1. A spray tan covers skin imperfections and acts as makeup for your whole body. Those with uneven skin tone, hyper-pigmentation, acne scars, stretch marks, varicose veins, blemishes or other skin imperfections will absolutely love spray tans because the product will cover these imperfections. If you love how a great BB cream or foundation perfects the skin on your face, then you'll love how a spray tan perfects the skin on your face and body. With a spray tan, you improve the appearance of your skin so you'll need less makeup. You wake up with makeup on and you cut your getting ready time in half as you look fantastic and have that 'glow' round-the-clock. If you want to look great for an event or a date, it's best to get a spray tan the day before.
2. If you exfoliate your whole body prior to your spray tan and avoid shaving right before, you can expect fantastic results. A meticulous exfoliating session in the shower before your spray tan (at least 12 hours before) guarantees the best possible results and the most even application. By exfoliating your skin with a good body scrub such as EVER Polish Lemon Sugar Scrub, you're effectively removing dry and rough patches, dirt, impurities and dead skin cells on the surface. This reveals the soft, silky-smooth skin underneath which primes your skin for your spray tan. If you don't exfoliate first, the self-tanning product will sit on the surface of the skin, sticking to any rough patches (and those patches will appear darker) and the tan will look uneven. Not only does exfoliating help you get flawless results, but this also helps the spray tan last longer. You'll get even better results if you exfoliate for 3 days in a row leading up to your spray tan. If your exfoliating body scrub has oils in it, it's imperative that you rinse well. Triple rinse if you have to. Spray tans adhere best to dry, oil-free and product-free skin. (That means no perfumes, lotions, etc.) As far as shaving goes, shave 12 hours before, because shaving right before a spray tan can cause skin irritation, and shaving after a spray tan can cause the tan to disappear faster. Waxing should be done 24 – 48 hours prior to your spray tan. Do not wax after the spray tan.
3. Advanced spray tan solutions are full of healthy and organic ingredients that are great for your skin. Advanced spray tan technology such as what has been developed by companies like VersaSpa are usually at least 98% organic spray tan ingredients. You also might not have known that aside from DHA, spray tan solutions often contain healthy ingredients for your skin. These ingredients include walnut extract, aloe, ginger root extract, green tea leaf extract, green algae, avocado oil and grape seed extract. In that sense, it's not just a tanning session – it's also a skincare session. In addition, the solution is gluten free, paraben free and cruelty free.
4. Modern spray tan booths also offer prep spray and moisturizer spray in what's known as a "multi-session". These days, when you go for a spray tan, you can expect to be offered a "multi-session". This is when you're sprayed with a skin-perfecting 'prep' spray, the actual spray tan, and lastly a hydrating moisturizer spray. Kim Noble, manager of Kix Tanning Salon in Vancouver explains,
The multi-session produces amazing results. The prep spray will balance your pH levels and prime your skin for the self-tanner, ensuring a very even and smooth application. We use the VersaSpa, and their prep spray (known as the skin perfecter) is formulated with Grape Seed Extract to help stimulate collagen and improve the skin's tone and texture. The moisturizer spray hydrates your skin which helps deepen and extend the color. This moisturizer spray is formulated with Green Tea Extract to help reduce free-radical damage and environmental stress on the skin, and Ginger Root Extract to help increase circulation. All in all, a multi-session is highly recommended which is why we include it in our pricing.
5. You won't look orange. The modernized and advanced technology currently used in sunless tanning solutions is designed to ensure a natural, bronze tan that does not look orange. As mentioned, the prep spray balances your skin's pH which also helps ensure the color goes on a beautiful bronze tan, not orange.
6. Your spray tan will last 5 – 10 days, but there are ways to get it to last longer. Wear loose clothing to your spray tan. No tight pants or bras that might stick to your skin and leave a mark or remove the color. During the 8 – 12 hours that you're letting the spray tan develop, don't get your skin wet and don't sweat! If you'll be sleeping during the time the color is developing, sleep without a pillow to avoid creasing or lines on the face from the product coming off on your pillow. (Sleeping without a pillow is great for your spine and neck, too.) After your spray tan develops and you shower it off, it can last 5 – 10 days. You can expect it to last on the longer side if you avoid swimming too much (especially in chlorine.) Although a dip is fine, extensive amounts of time in the water will fade your spray tan faster. You should also be moisturizing daily, because keeping your skin moisturized prevents dead skin cells from shedding faster, keeping the tan longer. When you shower, avoid long showers and avoid super hot water. Don't exfoliate or use a loofa. Post-shower, pat dry instead of rubbing your skin with a towel.
7. Spray tans can make you look thinner and more toned. A common testament among spray tan enthusiasts is getting compliments that they look as though they've lost weight. In a recent survey conducted by Sienna X on tanning trends, 86% of women said that they instantly felt more confident about their bodies just by having a spray tan, and almost 2/3 of survey respondents said that not only did they feel slimmer with a spray tan, but they also felt more toned.
8. Inhaling DHA during your spray tan can be harmful. Even though you're getting a tan the safe way (I mean, you're at least not sitting out in the sun being bathed by harmful UV rays) you still need to practice safety when you get a spray tan. Do not breathe in or inhale when the spray tan is in session. Most spray tan booths have a voice guide that will warn you when the color is going to be sprayed on, so you'll have a warning to hold your breath. It's also best to wear bikini bottoms, put Vaseline on your lips, close your eyes or wear eye goggles, wear nose plugs and wear ear plugs. This way, you're protecting all of your mucous membranes during the session.
9. Special attention must be paid to the hands and feet. Your hands and feet will absorb more DHA than the rest of your body, which is why barrier cream must be applied to the hands and feet to avoid "oompa loompa" hands. Apply loads of barrier cream all over the palms of your hands and the tops of your hands. Wrist down, both sides of each hand. For the feet, wear sole-covers (these are made of paper and available at most tanning salons) and apply barrier cream just to the top of your feet.
10. You can still get a tan in the sun when you have a spray tan. Many people get a spray tan before a vacation, mainly because they're embarrassed about looking pasty white in their swimsuit at the pool. However, you can still get a 'real' tan from the sun when you have a spray tan, and when you have a spray tan you can still get a sun burn, too. Make sure to wear plenty of sunscreen no matter what!

Erica Gordon is the author of Aren't You Glad You Read This? The Complete How-To Guide for Singles with a History of Failed Relationships Who Want their Next Relationship to Succeed, available here.