1. Jack The Ripper Was Jose Rizal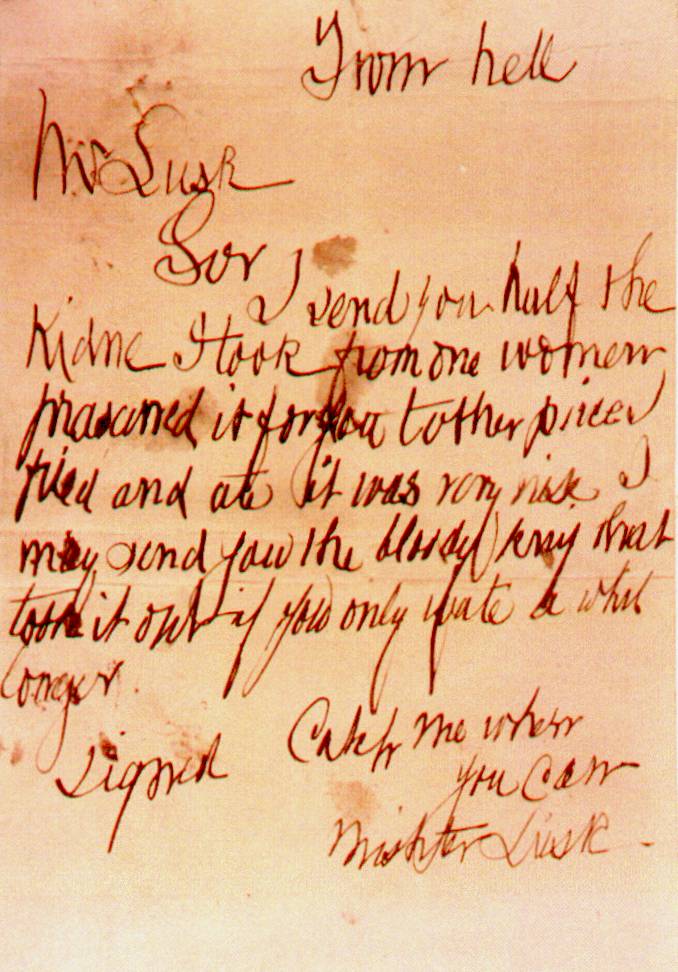 Jack the Ripper. To make it creepier, there is an urban legend that tells about how my country's (Philippines) national hero, Jose Rizal is/was Jack the Ripper.
There were similarities about the two, first of their name initials – Jack the Ripper and Jose Rizal. The Ripper killing victims were cut up as if a doctor did it — Jose Rizal was a doctor. Jose Rizal was in London when the Jack the Ripper killings started, and during that time, Jose Rizal didn't have a single entry about his stay in London. And guess what, when Jose Rizal left London, the Jack the Ripper killings also stopped.
He actually traveled all over the world, working as a freemason to study about the Western countries and try to air out the situation of the Philippines. All of his travels, he always had diary entries about them — except for London.
2. The Patterson House Disappearance
A lesser known case, The Patterson House.
Couple vanishes without a trace: breakfast is left untouched on the table, their pet is left to fend for itself, suitcases left at the door like they were ready to leave, car in the garage, no signs of struggle or forced entry. Many theories accompany this story, many suggesting they were spies, but no one knows for sure.
Where are Mr. and Mrs. W. D. Patterson?
Why did they disappear like magic from their home at 3000 Piedmont Avenue the night of March 5?
Did they leave voluntarily? By ruse or trick? By compulsion, under threat of instant death if they didn't go?
If they left voluntarily, what was the reason?
If they left by force or threat, who forced or threatened them?
And if they disappeared by force or threat, what was the motive of the person or persons guilty of the force or threat? Robbery? Extortion? A desire to keep the Pattersons from telling something they knew?
3. The Taman Shud Case
From Wikipedia:
The Tamam Shud case, also known as the Mystery of the Somerton Man, is an unsolved case of an unidentified man found dead at 6:30 am, 1 December 1948, on Somerton beach, Glenelg, just south of Adelaide, South Australia. It is named after a phrase, tamám shud, meaning "ended" or "finished" in Persian, printed on a scrap of paper found months later in the fob pocket of the man's trousers. This scrap had been torn from the final page of a copy of Rubaiyat of Omar Khayyam – a collection of poems attributed to the 12th-century poet Omar Khayyám. In some early reports of the case, Tamam was misspelt Taman, and the error has often been repeated.

Following a public appeal by police, the copy of the Rubaiyat from which the page had been torn was located. On the inside back cover of the book, detectives were able to read – in indentations from handwriting – a local telephone number, another unidentified number and a text that resembled an encrypted message. The text has not been deciphered or interpreted in a way that satisfies authorities on the case.
Interestingly, a person on Reddit claimed to have solved the cipher four years ago but was largely ignored. Here's a sample:
You will need to read this a few times to understand its complexities. There was not one Aust Communist Spy convicted in Claytons Spy Ring, and this was because to convict them the Venona Cables would have had to be publicly released and the 'powers that be' were not prepared to do that. A lot of the spies lived a full and happy life and some still waited for the next Communist Revolution. Christiansen visited China repeatedly and they Loved him. Clayton 'went fishing' when his spy ring was exposed and in hiding when the Omar Khayyam was found, he died in 1997 aged 90. The Somerton Man's identify had to be hidden or else again the Venona Codes would have been exposed. I personally believe at this stage he was a possible KGB agent working as a Russian Ballet dancer things seem to point to this but as yet I have no proof. I have someone in mind but need help to identify and expose him as the information must come from Russia.
4. The Woman Murders In Ciudad Juarez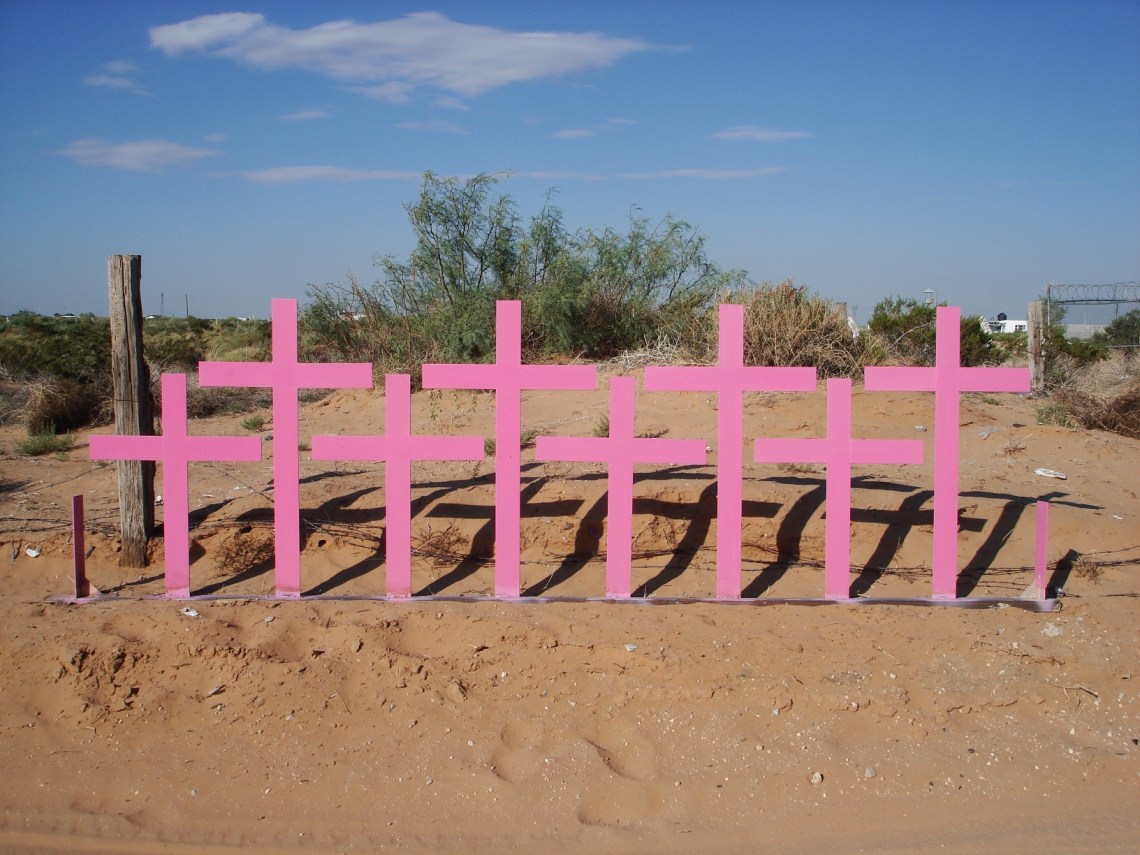 Around seven years ago there was an exhibit in Mexico City subway about this killings.
It was fairly small, it mostly comprised the belongings of four or five women that had been found murdered. There were the dresses, some of them still stained with blood, purses, wallets and so. And each of them had a plaque bearing the woman's name, age, and dates of disappearance and discovery.
And then the last dress only had the date of discovery and the legend "Unidentified."
From Wikipedia:
The phenomenon of the female homicides in Ciudad Juárez, called in Spanish feminicidio ("feminicide") involves the violent deaths of hundreds of women and girls since 1993 in the northern Mexican region of Ciudad Juárez, Chihuahua, a border city across the Rio Grande from the U.S. city of El Paso, Texas. As of February 27, 2005, the number of murdered women in Ciudad Juárez since 1993 is estimated to be more than 370.

After surveying 155 killings out of 340 documented between 1993 and 2003, a government committee found that roughly half were prompted by motives like robbery and gang wars, while a little more than a third involved sexual assault.

The murders of women and girls in Ciudad Juárez since 1993 have received international attention, primarily due to perceived government inaction in preventing violence against women and girls and bringing perpetrators to justice.
5. The Disappearance Of Maura Murray
Not really a murder (maybe), but the disappearance of Maura Murray and the videos some guy uploaded that seem related.
Maura Murray disappeared on the evening of February 9, 2004 after a car crash on Route 112 in Haverhill, New Hampshire.
From Wikipedia:
Murray was a nursing student at the University of Massachusetts Amherst. On the afternoon of February 9, before she left campus, she emailed her professors and work supervisor writing that she was taking a week off due to a death in the family. No one in her family has been able to confirm the family death. Police initially treated her case as a missing-person investigation as investigators thought at first that she wanted to disappear. This speculation was due to her travel preparations and no obvious evidence of foul play. Others believe she was abducted.

Murray has not been found. New Hampshire authorities are handling it as a "suspicious" missing persons case.
On the anniversary of her death, a man going by the username 112dirtbag posted two videos. The first is him simply laughing before the video says "Happy Anniversary". The second is a ticket to a resort that was near where Murray disappeared. Below are both videos.
6. The Death Of Gareth Williams
The spy in the bag murder.
The victim was a British secret service member who was found locked in a bag that was determined impossible to do from the inside, with no evidence of a struggle and no evidence of anyone having been in the room with him.
The authorities have called it an accident.
From Wikipedia:
Gareth Williams (26 September 1978 – c. 16 August 2010) was a Welsh mathematician and employee of GCHQ seconded to the Secret Intelligence Service (SIS or MI6) who was found dead in suspicious circumstances at a Security Service safe house flat in Pimlico, London, on 23 August 2010. The inquest found that his death was "unnatural and likely to have been criminally mediated." A subsequent Metropolitan Police re-investigation concluded that Williams's death was "probably an accident".

Police visited Williams's home during the afternoon of Monday 23 August 2010, as a "welfare check" after colleagues noted he had been out of contact for several days. His decomposing naked remains were found in a red The North Face bag, padlocked from the outside, in the bath of the main bedroom's en-suite bathroom. The police had gained entry into his top floor flat in Alderney Street, Pimlico at around 16:40. His family believe that crucial DNA was interfered with and that fingerprints left at the scene were wiped off as part of a cover-up. No fingerprints, palm-prints, footprints or traces of Williams's DNA were found on the rim of the bath, the bag zip or the bag padlock. A key to the padlock was inside the bag, underneath his body.
7. Sodder Children Disappearance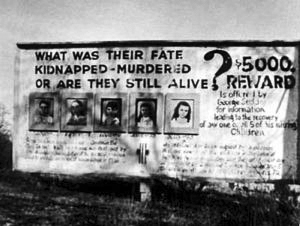 This has never been officially declared a murder/kidnapping/arson/etc, but the Sodder children disappearance never fails to give me goosebumps.
My personal theory is that the fire was set by Mussolini supporters and the kids were taken back to Italy and conscripted into the army or something similarly awful. Only the one who sent the picture survived the war, but kept his identity secret so that he wouldn't bring any further harm to his family.
But even still – how did they get the kids out of the house without anyone noticing? They were on the second floor.
From Wikipedia:
On Christmas Eve, December 24, 1945, a fire destroyed the Sodder home in Fayetteville, West Virginia, United States. At the time, it was occupied by George Sodder, his wife Jennie, and nine of their ten children. During the fire, George, Jennie, and four of the nine children escaped. The bodies of the other five children were never found. The Sodders believed for the rest of their lives that the five missing children survived.
8. The Murder Of Elizabeth Short AKA 'Black Dahlia'
From Wikipedia:
On the morning of January 15, 1947, Elizabeth Short's naked body was found in two pieces on a vacant lot on the west side of South Norton Avenue midway between Coliseum Street and West 39th Street (at 34.0164°N 118.333°W) in Leimert Park, Los Angeles. Local resident Betty Bersinger discovered the body at about 10:00 am, while walking with her three-year-old daughter. Bersinger at first thought it was a discarded store mannequin. When she realized it was a corpse, she rushed to a nearby house and telephoned the police.

Short's severely mutilated body was completely severed at the waist and drained entirely of blood. The body obviously had been washed by the killer. Short's face had been slashed from the corners of her mouth to her ears, creating an effect called the Glasgow smile. Short had several cuts on her thigh and breasts, where entire portions of flesh had been sliced away. The lower half of her body was positioned a foot away from the upper, and her intestines had been tucked neatly beneath her buttocks. The corpse had been "posed", with her hands over her head, her elbows bent at right angles, and her legs spread apart. Detectives found a cement sack nearby containing watery blood. There was a heel print on the ground amid the tire tracks.
9. The Hinterkaifeck murders
This one is straight out of your nightmares. Most likely, the killer(s) were living in the house at the same time that the family was and they never knew it.
From Wikipedia:
Hinterkaifeck was a small farmstead situated between the Bavarian towns of Ingolstadt and Schrobenhausen, approximately 70 kilometres (43 mi) north of Munich. On the evening of March 31, 1922, the six inhabitants of the farm were killed with a mattock. The murders remain unsolved.

The six victims were the farmer Andreas Gruber (63) and his wife Cäzilia (72); their widowed daughter Viktoria Gabriel (35); Viktoria's children, Cäzilia (7) and Josef (2); and the maid, Maria Baumgartner (44).

A few days prior to the crime, farmer Andreas Gruber told neighbors about discovering footprints in the snow leading from the edge of the forest to the farm, but none leading back. He also spoke about hearing footsteps in the attic and finding an unfamiliar newspaper on the farm. Furthermore, the house keys went missing several days before the murders. None of this was reported to the police prior to the attack.

Six months earlier, the previous maid had left the farm, claiming that it was haunted; the new maid, Maria Baumgartner, arrived on the farm on the day of the attack and was killed hours later.

Exactly what happened on that Friday evening cannot be said for certain. It is believed that the older couple, as well as their daughter Viktoria, and her daughter, Cäzilia, were all lured into the barn one by one, where they were killed. The perpetrator(s) then went into the house where they killed two‑year‑old Josef, who was sleeping in his cot in his mother's bedroom, as well as the maid, Maria Baumgartner, in her bedchamber.

On the following Tuesday, April 4, neighbors came to the farmstead because none of its inhabitants had been seen for a few days. The postman had noticed that the post from the previous Saturday was still where he had left it. Furthermore, young Cäzilia had neither turned up for school on Monday, nor had she been there on Saturday.
10. Murder of Robert Eric Wone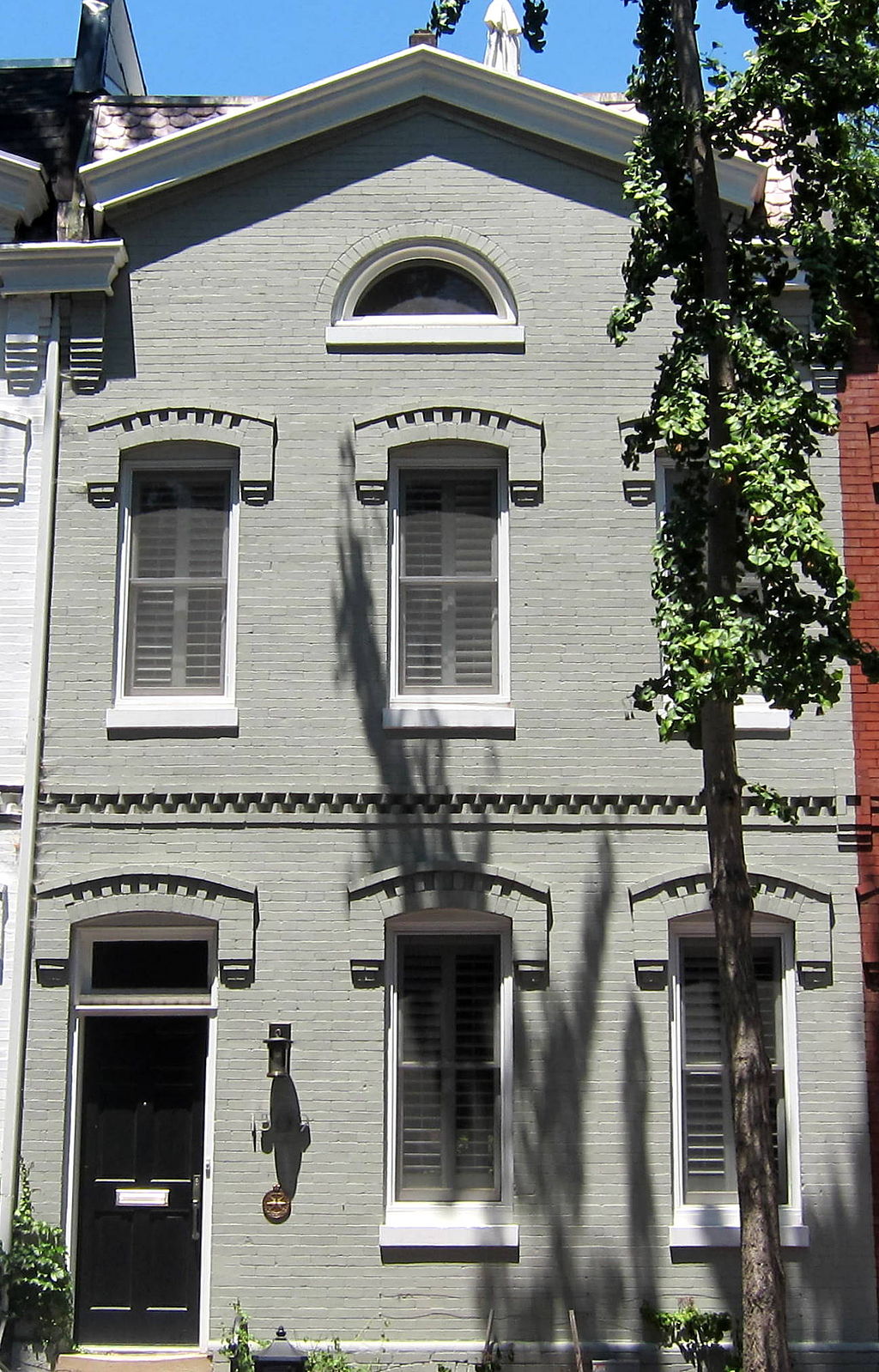 Wone was murdered while visiting a wealthy polyamorous family. He'd been planning the trip for weeks and was murdered within an hour and a half of getting there. The housemates claim an unknown intruder killed him, but he was killed with a knife from the house, and detectives thought it may have been a dom-sub interaction gone wrong. There was no evidence of anyone else having been in the house.
From Wikipedia:
Late on August 2, 2006, Robert Eric Wone was fatally stabbed while staying overnight at a Swann Street, NW rowhouse in Washington, D.C., owned by Joseph Price (a/k/a Joseph Anderson) and his domestic partner Victor Zaborsky, where they lived with Dylan Ward (a/k/a Dylan Thomas) in a polyamourous relationship as a family. Wone had gone to Price's residence at approximately 10:30 PM after working late, as had been arranged days before.[6] Neighbors reported hearing a scream, later identified as Zaborsky's, during the 11:00 PM newscast (i.e. before 11:35 PM). Zaborsky made a 9-1-1 call at 11:49 PM, and paramedics arrived five minutes later, followed by the police. Price phoned Wone's wife, and Wone was pronounced dead at George Washington University Hospital at 12:24 AM on August 3.

Price, Zaborsky and Ward all initially spoke with the police without attorneys, and video recordings of those interviews were shown at the subsequent conspiracy trial. They denied any involvement in the death and speculated that an intruder had killed Wone. The three also denied any sexual relationship with Wone, and Wone's family have described him as both "straight and happily married". All three men attended Wone's funeral, where Price served as a pallbearer. Eric Holder, who worked at that time at Covington & Burling, called Wone "a kind and gentle man" who was "killed in the most horrible of ways".
11. The Keddie Murders
It was a quadruple homicide at a campground in Keddie, CA in 1981. It's still being investigated and earlier this year a hammer that may have been the murder weapon was found.
From Wikipedia:
The Keddie Murders is an unsolved 1981 American quadruple homicide that occurred in Keddie, California. The murders took place in cabin 28, during the late evening of April 11, 1981, or early the following morning. The victims were Glenna Sue Sharp (nee' Davis), known as Sue (age 36). her son John (age 15), and his friend, Dana Wingate (age 17). At some time after the crime was discovered, Sue's daughter, Tina (age 12), was reported missing. Her skull and several other bones were recovered in 1984 in Camp Eighteen, California, which is in Butte County.

Glenna "Sue" Sharp, 36, and her five children had been renting the cabin since November 1980. At approximately 7:45 AM on the morning of April 12, Sheila Sharp, upon returning from the sleepover next door, discovered the tied-up bodies of Sue, John and Dana in the home's living room. Plumas County Sheriff's deputies later determined Tina Sharp was missing from the location. The murders have been commented upon for their particular viciousness.
It seems impossible to me that this guy got away with it. He "only" killed 2 or 3 people but raped and terrorized many, many more.
He would break into a house that he'd clearly been watching for a long time. Then he'd tie up the occupants taking the woman to a separate room if she had a spouse. He would assault the woman a few times and in between he'd rummage through the house and make food or drink a beer.
For some reason that makes it so much worse in my mind – that he could casually eat a sandwich while he was in the middle of terrorizing a family.
13. The Boy In The Box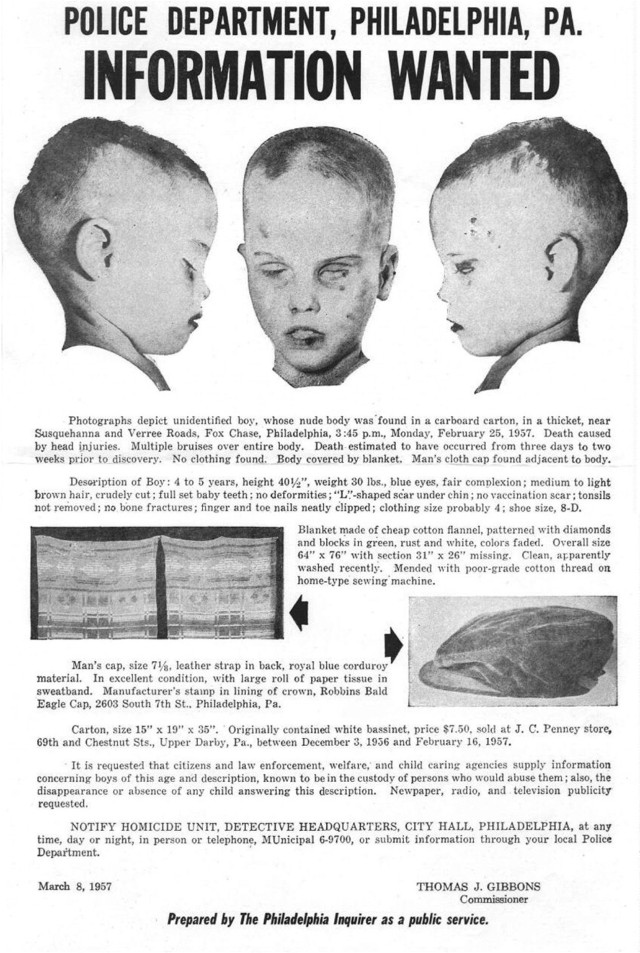 There are several theories as to who the boy was and who killed him. He may have been from a foster home. A woman identified only as "M" stated the boy had been purchased by her mother. There's also a genderbending theory that the boy had been raised as a girl. The case remains unsolved today and the boy's identity remains unknown.
From Wikipedia:
The "Boy in the Box" is the name given to an unidentified murder victim, 3 to 7 years old, whose naked, battered body was found in a cardboard box in the Fox Chase section of Philadelphia, Pennsylvania, on February 25, 1957. He is also commonly called "America's Unknown Child." His identity has never been discovered and the case remains open.

In February 1957, the boy's body, wrapped in a plaid blanket, was found in the woods off Susquehanna Road in Fox Chase, Philadelphia. The naked body was inside a cardboard box which had once contained a bassinet of the kind sold by J. C. Penney. The boy's hair had been recently cropped, possibly after death, as clumps of hair clung to the body. There were signs of severe malnourishment, as well as surgical scars on the ankle and groin, and an L-shaped scar under the chin.

The body was first discovered by a young man who was checking his muskrat traps. Fearing that the police would confiscate his traps, he did not report what he had found. A few days later, a college student spotted a rabbit running into the underbrush. Knowing that there were animal traps in the area, he stopped his car to investigate and discovered the body. He too was reluctant to have any contact with the police, but he did report his find the following day.
14. The Lake Bodom Murders
A camping murder that took the lives of two men and one woman. The tent they were killed in, pictured above, was found to have been stabbed and beaten with a blunt object repeatedly. While one person has been charged with the murders, he was also acquitted and so the crime remains unsolved.
From Wikipedia:
The Lake Bodom murders (Finnish: Bodominjärven murhat, Swedish: Bodommorden) were multiple homicides that took place in Finland in 1960. Lake Bodom is a lake by the city of Espoo, about 22 kilometers northwest of the country's capital, Helsinki. In the early hours of June 5, 1960, four teenagers were camping on the shores of Lake Bodom. Between 4 AM and 6 AM, an unknown person or persons murdered three of them with a knife and blunt instrument, while wounding the fourth. The sole survivor, Nils Wilhelm Gustafsson, led an otherwise normal life until 2004 when he became a suspect and was subsequently charged. In October 2005, a district court found Gustafsson not guilty on all charges against him.
15. The Craiglist Ripper aka the Long Island Serial Killer
The dude has like around 10 confirmed murders and might have some others that date back to 1996. He's basically a modern day Jack the Ripper since most of his victims were prostitutes, but a mother and her infant child were among his victims. He also dismembered most of them, cutting off their heads and limbs. It's theorized that he may have ties to law enforcement since he keeps evading (or is aided by) police investigation in a way that only one familiar with law enforcement techniques would be able to.
He's also probably a sadistic bastard. One of the victim's sisters got phone calls from someone who taunted her with vulgar and mocking insults after her sister disappeared. The calls were from her murdered sister's phone.
From Wikipedia:
Long Island serial killer (also referred to by media sources as the Gilgo Beach Killer or the Craigslist Ripper) is an unidentified suspected serial killer who is believed to have murdered 10 to 16 people associated with the sex trade, over a period of nearly 20 years, and dumped their bodies along the Ocean Parkway, near the remote Long Island, New York beach towns of Gilgo Beach and Oak Beach in Suffolk County, and the area of Jones Beach State Park in Nassau County.

The remains of four victims were found in December 2010, while six more sets of remains were found in March and April 2011. Police believe the latest sets of remains predate the four bodies found in December 2010.
16. The Murder of Linda Schufedt and Ashley Mylett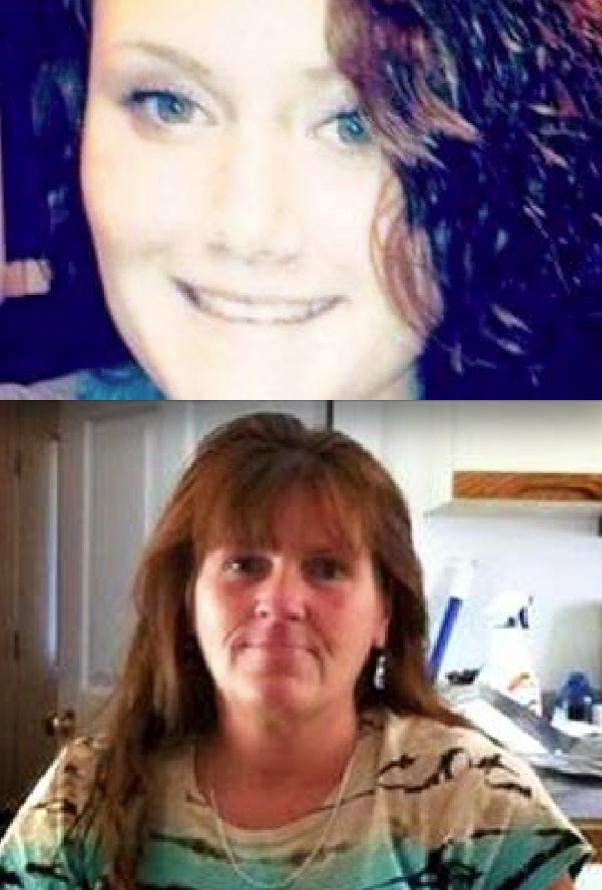 "One that not many people know about is the murder of Linda Schufedt and Ashley Mylett. The murder itself was unsettling enough, especially as the killer was never caught. The really creepy thing was that the murder took place in the Bridgewater Triangle (in Massachusetts) which is notorious for all sorts of weirdness such as UFOs, bigfoot, restless Native American spirits, and animal mutilations. Oh, and this happened back in 2015. Whoever did this is probably still running around and not long dead like Jack the Ripper."
The man who discovered the bodies of Schufedt and Mylett provided the following statement on what he saw:
BROCKTON – A 27-year-old Brockton man was walking through the woods behind his North Quincy Street home Sunday afternoon when he saw something out of place.

"I was cutting a path so I can walk the dog and I go hunting out here," said Peter, who asked that his last name be withheld because of the gruesomeness of the incident.

"I saw something pink. I thought it was a dead animal because there's a lot of poaching back here or maybe insulation because it was pink and lot of people dump trash back here."

What he saw when he looked closer shocked him. It was the dismembered body parts of a woman – a foot, a calf, part of an arm – that were cleanly cut and had appeared to have been put there recently.

Officials announced Monday that the gruesome discovery was the remains of two people that had been placed on top of one another. One set of remains had been there significantly longer than the other.

Peter walked out into the woods with an Enterprise reporter and photographer Tuesday to where he made the discovery. He showed three photos on his cell phone he took Sunday of some of the body parts.

The Enterprise obtained one of the photos and is withholding the image because of its graphic nature. He pointed to a wet part of the ground surrounded by briar patches, downed tree branches and a stone wall about 50 yards away from his backyard Tuesday morning.

"When I saw it, I didn't want to stay around here that long because there was no rot to it. It was all chopped up, you could see the limbs, how nice and neat they were cut," Peter said. "The guy that put it there put a fold-up chair on it and then put a bunch of wood on it so you can't see it from the main path."

"All I know is I didn't want to touch anything. I went in the house and told my sister and I dialed 911," he said.
—BaronVonRuthless91