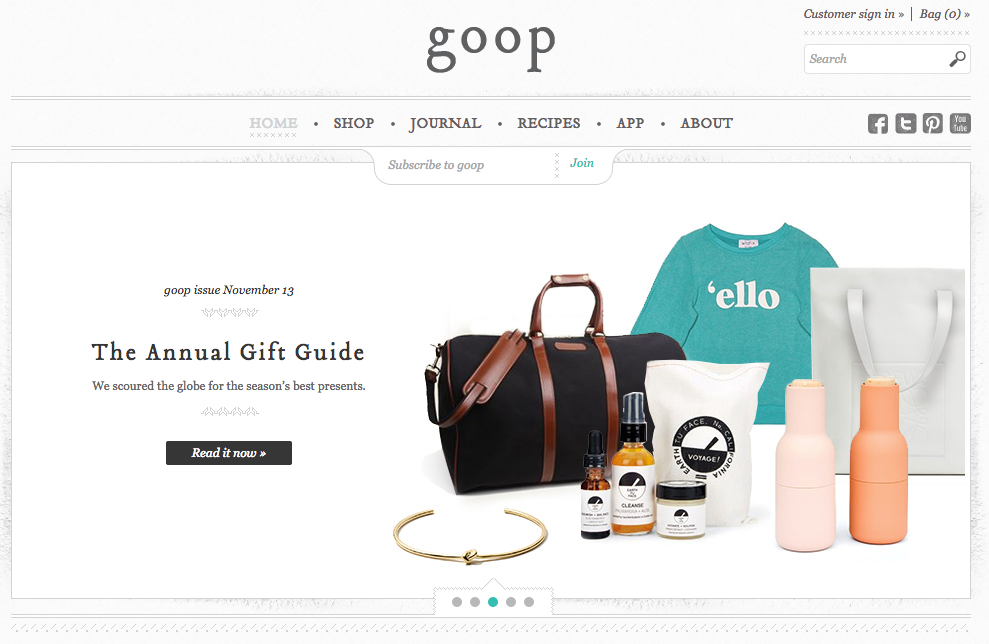 It's late November, which means the leaves are falling, Starbucks has switched their signature flavor from pumpkin to peppermint, and holiday shopping season has begun. I'm not sure what to purchase for my friends and family, but I'd like to get them gifts that are personal, useful, and let's be honest, affordable. Naturally, my first stop was Gwyneth Paltrow's lifestyle website, Goop. I've never shopped on her website before, but apparently she has a holiday gift guide section every year. This year is no different — except for the fact that I'm here to provide snarky commentary.
Paltrow's gift guide is sorted by section: go, make, kids, do, be, see, get, and personalized (way to be bold and use more than one syllable in that last one, Gwyneth!). Here are a few highlights from each section, including Gwyneth's commentary (in italics), along with mine.
GO
Men in Cities, Goop.com, $100
Gwyneth says: Demystifying gifts for guys: a handy set of everything they need for a hotel room stay.
Basically, these are boxes of "go-to" items for on-the-go men. They have three different themes that will address all three circumstances in which a man would ever find himself: "cold weather," "travel," and "Texas." The boxes are a cool concept, but the items inside are hit or miss: touchscreen gloves and money clips (useful), a pocket square (hmmm), and a jump rope (huh?). Also, two of these three boxes contain flasks. If the men in your life are drinking from flasks alone in their hotels, you might have bigger problems than figuring out what to buy them for the holidays.
MAKE
Star Serving Tray, Leif, $35
Gwyneth says: A catch-all for knick knacks or tea things.
Cute, versatile and a step up from The Container Store. A+.
Technivorm Moccamaster Glass Carafe Coffee Maker, Amazon, $279
Gwyneth says: This is, hands-down, the best coffee maker.
I feel like Gwyneth is someone whose judgment I can trust when it comes to good coffee, but this looks more like a chemistry set than a coffee maker. Perfect for Breaking Bad marathons when I want to pretend I'm Walter White. Let's cook!
Tina Frey Champagne Bucket, March, $370
Gwyneth says: This is a pretty big upgrade from the standard cooler.
I initially read this as "Tina Fey Champagne Bucket," which made me a lot more excited about this "big upgrade from the standard cooler" (scenario: open cooler, Tina Fey pops out, fill cooler with wine, drink wine and eat night cheese with Tina Fey). Sadly, Tina isn't included and this just looks like a small bathtub. I don't have enough friends or dollars to justify the purchase of a giant champagne bucket, so onto the next gift…
Easy Health Angel Juicer Gold, Super Angel Juicers, $4,739
Gwyneth says: Absurd, but awesome.
Props to Gwyneth for realizing that her offerings are absurd. This machine looks terrifying — I'm not sure if it's going to give me a glass of OJ or perform an MRI.
KIDS
Accordion, $19, Amazon
Gwyneth says: Because everyone should know how to play the accordion.
A cute gift in theory, but I pity the parents who buy this and have to listen to a three-day-long accordion jam sesh without gouging their eyes out. Actually, on that note, this is a great gift for your frenemy's son or daughter.
Furby, $30, Amazon
Gwyneth says: Need we say more?
A fun throwback at an affordable price, and this year, you won't have to wait in line on Black Friday for one of these bad boys, like my mom did in 1998 (love you, Mom. You rock).
Razor Crazy Cart, Amazon, $377
Gwyneth says: This drifts — and goes up to 12mph.
This drifts? Do we honestly want our kids playing The Fast and the Furious instead of playing house? Forget the kids section. I want one of these. Way cheaper to maintain than my Corolla.
DO
Artemare Longboard, goop.com, $495
Gwyneth says: A next level skateboard.
Most skateboarders I know don't have this kind of money in the bank, and if they do, it's probably going toward new Vans sneakers or, like, Funyuns.
Be
Angled Heirloom Pencil Holder, Anthropologie, $14
Gwyneth says: They say a clutter-free desk equals a clutter-free mind.
Interesting — I say, a clutter-free desk equals I-shoved-everything-into-a-desk-drawer-before-visitors-came-over. Anyway, this is exciting because it's from a store I'm actually familiar with, and $14 is a super-legit price. That said, unless pencils are included, I feel like the gift recipient will have no idea what this is. "Thanks so much for this gold figurine, Emily!"
The remainder of this section consists of unaffordable blankets.
See
Serra Fake Roleys, The Grey Area, $40
Gwyneth says: Equal parts hilarious and cool.
If I'm going to get a plastic Rolex knock-off, I'm buying it at Target or The Dollar Store for much less money. I think my favorite part of this is not the product itself, but the disclaimer on the webpage — "**Please be advised, the Fake Roleys are intended to be wearable art pieces. Please handle and wear with care**"
Cookbook Book, Phaidon, $59.95
Gwyneth says: A compilation of 125 cookbooks from the past 100 years — total foodie p$rn.
This is actually a really cool concept, and it's an eye-catching coffee table book. And who doesn't love foodie p$rn…you really couldn't type that out, Gwyneth?
Get
The Row Rina Fringed Cashmere Cape, Saks Fifth Avenue, $3,190
Gwyneth says: A totally chic, wearable blanket.
First of all, there's no such thing as a "wearable blanket" unless you're going for the Smelly Mellie look circa Scandal Season 4. That said, cashmere is super cozy, so it's a nice idea…in theory.
Charlotte Olympia Kinky Clutch, Farfetch, $1,295
Gwyneth says: Kinky Indeed.
I guess this is one way to not lose your handbag…this looks pretty weird, though. I'm picturing a super-busy mom walking around with this on one hand and her child on a leash in the other hand.
Sophie Hulme Structured Tote, Matches, $1,252
Gwyneth says: This screams power luncher, in an unexpected aubergine shade.
Gwynny's handbag selection in this section is on point — all of her choices are fun, practical, and worth the splurge if you have the money. Also, I'm totally going to start incorporating the phrase "power luncher" into my vocabulary.
Anita Ko Safety Pin Single Earring, goop.com, $1,995
Gwyneth says: This single earring works perfectly with a simple stud in the opposite ear.
There's no way to wear this and not look like a tool.
Personalized
Earthquake Kit, Preppie, $345
Gwyneth says: You'll be thrilled to keep this kit intact.
I'll also be thrilled to have organic chocolate and high-end moisturizer available post-earthquake. To be fair, this kit does have essentials like ropes and a Swiss-army knife, too — as it should, at this price tag.
In sum, Gwyneth does a decent job at offering a variety of gifts, including a few affordable options. Still, if shopping on goop.com, take her recommendations with a grain of salt (Maine-farmed sea salt, $18) — unless you're living on an A-list celebrity's salary.