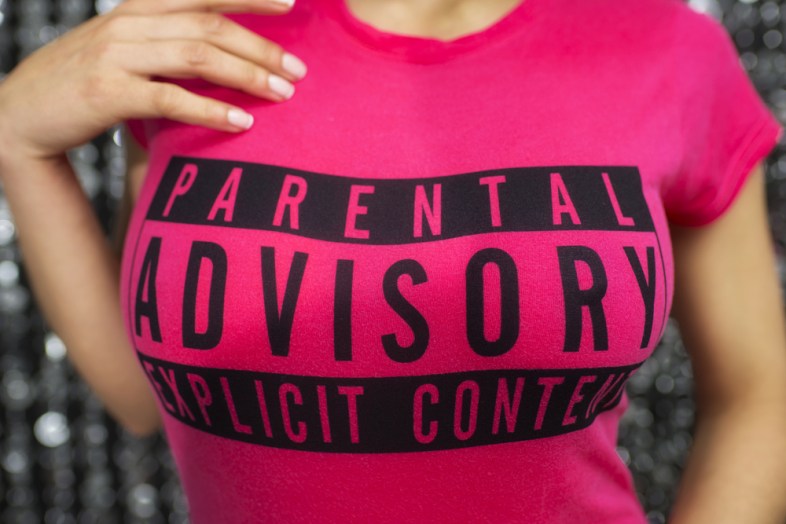 I lived a fairly sheltered childhood. So, my first encounter with porn didn't happen until I was 18.
Okay, I was really sheltered.
But after that first exposure, where my best friend so thoughtfully bought me a DVD porno parody of the Blair Witch Project and a purple horse cock sized vibrator for my eighteenth birthday, I just shut down. Close ups of vaginas and dicks while fleeing from some forest spector was definitely not my thing.
Maybe it was because it was a "surprise" and my (literal) virgin eyes didn't know how to react. So I made a personal vow to never watch porn again.
A year later I lost my virginity and suddenly became sex crazed. Psssssh. Who needed porn when you had a boyfriend that never said no?!
But the not watching porn thing was hard, because my best friend was also a stripper. She watched lesbian porn to get "tips" on how to do her job better. When I lived with her I often fell asleep to the soft lullaby of girl on girl action.
Seriously the nasty was everywhere. My boyfriend at the time was a truck driver, and just got an over-the-road gig, so he said he could be gone for up to 3 weeks at a time. He told me he would think of me when he watched porn.
Not cool. Especially for this newly born nympho.
But I put up with it, and bit my lip and rubbed one in the old fashioned way – by using the power of my imagination. My friend's didn't believe me. But as all good writer's know, the mind is a very dark and skanky place.
A few years and boyfriends later I learned to hate porn even more. I saw the browser histories that made me doubt the progress of humanity. Two Girls, One Cup became a sensation. I got in epic arguments over, "well if you stare at another woman's body then you obviously want her and not me" – you know, the usual jealous woman's logic.
One fateful day on Facebook I stumbled upon a photography project called Groin Gazing. I was intrigued and extremely aroused. Perhaps the whole "look but don't touch" thing my boyfriends always used as a counter argument had some merit to it.
When I was home and alone that night, I Googled "female friendly porn".
And then my world changed.
I found a new type of poronography – it was something soft and almost poetic. It felt like The Notebook scene that every woman had not so secretly gotten wet from. It wasn't skinny boney white dudes,or piggish brutes, these were the suave and chiseled Ryan Goslings of the sex industry.
After my female friendly revelation, I made sure to share it's treasures with my friskiest friends. Because let's face it, 99% of porn is made for men, by men. When I found a crevice (no pun intended) of the internet that was made for women, it was my duty to spread the gospel.
Don't get me wrong, I much rather get the real deal from my boyfriend. But on those nights when I know he will be home late, I sneak in a rendezvous with the lesser known Chris Hemsworth.
That was when I realized that watching porn wasn't infidelity, it was vicarious fantasy. A step away from your monotony and everyday drudgery – a breath of fresh air if you will. My stripper friend was also right, porn has some good pointers, and my boyfriend has reaped the benefits.
After getting off to Channing Tatum's doppelganger, I realized I didn't to be with that porn star. In fact after the deed is done, I almost immediately close out of the browser and go back to my Kindle reading, of follow up on a new Paleo recipe I found.
Watching porn is a natural thing, because most of us are sexual creatures. If monogamy works, it's because porn curbs carnal curiosity and the urge to procreate with the most virile man. Kind of like those horribly sexist Old Spice commercials suggest.
The 28 year old me now realizes that women love 50 Shades of Grey for the same reasons that men love Pornhub – not because they are cheaters or lowlifes, but simply because it's fun to imagine.
And that doesn't make you a bad person.