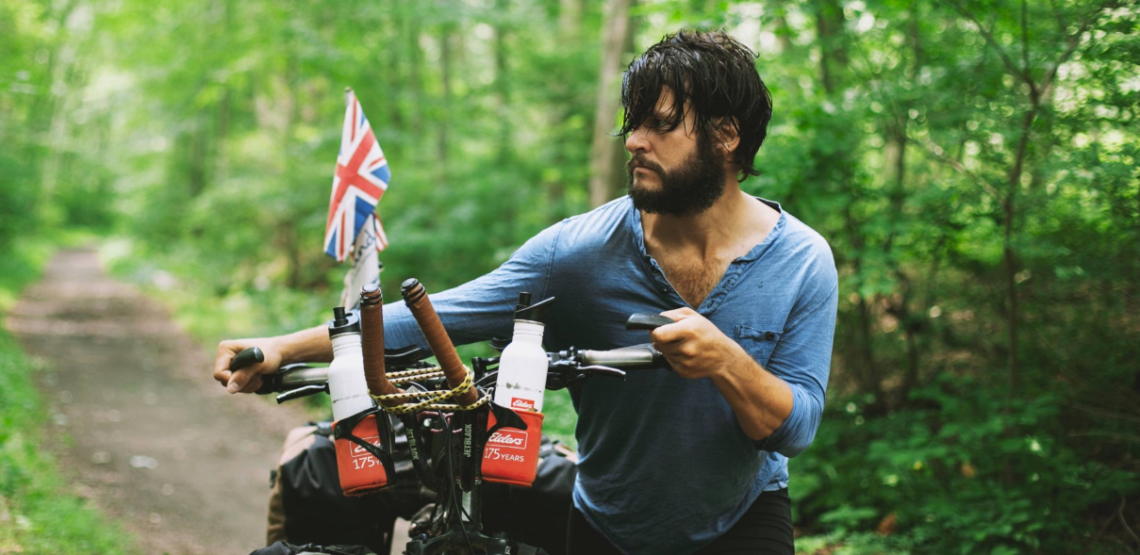 Equipped with a tent and a camera and a few other things, Rob Lutter wobbled out of his London home knowing only that he needed to do something different to get out the rut.
He met strangers, his bike got stolen, money was always tight and he often slept rough. Now, he's sharing the whole tale in a new novel and a book of photography.
For Polarr, Emily von Hoffmann spoke to Rob about his trip and how he's doing now.
Emily von Hoffmann: Can you describe the concept of your project, "A Thousand Dawns," for our readers?
Rob Lutter:"A Thousands Dawns" is the story of a 40,000km adventure that began four years ago, when I rode through out of a rainy London, on the back of an old bicycle, all my worldly possessions strapped to racks. I wobbled slowly out of the city not knowing quite what I had got myself into. 3 continents, 30 countries and 48 months later and I had cycled around the world! This Kickstarter project documents that adventure through four epic years of stories and photography, highs and lows, told in two beautiful books: a novel and a photobook.
I never intended to cycle the world. I had simply wanted to escape a life of depression in London. I headed onto the road out of desperation, but with the hope of becoming creative again, regaining my passion for photography and story-telling. The further I cycled the more I enjoyed the lifestyle: sleeping in the wild, new roads and new landscapes each day and at every turn, living humbly in the tent, on the bike, washing in lakes, enjoying the wind in your hair, the smell of the outdoors! So, I kept going. Extending the trip, promising to meet people in countries further down the road. A big following grew for my photography and before I knew it, I was cycling full-circle around the earth!
But it was far from a holiday. I ran out of money several times, got lost in deserts, slept roughly in cities, got hit by a car and had my bike broken in half by road ragers in Malaysia, worked in fruit farms, battled snow storms, was chased through the mountains by packs of wild dogs and had to cycle into 2,000kms of headwinds across the Aussie outback.
With each challenge, the desire to write the story into a book grew stronger. By the end of the journey, I was looking back on a huge amount of crazy tales worth writing about. As for the photobook, I set off 'wanting' to document the journey through photography and I took literally tens of thousands of photos over the years, the photobook is just the icing on the cake and the best way to share all the places and people I captured along the way.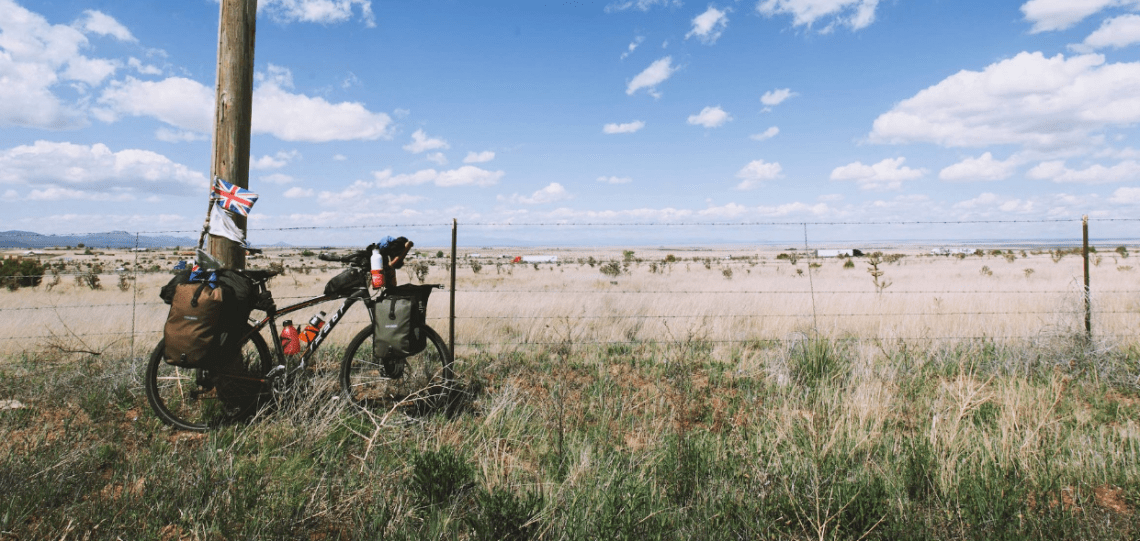 EvH: During this trip, you were dealing with some of your own mental health challenges — what was that like, to prepare for and go on this kind of extreme trip during a time of personal vulnerability? How did those challenges affect you during the trip, and how are you doing now?
RL: I had tried to hide a struggle with Obsessive Compulsive order from those around me for years before this adventure. It would eventually surface and people would wonder what was wrong with me. In the end I would always move on, change jobs, move towns, make new friends.
My desire to be a filmmaker in London was ruined by my mental health issues and, after 5 years of trying to make a career for myself in the London film industry I was left friendless, depressed, out of creative ideas and uncertain of the future. It was an odd time, I had realized that I wasn't happy in the industry or the city, but I was also trapped by bills, debt and housing contracts. It's a situation many find themselves in, trapped by the 'rules' of society. Boxing ourselves into apartments, surrounding ourselves by televisions and furniture and clothes. I needed to shed myself of all these things first before I could concentrate on my mind and becoming happy again. I just felt like I want to shake it all off.
I took a whole year to free myself of all my possessions, selling and giving away the things I owned, sleeping on couches and eventually at work just to get by. There were even a few rooftops in London that I was forced to sleep on back then and in my mind I had just switched off, I was emotionless, like a robot, just fixed on one idea — this cycle adventure. I told no one, kept it to myself, and just worked and worked and did nothing else, didn't meet people, didn't go out, just waited. I couldn't prepare.
I knew nothing about long-distance cycling and I have never been one to plan for the future. I just wanted to get on the road and the most I did was custom my old bike, and buy the bags and a cheap tent. It was a hard time in my life and there was this one vision, of the Himalayas, of me on a bicycle riding through the mountains one day in the future, that got me through it.
The OCD I have is not the "wash your hands type, neatly order things"… it's to do with needing to mimic sounds and movements of other people and objects around me.
Yes I have to avoid cracks in the road as I walk, I have to reopen and shut doors, light switches on and off, cough when other people cough, twitching and rolling shoulders and eyes to relive the compulsions. I can hide these problems from people, but doing so leaves me mentally tired as I am constantly fighting the thoughts in my mind. It also leaves me irritable and angry.
The best thing for me is to be bombarded by new and exciting experiences and when I rode out of London thats exactly what happened — I was cycling through amazing landscapes each day and living a life on the road that was fresh to me. There was so much to think about and learn about cycle touring that my mental health issues vanished and were subdued for months, but as the journey went on and I entered terrains with super heat or freezing cold or lots of flat, straight roads or mountains that tired me out, I would be more stressed and the OCD crept back in.
I had to touch the handlebars of the bike over and over, I had to unzip my tent over and over too. The sound of car horns angered me as I would have to mimic them and at the same time I didn't want to scare locals so I had to try and control the problems at the same time as trying to cycle a mountain or cross a desert! It was double the challenge of any normal bicycle adventure!
Since returning to England the problems have risen pretty quickly because of the post-adventure blues. But I have found focus in the books: I love creating and I love projects. The adventure had been a project. Raising money for mental health, capturing and sharing photos and writing stories on my blogs. Now this is the next project, the next phase of the adventure. Turning what was incredible for me out there on the road — challenging and exciting — into something that others can enjoy too. My hope is to try and tell a story that might inspire others who perhaps are struggling with life and mental health in their own way — be it OCD or just sadness or confusion or a feeling of boredom and a need for some kind of change and adventure in their lives.
EvH: You mentioned Wild as one of your influences — what were some other influential novels for you, and how did they affect your trip or writing process?
RL: Yes. I recently watched in film and read the book of Cheryl Strayed's Wild, and this is very much the kind of structure I am aiming for in "A Thousand Dawns" — a journey from dark to light, of hope found through a life on the road. I not only want to share the story of the adventure, but also to blend moments and flashbacks from my past into the journey to try and create a jigsaw, of what led me to seek out adventure and what drove me to keep cycling each day. This story is as much a tale about the mind as it is the physical challenges.
When I was a child I was obsessed with adventure stories like Jules Verne (Journey to the Centre of the Earth and, ironically, Around the Earth in 80 Days). I loved stories of warrior animals in books like Narnia and Redwall. These books were the reason I studied film at university and moved to London. I had no idea that one day I would end being the main character in my own real life journey, but then again you can't predict how life turns out and what twists and turns you might take. As for writing styles books such as Siddhartha and Life of Pi are influential for me as well.
EvH: Who are some people you met who stand out most in your memory? How did you meet them?
RL: Wow, there are so many. Australia stands out in my mind when I think of people. It was a land full of humour and kindness, complete kindness. I arrived in Australia with about $100 left to my name. I had lost the bicycle and decided to risk it all by using my remaining funds to get a replacement and buy a one way ticket to oz. I arrived with nothing and set off into the outback with the aim to just be happy and smile and not care anymore.
A day later I was offered work by a man named Mal who, in the middle-of-nowhere Australia, saw me sat by the roadside, led me into a nearby cafe, bought me a meal, gave me his number, and then walked off. He said to ring him once I reached the next town, and, before I knew, he had given me work, a house to myself to stay in, a fridge full of food and told me to stay as long as I wanted. I spent 2 months in a quiet little aboriginal town fixing up schools and electric stations and water pumps.
I learned how to fish and hunt for snakes and shoot rifles and dig for gold! This was the beginning of a series of amazing acts of kindness. I broke down in the outback and was picked up by a man named Charlie, I ended up staying with his amazing family for 5 weeks and he helped me fix my bike and rebuild it almost completely. Then down near Sydney I lived with Charlie's relatives painting caravans and cleaning swimming pools. All of this bought the adventure back to life, repaired the bike, bought me a ticket to America and left me with a thousand memories of local family life in Oz. It was a super emotional time and one where I was truly happy and calm and virtually free of mental health issues. I miss Australia to this day.
But mentioning a handful of people barely does justice to the thousands, literally thousands, I met along the way. From random deserts farmers in central Asia who let me camp outside their houses to nomads in the Himalayas who gave me horse milk and bread, Ali the hostel owner in Istanbul who took me and let me help out during a Turkish snowstorm after crossing Europe.
All the people who gave me a meal, gave me tea by the road, wanted a picture with me. When I was in Hong Kong, I was crashing in this abandoned building and helping a hostel with cleaning, I was trying to get a Kickstarter going, but I had gotten down to my last few pennies, literally.
But at the same time I was being asked to go into kindergartens and schools to talk to children. So, I'd wake up on a rooftop in the morning, take my bags down into the hostel and hide them, wash off the dirt from my face and clothes and then cycle down to a school and pretend like I was some great hero…. when really I was thinking inside, "what is my life about!?" I was being asked to inspire kids, yet I woke up in the dirt, I am not a good role model. Bu the kids filled me with joy, they had this wonder… they loved it when I got in the sleeping bag or told them how I went to the toilet in the wild and what the coldest place I'd been to was.
So while I was roughing it, I was being bombarded with joy, being constantly reminded of what I was fighting for and the adventure I was trying to keep alive. This is the same for all of the thousands of people on Instagram and Twitter who would send messages each. I kept going, kept pushing on because of this and from the help of incredible people along the way. Nearly always meeting people was random. I rarely planned to meet people, I didnt know that many people around the world and so nearly always the people that found me when my bike had broken down or that i made friends with in hostels just happened to be there at the right time in the right place. Our worlds colliding.
EvH: Why an old commuter bike? Was that a practical decision, a conversation piece, or something else? How did that choice shape your experience, logistically or otherwise?
RL: It definitely wasn't a decision at all.
Taking my old bike wasn't some quirky hipster idea or anything! Rather, its all I had. It was a good enough bike, but it certainly wasn't a touring bike.
Back then I knew nothing about bikes — I didn't know that a steel bike, with high handlebars, a leather saddle, steel racks and thick tires and maybe a dynamo for charging equipment made for a good touring bike.
The bike I had was the bike I had, there was no other choice. I simply added some butterfly handlebars last minute because someone at work had said "are you sure you want to cycle to India on those drop bars?!" and made me rethink things. I didn't have enough warm clothes. I didn't have any space for food and with no bags on the front in the beginning my back was really imbalanced. The bike had limited gears and so going up hills was agony. I had bought cheap racks and added too much weight and so by the time I reached Asia I had snapped 6 rear racks! I had also broken 4 kickstands. Amazingly though, somehow, even through all the deserts, I didnt have a single puncture until China. That's 12 months, 10,000kms! I was lucky.
The bike was fast though and over time my body shaped to it. It was a bike that allowed me, once, to ride 300kms in one go. A record for me, but something I will never do again. It left me sick and my knee clicked for 9 months after that ride. When that bike got snapped in half I had to replace it with whatever I could find — a mountain bike. For 2000kms across the outback I was in absolute agony. My entire body, my bones had become shaped to the old bike and now I was in serious pain… my wrists ached, my back hurt, my muscles were all pulled and my hips felt dislocated.
It took 2000kms of painful riding before my body readjusted. But, across America, that new bike, "Sixty," which was a better bike for touring, became more comfortable than any I had ever ridden. I had learned a lot about bikes over the whole adventure and now knew about the right riding positions and saddle heights and boring stuff like that. Long story short, "Sixty" became my best friend, even though it was a cheap bike from Singapore. 2 weeks after completing the world cycle, Sixty was stolen from my family home. I haven't seen her since.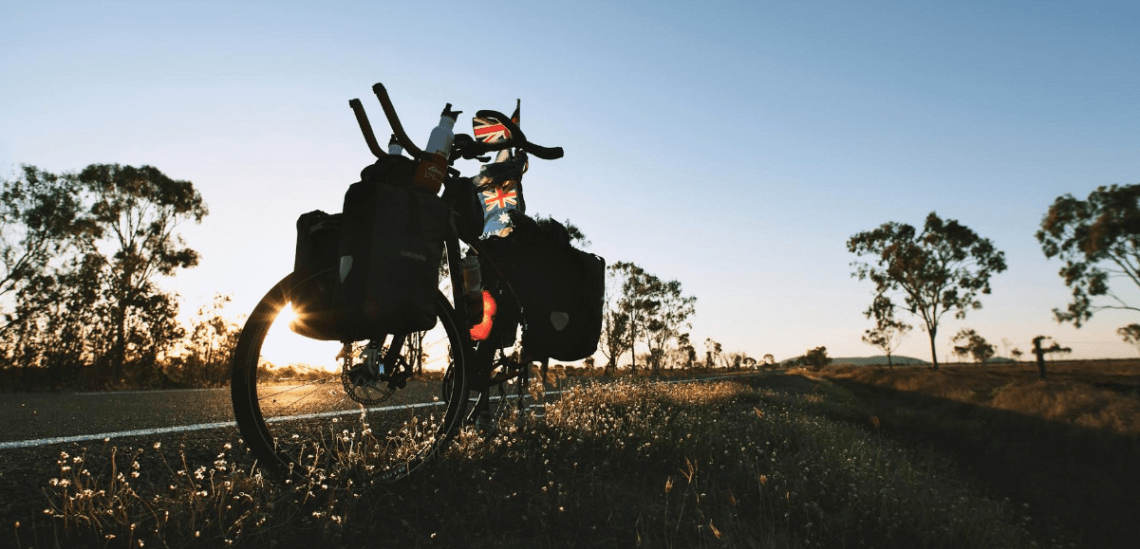 EvH: Who are some of your inspirations for the visual component of this project?
RL: Hmmm. In London I had to visual research photographers and film makers, but none of which I can recall the names of now. Instagram inspired me a lot on the bike. I discovered Instagram halfway through and it was like this pool of awesome photographic inspiration. I could scroll through all these works of art on my phone from amateur photographers, like me, who were simply going out there and trying to capture the world. People like @Fosterhunting & @colerise & @claireonline were a massive inspiration back in the day, my favorite 'grammers whose photos would show up while I sat there outside a desert cafe trying to get basic Internet.
A small handful of beautiful photos and comments on my own photos was enough to power me on for another week, grabbing pics in the knowledge that I could share them instantly. Not for likes, but because it was immediate. I didn't have to wait to process my SLR photos and upload them to a website, I could use Instagram to interact straight away and get feedback straight away! It was really good for the evolution of my photography.
As for the book: My inspiration certainly has been Foster Huntington. who has produced 2 Kickstarters, both photobooks — The Cinder Cone and Home is Where You Park It — both books have a very adventurous, outdoor style to them, documenting life on the road and the building of a tree house. Seeing his books get backed and produced made me realise it was possible to say, "Hey people, it's a dream of mine to share this story with you… are you interested?" and people might be. We are very lucky that, in 2015, we have things like crowdfunding that allow people who just have dreams and good ideas and passion to be able to follow those dreams.
You don't have to be rich or have the right connections or struggle up through a career ladder — you just need to have an idea, the talent and the passion to make that idea happen and to make people realize it.
I only hope I can inspire people to support my own project. I certainly have the dedication to produce the books, having cycled the world — anything is now possible. I want other people to believe that the impossible can be achieved through my photography and stories.
EvH: After four years 'on the road,' are you planning to stay home for a while, or do you have plans for another adventure?
RL: I don't feel like I have much of a home really. I feel at home in movement and in creativity. Home for me is not about a bunch of bricks with a door and some stuff furniture inside it. I get restless when I stay still and I spent hours on the bike each day dreaming up new adventures. I enjoyed the fitness, I enjoyed the challenge, I realised how much I can achieve and I began to ask myself, "What else can I do?" So… yes, I have a whole bunch of adventures planned, some huge, some small. As for which one is next, you'll have to wait and see! But first, the book is my passion. I need to tell the story and draw a line under the world cycle, bring it to a satisfying close. Profits from the Kickstarter project will go towards the next challenge, so fingers crossed we reach the target. If not, you might find me in some English forest somewhere, living homeless in a tent and eating nuts and berries!