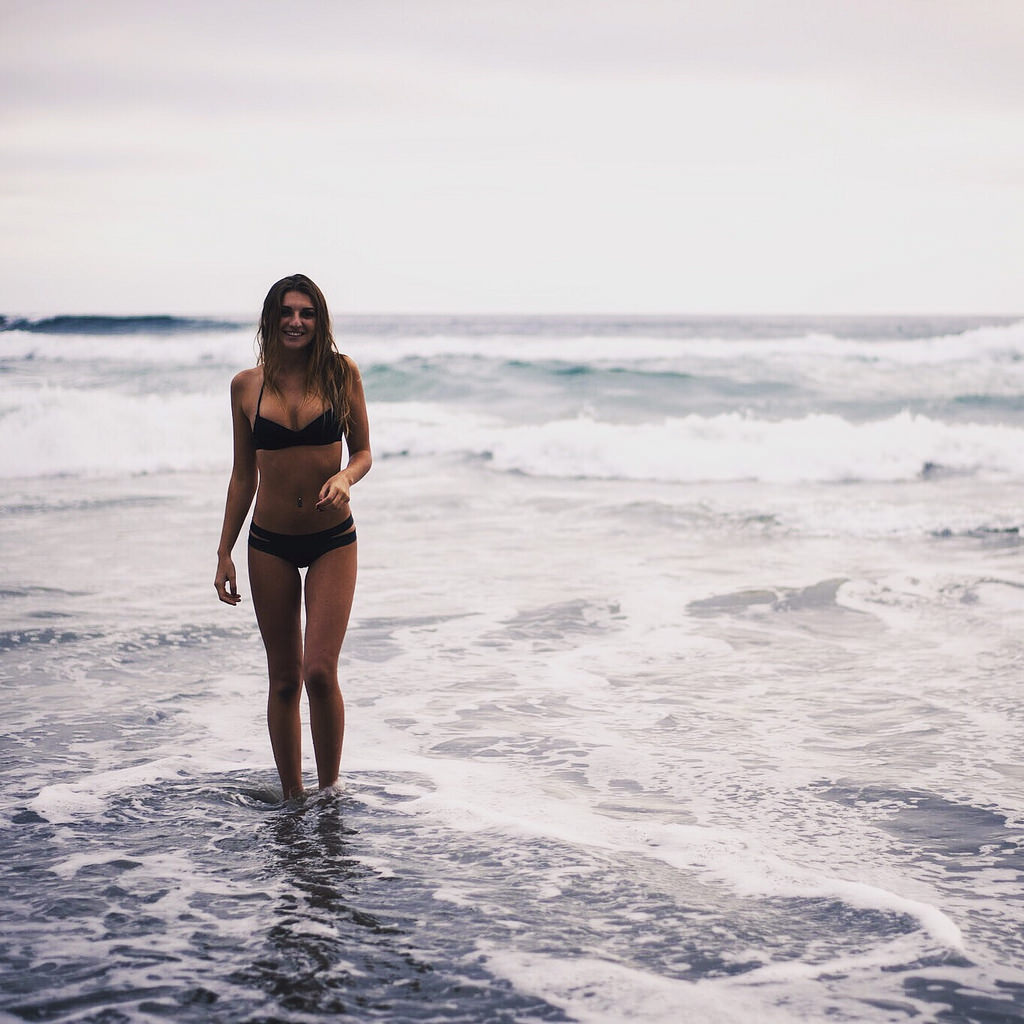 Over the years I have struggled with maintaining some sort of beauty routine while traveling.
After many trips, over packed suitcases, cracked eyeshadows, and foundations confiscated by airport security, I'd like to think I have finally mastered a stable beauty routine that is suitable for any adventure across the globe.
Today I'm going to share with you some of the best "beauty hacks" I've learned over my years of travel. Everything from pre-flight skin care to how to safely pack your products.
Before You Go

Pre-travel skincare and packing tips
1. Hydrate, hydrate, hydrate.
 Nothing is going to dry out your skin more than the stale cabin air of a plane. I like to use GLAMGLOW THIRSTY MUD HYDRATING MASK the night before my flight to give my skin a little extra hydration.
2. Take advantage of free samples. 
You know the ones Sephora always throws in your bag after you've undoubtedly spent too much money there? Don't throw those out, they'll save you a lot of suitcase space in the future. I almost never pack my full size cleansers or moisturizers anymore because I have a stash of skincare samples built up. Just grab as many samples as you need to cover the length of your trip and your good to go!
3. Cushion bottles with clothes
. That being said, if you don't have an extensive sample stash, or you have specific skin care products that you need to pack, pack them safely by wrapping them in clothes. There's no need to go crazy taping lids or shrink wrapping bottles. Simply place your bottles into a Ziploc bag and wrap them using clothing items you're packing. Not only with this protect them from the harsh reality of being checked baggage, but it won't take up any extra space in your luggage.
4. Pack travel friendly makeup. 
I love my magnetic MAC palette so much. I've gotten to pick my favourite shadows of the years and stick them into a completely customized palette. However, this is literally the worst palette to travel with. I've tried, many times, and to no avail, always returning with at least one fallen solider. These days I've figured out the safest palettes to travel with are the LORAC PRO PALETTE, NAKED ONE PALETTE, NAKED BASICS PALETTE. These palettes are sturdy enough to survive the trip and they're neutral palettes you can create a variety of looks with.
5. Pack multi-purpose products. 
Another great way to save space in your makeup bag is to pack products that you can use for more than one thing. For example, I love using my BECCA CHAMPAGNE POP HIGHLIGHT as both a cheekbone highlight and an eyeshadow. Bronzers can also double as eyeshadows; a lot of the times I don't even pack eyeshadows on trips because I'm armed with these two! Another great product I love, especially for summer trips, is BECCA SHMMER SOUFFLE. This cream product can quickly add some colour and glow to your face with just one swipe!
On the Flight
How to stay glamorous at 35, 000 feet
6. In flight facials. 
No this is not a new service any airline has started (though they definitely should?), however it's a simple trick you can use while in the air to ensure you land looking and feeling refreshed. I used to be a big fan of the SEPHORA SHEET MASKS to use on a flight. They're quick and mess free, however you will freak out anyone who looks at you. To spare the flight attendants the mini heart attack mid-flight, I've switched to using ORIGINS HYDRATING OVERNIGHT MASK. These already come in little travel size pods so you can just apply as you would any moisturizer and let your skin absorb the excess.
7. Stay hydrated. 
I really cannot stress hydrating enough, but it is a major key to good skin! Instead of bugging the flight attendants every few minutes to top off your plastic cup, grab a one litre bottle at the airport, or better yet, bring a refillable water bottle onto the flight and kindly ask a flight attendant to fill it up for you. You'll be able to stay hydrated all flight without driving your flight attendant nuts.
On your trip
Keeping it up throughout your travels

8. Continue to stay hydrated.
 Okay seriously, have I driven this home yet? Remembering to drink water while travelling can sometimes be tough especially in places like Europe where water is not free! It's always a smart idea to carry a refillable water bottle wherever you're traveling; your skin and body will thank you.

9. Do your makeup in five minutes. 
Chances are when you're traveling you want to be out exploring and not in your hotel room doing your makeup for hours anyway. I've finally learned how to keep it simple when I travel and have mastered doing my makeup in under five minutes with these products:
Dior BB cream
Garnier BB cream concealer (perfect for hiding jet lagged eyes)
BECCA shimmer soufflé
Benefit tinted brow gel (to frame the face )
Tarte waterproof mascara
Fresh lip balm (extremely moisturizing and super pigmented; worth the splurge!)
10. Go from day to night with bold lipsticks. 
I love a smokey eye as much as the next gal, but ain't nobody got time for that when traveling! When you're looking to switch gears from adventuring explorer to girl out on the town, simply stick with your daytime makeup and just spice it up with a bold lip! Some of my favourites are MAC MILEY CYRUS VIVA GLAM, MAC RUBY WOO, ANOTHER ONE.