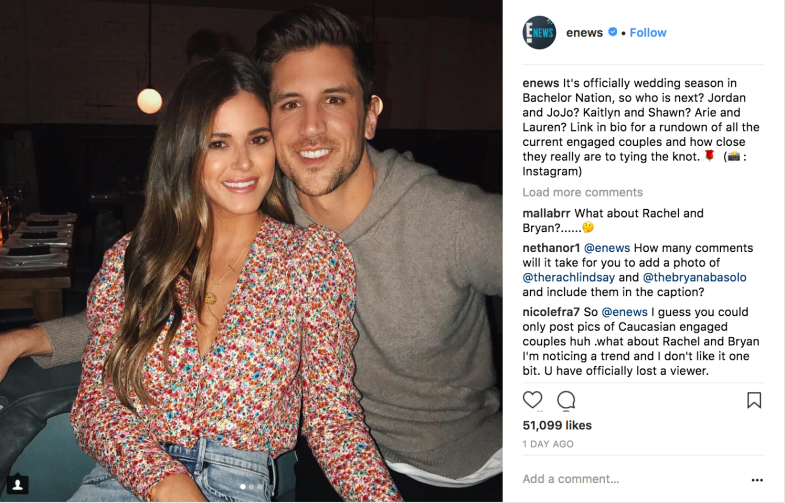 Yesterday E! News added a photo of Jojo Fletcher and the guy she got engaged to on her season of The Bachelorette, Jordan Rodgers. If you scroll through, you'll also see Kaitlyn and Shawn as well as the most recent Bachelor and his fiance Arie and Lauren. Fans were puzzled about why the media company would choose to feature a couple from the past who haven't been in the news lately when they could have featured the most recent Bachelorette Rachel Lindsay and her fiance, Bryan Abasolo.
More bizarrely, Rachel and Bryan were left out from the caption which wonders which Bachelor couple will marry next: "It's officially wedding season in Bachelor Nation, so who is next? Jordan and JoJo? Kaitlyn and Shawn? Arie and Lauren?"
Fans also pointed out that the E! News account doesn't follow Rachel, but follow people from the franchise who were never even leads.
In the accompanying article 6 engaged Bachelor are listed with thoughts about when they might get married. Bachelor fans pointed out the photos included are of white couples, while the interracial couples were only listed in text.
Rachel noticed the omission and commented:

Kristina Schulman (Rachel's castmate from Nick Viall's season) and Eric Bigger (who tried to win Rachel's heart on her season) also commented that the coverage felt unfair to Rachel, with Kristina comparing E! to a racist, Lee Garrett, who was inexplicably cast on Rachel's season:

Rachel even argued with fans who said the omission of Rachel from the caption of this Instagram post and her not having a photo in the article could be a coincidence:
As someone who works in media, I could MAYBE see wanting to use Jojo Fletcher as the lead image rather than Rachel because Jojo has a million and a half more Instagram followers, which could lead to more views. Jojo's fiance is also the brother of an NFL player so he is more recognizable and famous as well. It could also just be trying to play to who the writer thinks is most popular in the Bachelor world so that the most people would be interested in the article, Jojo's season had about a million more viewers than Rachel's.
Other fans posit the anti-Rachel bias is light-hearted beef with the former Bachelorette for not choosing Peter Kraus.
However, Rachel (and the fans) point is that this single post is one of many ways E! has chosen not to feature Rachel the way they have typically covered other Bachelor leads.