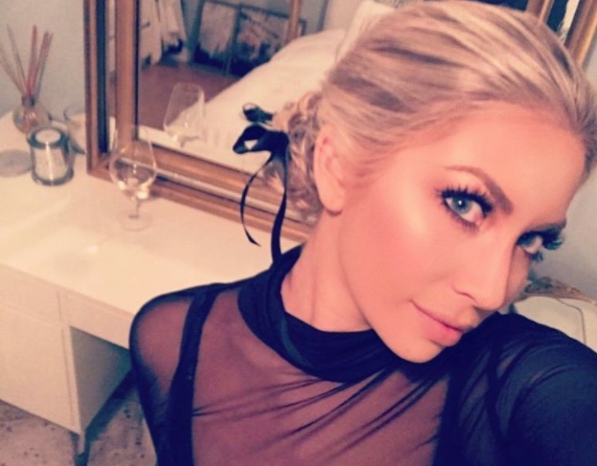 Stassi Schroeder of Vanderpump Rules went on Heather McDonald's Juicy Scoop podcast to talk about the show. When Heather asks her about the amount of alcohol the cast consumes on camera, Stassi clarifies that she uses Adderall to stay alert "especially during filming."
"That's so bad" her host advises her after confirming that she doesn't actually have ADHD.
"It's not like an all the time thing" Stassi replies. Abusing the ADHD medication is necessary because of the 'grueling' pace of her 'work' day. "It's really hard to have three scenes in one day and be drinking in all those scenes and keep your shit together. So it's… my Mom's going to kill me." She's been using the drug since college and admits it's hard for her to "get motivated" without it, though she's gotten herself to cut down recently.
Of other drugs, Stassi says she's tried molly once, but didn't like it. She quit doing xanax because she would "basically blackout" and "wouldn't remember a lot." She goes on to describe how she's become an expert as abusing adderall, eating the perfect amount to be able to drink with it and not get sick. I extremely recommend not listening to the podcast, or if you do skipping the first 20 minutes. (There's a ghastly introduction that you'll never be able to unhear, trust me).
Stassi's had a rough season, previously having a troubling Twitter meltdown after fans responded to one of the episodes:
I thought I was thick skinned & tough. I'm not. I'm having a mental/emotional/everything breakdown. Please everyone stop.

— Stassi Schroeder (@stassi) December 20, 2016
Been crying for over an hour. I'm sorry for how this played out tonight.

— Stassi Schroeder (@stassi) December 20, 2016
Previously on Bravo we've seen Kim Richards battle her addiction to alcohol and pills, and the entire cast of Real Housewives of New York pretend they're not coked out all the time.