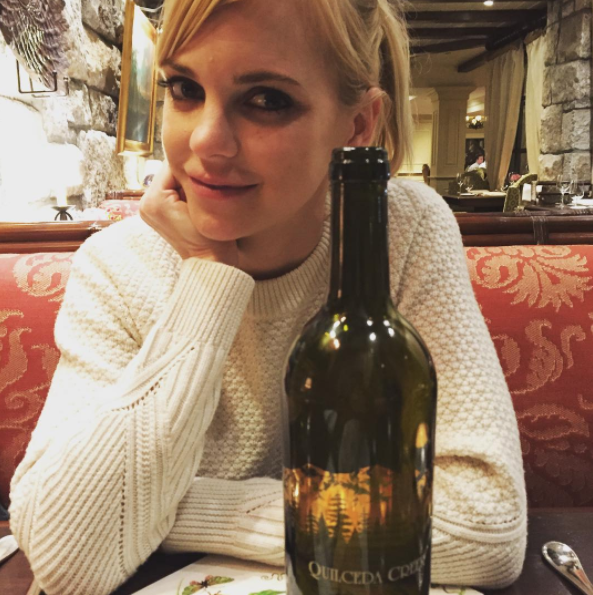 I've been a huge fan of Chris Pratt and Anna Faris' relationship since I saw them on Top Chef and learned that they're married. The two dorky stars see like a match made in heaven: they're both beautiful and kind and down to earth and silly. I follow Chris on Instagram where he posted this endearing video of Anna crying as they marvel at the magic of last summer's Olympics (heartwarming scene complete with a fire softly crackling in the background):
To drill in how down-to-earth this celebrity couple seems, here's a #tbt from Chris as he reminisces about growing up poor:
"Here's a throwback. My whole family circa 1986 as we moved from Alaska to Washington State. This is somewhere on the Alaska-Canada highway. It must have been hard for my folks, who were much younger in this picture than I am now, with three kids under 12, a few hundred bucks to their name, pretty much everything we owned crammed in a little car, chasing dreams. As a kid I never understood how little we had in terms of stuff. Which is a testament to the the unimportance of stuff I guess but more importantly the love my parents had for each other and us. I'm grateful. Yesterday was my Moms 61st birthday. Thanks Mom."
And here's their adorable support of our veterans:
But no matter how strong your bond is, when you have to deal with constant tabloid speculation (which is now coming from weekly print publications and 24/7 digital sites), it takes a toll. This week, opened up on her podcast (Anna Faris is Unqualified) when she and her guest Isla Fisher talked about what cheating rumors (even ones you know are unsubstantiated) can do to a relationship: "I take pride in how great my relationship is with Chris, but having said that, of course, in this crazy world where he's off doing movies and I'm in L.A. raising our child, of course I'm going to feel vulnerable, like any normal human would." Faris adds that while she knew the rumors were untrue, they still made her feel "incredibly insecure."
And of course rumors are only the first half of the problem. The more insidious part is how stupid you feel for letting other people get to you. As Anna explains, "I just remember feeling so hurt in a way that bothered me, because I didn't want to think of myself as somebody who could be bothered by… tabloid shit." If even strong couples can occasionally crumble under tabloid rumor pressure, it's no wonder it's also common for everyday couple who have to deal with gossiping friends or family members.