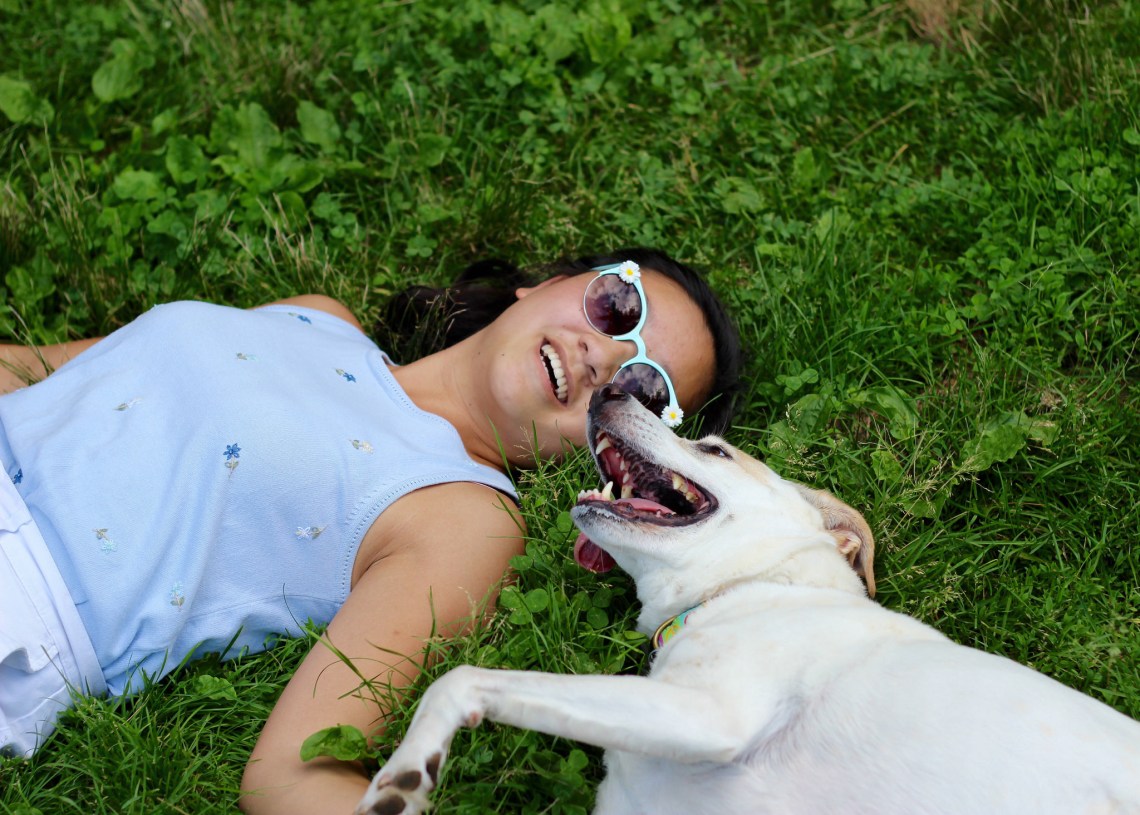 This is a story about a girl named Lucky. Okay, she's not named Lucky, she is lucky. And that girl is me.
I adopted my best friend on Black Friday, 2015. Let's rewind a bit.
My family has had pets my whole life. Mostly dogs, but also cats, fish, bunnies, and guinea pigs. I've always loved animals. When I got my first apartment in New York City at the age of 20, all I wanted was a dog. Instead, I got three roommates and a cockroach problem. For years I would visit local animal shelters and pet stores (boo) to play with dogs. While these visits filled me with unimaginable glee, my heart would break when I left dogless. I just didn't think I was ready to commit to caring for another living being.
My immediate family (and our dogs) moved to Los Angeles a few months before I did. I came because I work in television and thought I would have plenty of opportunity for work out here (ha), and I knew I didn't want to be that far from my family. I got offered my first apartment and took it quickly because it was a great deal. I signed a year lease – but they didn't allow dogs. I didn't think it would be a problem. I was still settling into life in LA and didn't have job, let alone any prospects – how could I take care of a dog now, anyway?
I continued to torture myself by visiting shelters and looking at adoptable dogs online. Why couldn't they all be mine? I finally realized I needed a dog. It may sound silly, and I know that when I told people they thought I was crazy, but it was true. I needed a dog. There was a literal dog-shaped hole in my heart. I needed to care for something, to feel that unconditional love and give it right back. I was depressed. I lived in a new city and was having trouble making friends. Not to mention my life-long struggle with anxiety. Being around dogs always seemed to make me feel better. Some friends even said that I was like a different person when I was playing with a dog.
In November, I heard that hundreds of shelters across the country were participating in a Black Friday event where Zappos would cover the cost of pet adoptions. I was still in the apartment that didn't allow dogs, but I knew that I could make it work. Plus, my lease was almost up, and my parents lived close by. I looked online at one of my local shelters – Best Friends Animal Society – and that's where I saw her: Presley. She was perfect. She was a crazy-eyed mutt and she was meant to be mine.
The next day, my family and I drove out to Mission Hills to get her. I literally ran from the car to the entrance. I was so excited! But my heart sank when I saw Presley, the perfect dog – MY perfect dog – walking out with someone else. My mom stopped the woman to ask if she had just adopted her. It so happened that she was just fostering her. "Turn around," I told her, "she's mine." I still thank my mom for stopping that woman. As I was adopting Presley, I learned that she had a slew of medical problems. She was on three different medications for an arthritic condition they weren't even completely sure she had. I didn't care. In fact, it made me want her more.
She had been in foster care for four years because no one wanted a dog with medical problems like hers. It broke my heart, but I was so happy to be taking her home. I've now had Presley for nine months, and in that time I have not once woken up in a bad mood. It's impossible when I am so happy to wake up to something I love so much. Instead of crying from sadness, I cry because it physically hurts me to think about how much I love her. She has turned my life upside-down in the best way imaginable. I'm sure a lot of people think I'm crazy for feeling this way about a dog, but I don't care.
I feel less anxious, less depressed, less lonely, and more loved. It has been nothing but a positive experience.
The other day she got poop on my shirt and I didn't even care. My only regret is that I didn't listen to my heart and get a dog sooner, but then I wouldn't have Presley, so never mind. If I could offer any advice, though, it would be to get a dog (or cat, bunny, fish, guinea pig) if you think you need one. You'll make it work. In the past few months, I weaned Presley off all of her medication because it just didn't seem to be doing any good. She is now doing 110% better. She used to limp and be lethargic; now she runs and is full of energy. My friends have noticed the change and say that all she needed was me. Wrong. All I needed was her. Cliché, don't care.