Mornings are a struggle. Mornings have been, are, and always will be a struggle. And when you are faced (ha) with the choice between doing your makeup and sleeping in, I mean. You're going to want to choose sleep most days. But it's possible to do a full face of looks-barely-there makeup in five minutes or less. The only thing though? It's not barely-there makeup. It hardly ever is. So for the sake of complete honesty, I have only retouched one of these photos. You'll be able to tell which one, and I'm going to tell you I retouched it. There's no gimmicks here, and no real tricks. I swear. I'm a cosmetically-inept tomboy, so if I can do this, you definitely can — but still, that doesn't mean it's "no-makeup," so guys, please stop telling girls you "like them better that way" because chances are you actually have no idea what that looks like. Allow me to illuminate.
1. Before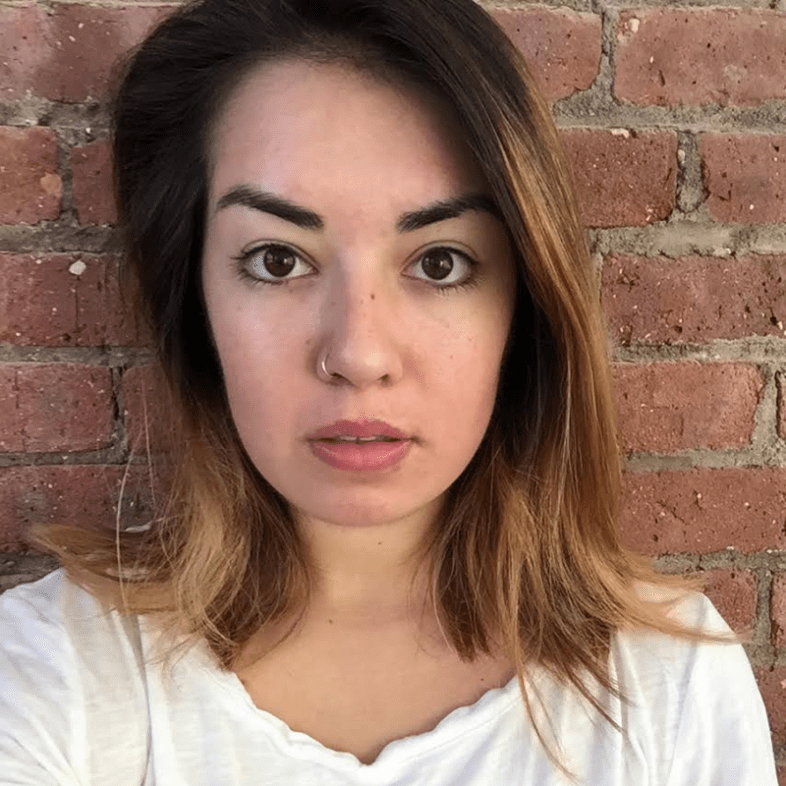 Fun fact: I left the house like this, and not five seconds after I left my front door, my building's superintendent asked me if I was sick.
This is what I look like without makeup, scrubbed clean, and with only moisturizer on my face. There's no lighting tricks, either, it's just a natural room. I am going to be honest with you for the sake of this. I actually #wokeuplikethis. Really. Excuse the selfie, you're going to have to get used to closeups of my face today, sorry.
It is worth noting, however, that the best way I've found to manage my skin's tone and texture is a mix of the Garnier blackhead eliminating scrub and Bosica's peel-off masks. I buy the 4-pack samples from Sephora, because each claims to do a slightly different thing, so it winds up being more economical to have individual packs at my disposal. (But the luminizing black mask? No. Freaking. Joke. I used one last night, so my skin is extra clean for the sake of these photos.)
(Also, before we get further into this, I have not been renumerated by or gifted with any of these brands or products. These are the things I've bought and use almost every day, so really, nobody's trying to hawk anything here. I just really, really like all of these cosmetics.)
2. Foundation
When I do a "no makeup" face, I like to have a little more coverage — we'll get into the ins and outs of contouring and really caulking the hell out of your face another day — so I use Maybelline's Dream Matte Mousse in Natural Beige. You kind of have to smear it all over (alternatively, use a beauty blender, but I am nothing if not cheap and lazy. The formula goes on pretty streak-free with your fingers anyway, so hey, if those tools were good enough for the cavemen, it gets my seal of approval.
(This is just to illustrate the fact that I am nowhere near the caliber of a makeup artist — sorry to all of you cringing out there — so again, if I can get this done in five minutes, you definitely can. Do you understand how foolproof this is yet? Do you?)
3. Eyebrows
I like to think of my life in two dimensions: A) the point before I cared about what my eyebrows were doing, and B) after I saw the light. I mean, I've had to tame my brows into submission since I was 12 years old, so it's about time I took pride in their sometimes-unruly, crazy-thick nature. (First world problems, I know.) Full disclosure however that I am 100% the type of person to freak out if I can't make an appointment with the same woman who always does them, and I have trust issues handing them over to anyone else.
… all of this to say, your eyebrows are freaking important. The photo on the left illustrates simply wiping the excess foundation off of the brows (really, do this, it is important). You can use a baby wipe or a cotton ball or even some toilet paper that's been wet and dabbed into a q-tip shape. Then, fill in your brows — I like Maybelline Define A Brow in Medium Brown — especially around the arch. It'll take your eyebrows from "eh" to "girl, those are on point."
4. Mascara
Benefit They're Real Mascara is a cult-favorite for a reason: it is a wonder product. Really. For the sake of my everyday, 'no-makeup makeup' face, I don't use eye liner, and this still defines the hell out of your eyes and lashes. (Hyper-closeup included for comparison; there's only mascara on my right eye — so the left side of your screen.)
5. Bronzer + Blush
Again with the cult products, but look. If Nars' Bronzer/Blush duo (I use Orgasm + Laguna, yes, it's named after that orgasm, and no, we will not be adults about how funny that is) is good enough for the world's supermodels and magazines, it's good enough for us. It's a bit of a spend, yes, but this palette has lasted me a few months and it refuses to quit. Be sure to tap your brushes after swiping them through the pigment, because it goes on heavy if you don't, and it will stick there for good.
Bronzer: Form your mouth into a pucker, and swipe diagonally in the crease created by your sucked-in cheeks. Stop it about an inch away from your actual mouth, though. The point is just to exaggerate what is under your cheekbones.
Blush: Smile your most genuine-ass smile possible — it's going to feel cheesy, I know — and swirl the blush on the round apples created by your smile. Blend slightly with your fingers so it doesn't just sit there. The point is to look flushed, but not, y'know, like you just had an… okay fine, we'll grow up about this.
6. Lipliner
Somewhere in my heart of hearts, I believe in the camp of the bold liner with light lipstick. Somewhere, my inner chola is living her best life.
This, however, is not that somewhere.
This is MAC Cosmetics in Subculture, which is a great my-lips-but-better base. It'll make any lipstick you put on actually stick to your mouth, but it's also so pretty that if you want to wear it with just some gloss, you can.
7. Lipstick
I found this trial size of Bite Beauty's Luminous Creme Lipstick Duo in Lychee/Musk and quickly became obsessed. Again with the MLBB theory, both are pink enough to pass as being unobtrusive colors, but they're both so creamy that it feels that much more luxurious. Musk is my go-to because it matches my skin tone that much more, but lychee works really well for fairer skin tones.
8. Lipgloss
I am a sucker for good packaging, so once upon a time, I bought Buxom Full-On Lip Polish in Ella (sue me) because it was named after me (narcissism, again, sue me) and, well. I became obsessed. So. About that. It's a really nice pink, and sort of counteracts the aggressive taupe in the lipstick. I mean, sure, I guess you could find another lipstick color, but this also has a really fun, tingly feeling, and a little gloss never hurt nobody.
Now we really get into the part that is actually the lie. Everything else has been just a matter of makeup, but how do celebrities always look so airbrushed and fresh-off-a-photoshoot in their seemingly candid Instagram accounts? They doctor the photos. (Kylie Jenner, I love you and you are my style icon, but you are Citizen Number 1 here, babygirl.) VSCO is my favorite app to use for still lifes. Most of my Instagram (with a few notable exceptions) gets the VSCO treatment, and ll of the product photos in this story were taken with my iPhone 6 and have been minimally retouched with VSCO. I am an admitted VSCO junkie. It takes a solid photo and makes it amazing.
But when you turn that on a human face? Oooh, buddy, watch the pores disappear.
I don't even look all that human after the editing. And this. This is the problem. Because when we think that — something you can only achieve with a freaking app — is the goal, there is a very real problem. Hell, even when you think that alllll of this (which honestly will take you no longer than five minutes on a bad day) is the status quo, there's a problem.
10. After
So look, my point here is to do your makeup if you want to. Don't do your makeup if you don't. Do what makes you feel good. But when guys say they prefer girls "who don't wear that much makeup," this is what they mean. They mean they prefer girls who use, on average, eight products — 9 or 10 if you include skincare and moisturizer. That's not "no makeup." That is, in fact, quite a lot of makeup. And if you're going to invest even five minutes' worth of your precious morning time to painting your face, you should do it because it makes you feel like your best self, not because anyone else will think you're prettier for it.
After all, you're never fully dressed without a smile*.
(*A smiling selfie would go here, but I've subjected you to my face enough today.)