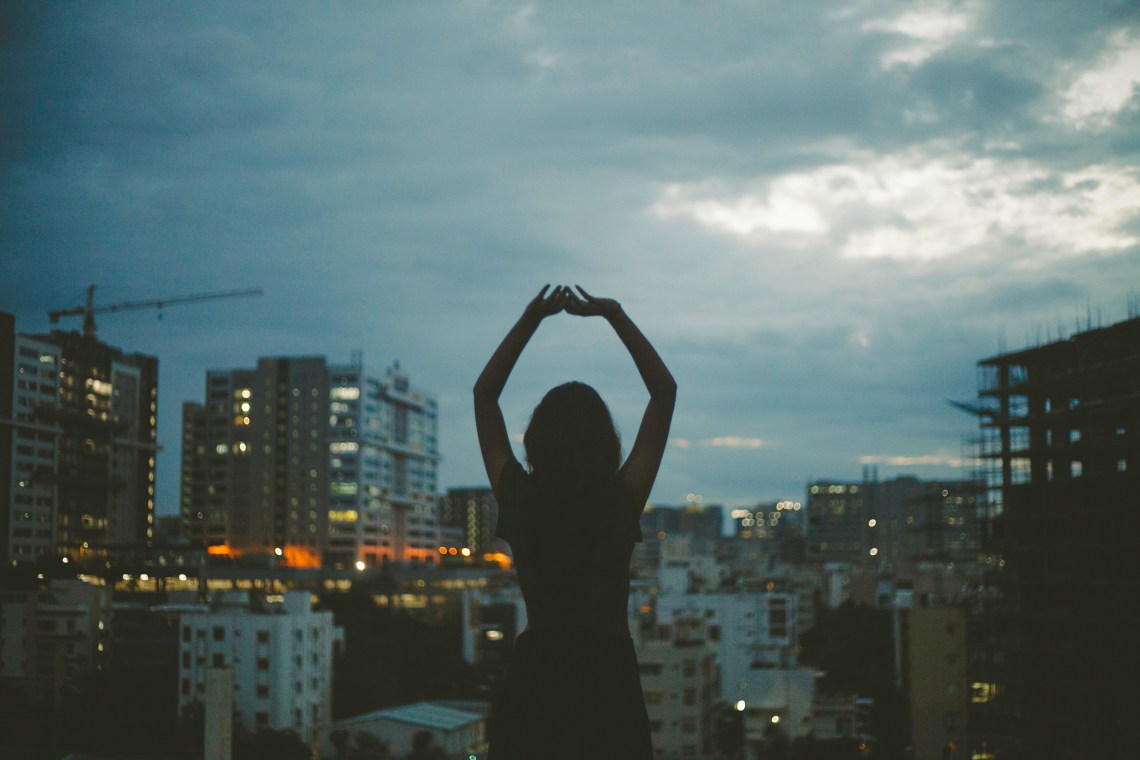 Falling in love with New York is a complicated experience.
I wanted to live in New York City ever since I first visited and fell in love when I was 14 years old. I honestly never imagined one day I would.
At 14 with one parent on each arm, no job and no responsibilities, the city was brilliant. I skipped down the sidewalks. I dreamt about seeing my face on a billboard. As our plane exited LaGuardia at the end of the week, I promised myself someday I would be back for good.
That day came eight years later.
New York called with a job offer shortly after I graduated college. Moving here was one of the biggest risks I've taken. I unloaded box after box of my stuff into my 600-square-foot, fourth floor walk-up in 100-degree summer heat and got my first taste of what the next two-and-a-half years of my life would be like.
Although I moved out of my parents' house as soon as I turned 18, I had always stayed close enough to bring my laundry home on the weekends. All I could think about was that I had no friends here and no idea what to expect. I was leaving my boyfriend and the past 22 years of my life in suburban Ohio.
My first year of living in New York was like one long first day of school, looking for somewhere to sit in the cafeteria. I had no friends and felt like everyone was staring at me. Remember that feeling, stretch it out over the span of a year, and that was my life. The second year was a little better only because my boyfriend moved to be with me.
But I love change. Monotony makes me anxious. I just needed to find out what was on the other side of my comfort zone, I told myself. I had to get the city out of my system and then I would come right back home. Or so I thought.
"After college, I only intended to move to New York for a year or two," a new friend sitting across from me at a coffee shop told me the first week I was here.
"I've lived here for 10 years," he said. "It sucks here. Don't leave. It's the greatest city in the world."
I sat there wondering about how every New Yorker I met seemed just as conflicted.
Two years went by quickly, and now in my third year of living here, I can't help but think that I'm well on my way to echoing the words of my friend in the coffee shop that day.
My relationship with New York is comparable to Ross and Rachel on Friends. I waver back and forth about my feelings for it more than I did for my high school boyfriends. It feels like I woke up one day and found myself equally as conflicted. I remember the exact moment, too.
I was walking down the sidewalk near Herald Square on my way to a dentist appointment. It was summertime, which tends to exacerbate everything terrible about New York. The crowded sidewalks, the smell of trash, the ambient heat from the pavement and all of the people and the thickness of the air permeated by construction fumes.
The guy walking behind me was lamenting to his friend about how much he hates New York in the summertime and can't wait to trade the city for the middle of nowhere someday.
"You'll regret it as soon as you leave," his friend told him. "The only thing blinding you from seeing everything great about this place is that you won't let it in. The trick is you have to stop fighting New York and just give in to it."
That's when it dawned on me. The more I thought about how much I want to leave, the more I realized I could never live anywhere else. This thought sickened me as much as it comforted me. I had developed some sort of love – or maybe an addiction – that was keeping me here.
New York definitely keeps you on your toes. Anything can happen here. It's such a weird, little place.
Nearly nine million people call this city home. And still almost every week, I run into someone I haven't seen in years, and it feels like this big, hometown reunion on the sidewalk.
And I can't forget about that time my teenage celebrity crush and I pulled up to the same empty intersection on bicycles.
Or that time everyone in our apartment building, including our landlord, brought blankets and hot chocolate to the roof to watch a solar eclipse above the city.
Or the time it snowed so much, all of the trains were cancelled. So my coworkers and I ordered pizza and hung out in our tiny office in Times Square, where we had the perfect view of an outdoor concert people had paid way too much to stand in the cold for.
It's those random moments of unity that make this bustling city of nine million feel so small.
How do things like that happen? I think the city is truly magical – that's what I loved about it at 14, and that's what I love about it now. I still find myself walking around with my head lifted, staring in amazement at the tall buildings. It never gets old. (And neither do I, apparently.)
Most of all, New York is a coming-of-age experience. It forces you to become an adult, for better or worse. I've felt myself grow and change while here. I've learned so much about the world and myself.
I was home for Christmas this year, and I found an old journal I kept under my bed in middle school. Christmas is a great time for rediscovering gems like that. I popped it open to an entry I had written shortly after my first trip to New York. These lines stuck out to me:
"I didn't just see the city. I felt it."
I tried to remember what that feeling was like. I was a melodramatic teenager, and I think there was certainly an aspect of romanticizing everything as most 14-year-olds do. But I think what I was trying to express is: I was present.
New York is a hard place to move when you're moving out for the first time. Now, I know what that song means when it says if you can make it here, you can make it anywhere.
But that guy on the sidewalk was right. You have to stop fighting it and give in a little. You have to compartmentalize the fatigue of everything that has happened, let go of the stress of everything that will happen and just let yourself be present.
I've always been ambitious. Just like everyone else, I am here chasing dreams and frantically worrying about the future.
It's a weird experience, because 95 percent of the time, I spend exhausted and frustrated. But then there is that five percent window where I realize that I am doing what I always said I would be doing, and the sense of gratification is one of the best feelings in the world. I think that is how I stay present. I think that is the gravity keeping me here, despite the 95 percent of my weeks that I spend tired, anxious and inexplicably frustrated.
Moving to New York was one of the hardest and best decisions of my life. I spent the first year hating it, the second year hating it a little less but still hating it, and now, some days are really, really challenging. Some days, all I want to do is come home. But I love it here, and there are just enough days that are a reminder of that so I never take it for granted.
Every time I get overwhelmed thinking of all the dreams in the past unfinished and in the future uncertain, I remind myself that presently, I get to live this simple childhood dream of waking up in New York City everyday, and that makes everything else seem a little more attainable.
And now, I not only understand this advice, but I've dished it out a few times myself: "It sucks here. Don't leave. It's the greatest city in the world."