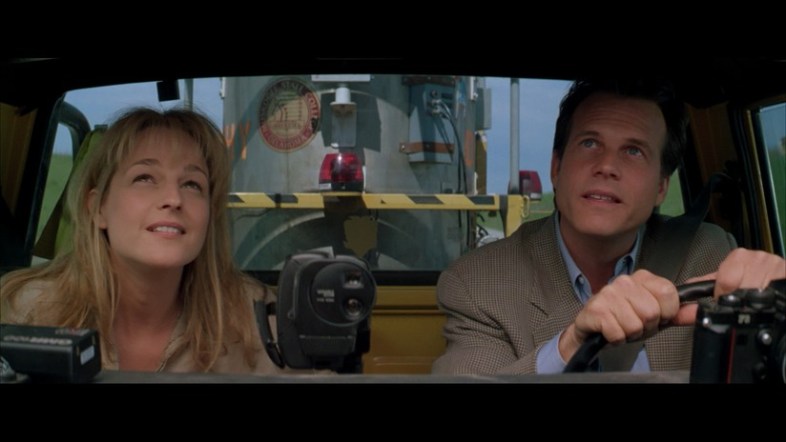 When I was a child, my family life was fairly unstable. My parents were always fighting and they would, mid-shouting match, decide to separate it seemed like every other month. This is probably why they never got married—they didn't know how long they were going to be able to stand each other. They're still together and still not married. You can imagine what this level of strife can do to a child's psych. I was kept nervous and on my toes through my teens and to this day I can still feel the reverberations of those tense years. And many times during their separations something would happen that would make it clear to my child brain how NOT OKAY our prospects were if my parents didn't live together. One of the lighter incidents was when a guy on a bike swiped our KFC dinner out of my mother's hand, leaving her cursing after him as he rode away. A year later, something of a more serious nature happened.
When I was around eight, my father left for an extended amount of time. I can't remember if my mother had kicked him out of the house or if he had left to visit his family in Mexico. My mother, my one year old brother, and I were staying alone in a one bedroom apartment in South Central LA. I know "South Central" brings up so many negative connotations—it wasn't that bad, and we were usually fine.
One afternoon during this time, I decided I really wanted to see Twister for the seventh time so I asked my mother if we could walk to the video rental store, which was a couple of blocks away. We started walking at around 6PM when there was still light out; it had been very cloudy that day. The path to the corner rental store was residential, so there wasn't much walking or driving traffic. When we hit a street corner, this man with a mullet (apparently still ubiquitous in the Latino community in the mid-90s) approached us and asked my mother if she wanted a ride, pointing to his small red car. He had a disarming goofy smile that revealed crooked teeth. My mother herself smiled and said no. As we walked away, I remember half joking to her that she should have said yes so we could get to the store quicker. She silently scoffed, "No! We don't know who the hell that even is." We didn't look back to see him get into his car.
Eventually we arrived at the rental store and I browsed for Twister while my mother looked for something else. I found what I was looking for. When we were leaving, I noticed that my mother caught wind of something so I turned towards what she was looking at. There was Mullet Head, seemingly reading the back of a video cassette intently. My mother, still carrying my little brother, pulled me by the shoulders and nudged me out of the store. Before I went out the door, I turned back and made eye contact with him—his face expressionless. My mother then grabbed a hold of my hand.
As we scurried away from the store, we passed right by his parked red car. I asked my mother, "Why was that man in there? How did he know we were going to the same place as him?" Even at that age I suspected the worst, but I guess I wanted my mother to reassure me that it was a coincidence. "I don't know," she distractedly responded.
We walked back towards our apartment uneasily. Because of what must have been my excitement to watch Twister again, I forgot about the man within the next five minutes. I remember my mother asked me to hold my little brother while she adjusted a shoe strap. She then took him back and we continued walking until we hit the exact corner Mullet Head had approached us previously. At this point I was pretty zoned out and not holding my mother's hand anymore. Next thing I knew, I heard my mother gasp and when I came to, I saw Mullet Head heading towards us, with his hand extended, and the most deranged smile on his face. It looked like he was strutting towards us to a song that only he could hear—"Stayin' Alive" is what I imagine now.
My mother yelled something in Spanish, grabbed my arm with one hand as she held on to my brother against her chest with the other one, and we took off running. I don't remember looking back but I do remember oddly wanting to laugh out of sheer shock.
Luckily for us, my babysitter at the time lived a block away in the direction we were running towards. When we got there, I was grateful that I hadn't dropped my movie. My babysitter was home. She and her very butch daughter ended up walking us home later in the day. We never saw that man again and my mother told me never to mention what had happened to my father. I thought that was surprising since I expected her to use this incident as ammo in their next miserable fight. I don't think he ever found out.
I don't know if Mullet Head actually wanted to kidnap us. Who knows? Maybe he was just that adamantly against people having to walk anywhere when he was there to give rides. What I did know is that every time after that incident when my father left "permanently," I cringed wondering what would befall us next.
I never again had any urge to rent fucking Twister.