Human trafficking is a global problem—with close to 21 million people currently being trafficked around the world. A very small percentage of them are rescued or empowered to break free of the system, and of those people, many fall back into the system because they have little to no education or professional skills to rely upon. Below are five simple ways you can join the fight against human trafficking.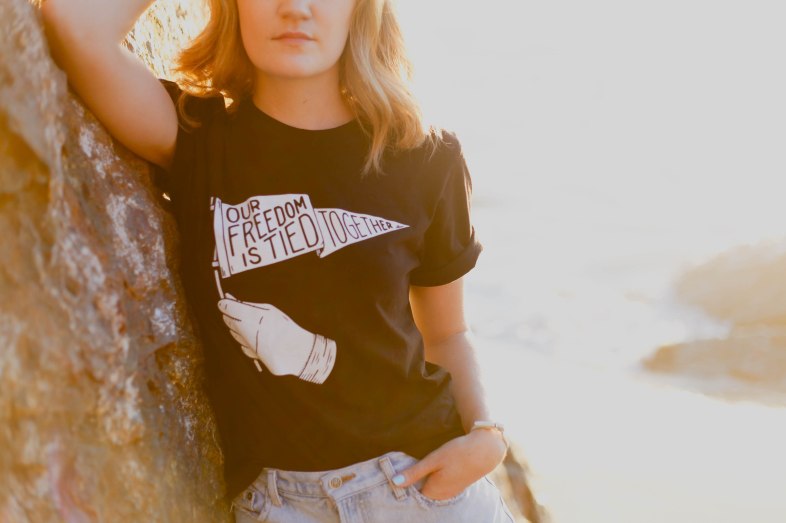 1. Figure out what your "slavery footprint" is.
Most of us don't see slaves physically working in real life, but the reality is that slaves are directly affiliated with a lot of the stuff we buy, so a majority of us are supporting slave labor and human trafficking without even realizing it. One way to be a more mindful consumer is to take this survey on the website Slavery Footprint, which asks questions about the choices you make in your day-to-day life. For instance, it addresses how many shoes you own, and what types of medicines you use. The questionnaire takes no more than ten minutes to complete and it generates a score reflecting the number of modern slaves directly involved with the products you buy and the companies you support. It also provides helpful recommendations about how to lower your slavery footprint.
2. Simply ask about your food.
Farming is one of the least protected and lowest paid industries in the United States economy, so there's a chance that the food you're purchasing is a product of human trafficking. You can help stop this epidemic by finding grocers and restaurants that partner with retailers that are part of the Fair Food Program. This program rewards farmers that provide fair wages, prohibit forced labor, enforce a zero tolerance policy on sexual abuse and harassment, and adhere to policies regarding safe work environments. The organization's website includes of list of retailers that do business responsibly.
3. Run a race to raise money and awareness for the cause.
The Aruan 5K is a race sponsored by Aruna Project, an organization that brings and sustains freedom to the enslaved in South Asia. The race is featured in 20 different cities and will work with you to host a race in your city. There are many reasons to run, including:
• Run for an exploited woman by name to sustain her freedom.
• Run to allow the women to continue to bring the choice of freedom to the enslaved through outreach programs in the brothel system.
• Run to give the rescued women a sense of self worth and a better future through aftercare relationships.
• Run for her employment—a safe and secure environment for the women to grow, create, and build a firm foundation for their future.
4. Wear the right clothes.
The Parative Project is a lifestyle brand that uses design to spread awareness about human trafficking. The goal is to sell goods produced by women who are empowered out of trafficking in India. With messages like "you are loved" and "our freedom is tied together," the shirts are truly designed for the makers, not just the wearers. The Parative Project's campaign offers several ways to support that end goal: pledging in exchange for a shirt, taking over Parative's social media accounts, or even having your dream made into a design and printed on a shirt.
5. Take action in real life and not just online.
Abraham Lincoln didn't change the United States' position on slavery by liking a link on Facebook. While sharing and liking aren't bad moves toward ending human trafficking, we need people to stand up and take action right away. Do something today to help those who can no longer help themselves. Even doing something small, such as changing the brand of flip-flops you buy, is better than nothing and changing even one life is time well spent.