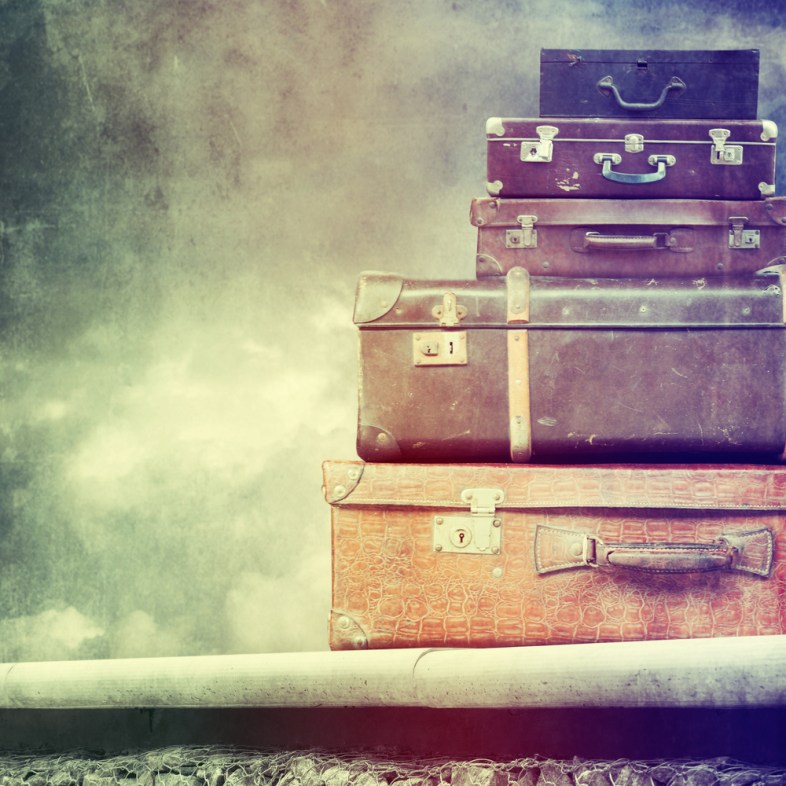 Can you imagine how incredible it would be to see LIVE footage inside the Coliseum in Italy, or virtually join in on a safari in Kenya, or watch live videos of a crazy music festival in Seoul?
Wake up wanderlusters – now you can follow your favorite travelers as they adventure around the world on Snapchat – a revolutionary phone-messaging app where users take photos/videos (called snaps), and send them to an audience in real time.
If you haven't jumped on the Snapchat bandwagon, then you should probably stop what you're doing right now, and download it. Snapchat is the newest platform that bloggers, Youtubers, Instagrammers, and celebrities are using to share their awesome lives with the world.
They're practically hosting their own TV show, right from their mobile devices. And people are tuning in from around the globe to catch behind the scenes actions, bloopers, and previews of their life in real time.
If that wasn't enough, don't be surprised to find a "Snap Story" hosted by a holiday, destination, or international event. You, as the recipient, are able to contribute to these public stories, or send a snap with a geo-based filter to your personal friends.
The app was the fastest growing phone application in 2014, and it's poised to be even bigger this year, as its 150 million active users send over a billion snaps every day.  It is taking over the world… well, literally, you can follow anyone, anywhere in the world, from any spot on the globe right now. It's incredible.
I know what you're thinking… isn't Snapchat just for sexy direct photos that disappear?
Up until a year ago, Snapchat users were only allowed to send snaps to their friends (like text messages), which could only be viewable for a few seconds before disappearing forever. 
But the addition of the "Snap Story" changed everything.
Users are now able to upload content into their "Snap Story" which can be viewed by random followers around the world, in addition to their friends.  Snap Stories are available to view for exactly 24 hours after each snap is posted– and then it is gone forever and deleted from Snapchat's servers — unless of course, the user saves the photo to their phone or the recipient takes a screenshot. 
What makes Snapchat original to all other social media platforms is that you can't edit photos or video with upscale equipment, before posting. It's real, it's raw, it's now – and it is instant gratification.
The fact that the Snap disappears is what makes the app so exciting, because what you are viewing is practically live.  It's addictive and downright fun.
Whether you're already obsessed, or need someone to fuel your interest, here are the Top 8 Traveler Bloggers to follow on Snapchat!  Enjoy seeing the world :)
1. Drew @drewbinsky
Also known by his popular travel blog, The Hungry Partier, Drew covers all parts of the globe through food, adventure, and partying.  He has explored 53 countries since 2012, and he doesn't plan on stopping anytime soon. 
Follow Drew's fun Snapchats for a look at local culture, the world's best events and insane parties.  He often snaps users back, and you can even win prizes (like postcards) for participating in one of his Snap games.
2. Stephanie Be @TravelBreak
Steph Be is a full-time solo traveler meeting people in real life that she meets through social media. She shares her adventures through TravelBreak.
Energetic with a contagious smile, Steph will snap a photo of her current location and add an emoji as a teaser to the content she later releases on her website and Instagram.
She might fail at the occasional rap, but she's worth meeting up with when she comes to a city, beach, or forest near you.
3. Kiersten @TheBlondeAbroad
A California native known for her glamorous blog, The Blonde Abroad, Kiersten is always having a blast somewhere in the world. Her adventures are entertaining, inspiring, and worth checking up on every ten minutes. 
Follow her Snapchat as she takes you to music festivals, beautiful beaches, and lively cities around the globe.
4. Mark @Migrationology

You may recognize Mark by his famous Youtube channel and blog – Migrationionology – where he tours the world in search of the best local foods.  His motto is "Travel to Eat," and if his snaps don't make you hungry for Pad Thai and a new culture, then I don't know what will.
For the foodies and fellow explores, follow Mark, @Migrationology 
5. Hannah @GettingStamped
Hannah and her husband are recognized by their popular blog, Getting Stamped.  The travel duo is always on the move, eager to explore destinations and cultures. You'll never be bored by following their journey on Snapchat; guaranteed.
They are currently in Africa on a safari, snapping epic videos of wildlife.  Who knows where they will go next!
6. Kate @AdventurousKate
Perhaps the most recognized female travel blogger out there – Adventurous Kate – exceeds her blog reputation through Snapchat.  She will keep you on your toes as you stalk her adventures. 
Travel along with her on Snapchat, for the spark notes version of her current journey.
7. Edna @ExpatEdna
Famed by her blog, Expat Edna, Edna has been on the road for over five years — and something tells me that she's just getting started!
An expert on Asia, she won't just keep you wanting more, but she'll have you packing your flip-flops and kicks, booking your own adventure.
8. Trey Ratcliff @treyratcliff
Stuck in Customs, Trey is a professional photographer and a nonstop globetrotter.  He has won dozens of awards for visual storytelling, so it's no surprise that he has a way with Snapchat.
You'll always want a little more than his Snap, so stay tuned for the next one.
So what are you waiting for?  Follow these Travel Bloggers on Snapchat to uncover the world in the most exciting way possible :)