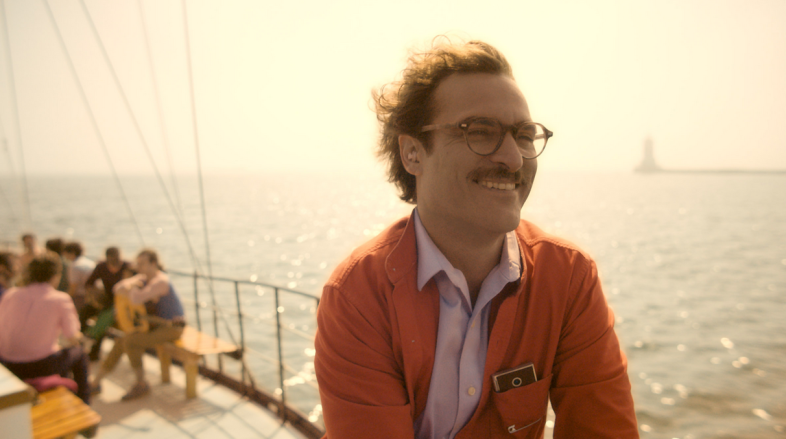 Technology has become as intertwined with our romantic lives as it has with our 9 to 5 jobs. There's no getting away from it. Cue the dreamy Scarlett Johansson voicing a mobile device catering to heartbroken divorcees in the indie romance flick Her. If you find that your own love life is being nudged by digital influence, I've pulled some tips from my own digitally-sourced trysts to help you show the world that your computer love is, indeed, a reality.
1. Be Loud & Proud
If you have nothing to hide, set aside your pride and just admit that you've found love in a modern manner. If you're acting shady, friends and family typically will have something to say. Are you dodging their questions? How well do you know your new partner? Are there details you're omitting about whom you're choosing to date? In any relationship, sparked by digital means or not, one of the biggest red flags is not being able to remain open about that new person in your life. Just because you met online and can regurgitate their profile page information doesn't mean you've learned the complexities of a complete personality.
2. Claim the first "date"
Nowadays, it's no big deal to swap stories around the dinner table with couples who met at bookstores, coffee shops, and not to mention mobile apps like CarrotDating or WhatsYourPrice. That's totally normal, right? Well, it is now. Although it may seem awkward, you and your new beau should definitely discuss your "story" before flaunting your newfound romance to the world. Making sure that both parties are aware of any details that will be shared or kept secret is important. If you say you two met at a bar and the other party says the local bookstore, this immediately raises suspicion … as it should.
3. Get The Timing Right
To avoid a cartoonesque spit-take of wine, take time to work out the timing of announcing your online dating results with loved ones. A nice shared family dinner can function as a great way to introduce everyone's personalities at once. If you're discussing your new beau with friends, try to have a prearranged date in mind for the "So when can I meet this person?" question. From internal perspective of assessing the new someone in your life, keep in mind a healthy relationship includes a partner who's willing to meet the people who mean the most to you.
4. Keep Things 100 (Percent)
If all else fails or if you believe any of the above methods simply would not help your big unveil—consider why you are choosing to date online in the first place. If you can't be honest with your family or friends, at least be honest with yourself. Are you comfortable with the idea of online dating? Are there ulterior motives for why you're dating this person? Have you truly exhausted all other options before online dating? These are questions that must be asked and answered honestly before the relationship can pass the point of being "an online thing" and more of a "real deal."