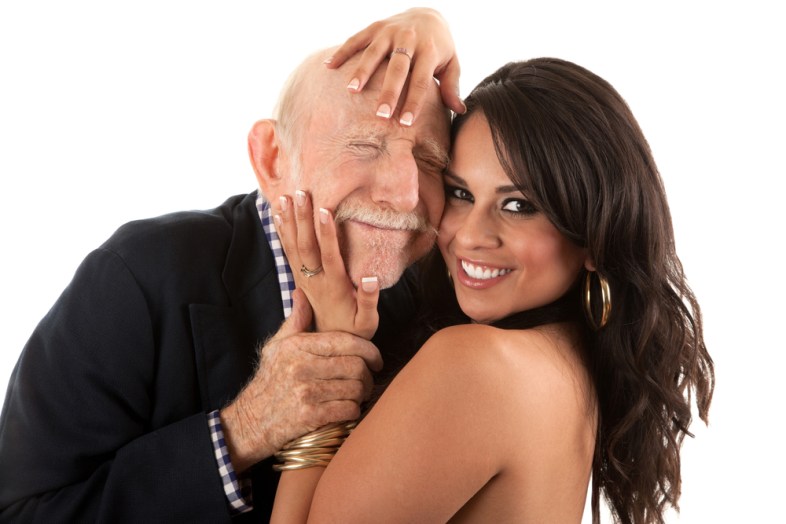 Age disparity in couples is becoming more widely accepted, especially in mature social circles where age really is just a number. Before this revolution, the idea of dating an older guy was often dismissed with the assumption that a girl has daddy issues or denounced as "gold digging" by one's own age group.
Well, that's total crap. On any dating site like WhatsYourPrice.com or SeekingArrangement, you see younger women and older men dating just because they enjoy each other's company.
In my personal dating history, there appears a steady stream of older gentlemen ranging from guys just 10 years or so older and thus almost in my age group as well as tried-and-true silver foxes.
Dating "mature" is the best revenge, especially when the haters are host/hostess at the luxury dining establishment you're eating at. To make this happen, internalize the tips below. Understand that dating an older man comes with his own history and turn stall of baggage to check.
1. If he claims not to be comparing you to his ex, that just means he's doing it secretly. It might be happening. Right. Now. Truthfully, he always will, but shouldn't have to tell you that….
2. Skip the drama of any kind. He didn't divorce his wife of twenty years just to live a brand-new hellish soap opera.
3. He may be set in his ways. No bending here. This doesn't mean you can't get him to try new things, but don't become fixated on success in this area.
4. He may have reverted to life as a bachelor, and there's possibility of never turning back. Ladies rushing for the altar: accept this and your life will be easier.
5. He should be somewhat financially stable. If you're splitting cups of Ramen, GTFO.
6. This guy has potential to make you purr like a kitten. Don't assume he doesn't have a lifetime of smooth moves to take you on his staircase to heaven!
7. Caution: There may be children. This comes with the territory if you've lived on Earth for 30+ years. Can you deal with that, for real?
8. There may be days he wants to eat cereal … and that's it. Luckily, there may also be days when he wants nothing but steak at fancy restaurants and guess what? He's got the check.
9. Be mindful of the midlife crises. Its a real thing and often results in overpriced vehicles, a haircut, and a new wardrobe.
10. Less is often more for this guy. He's had his ups and downs and can tell you when to chill out and appreciate the finer things.
Above all, remain confident. Be yourself regardless of what age your partner is. All that matters is the one-on-one you share with each other.