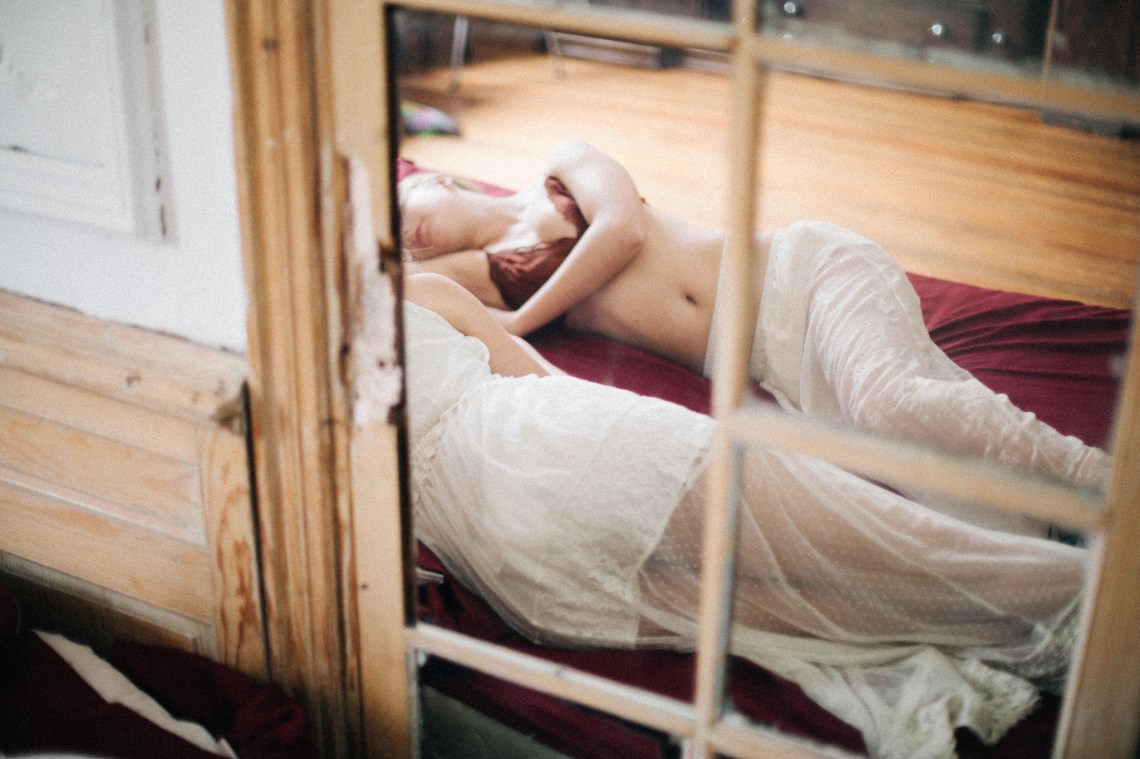 I've paid my six dollars for burnt espresso
when I find myself confiding to a friend,
"I haven't been feeling myself lately."
I am crossing my legs as I try
to keep my fingers from shaking.
I feel sticky sweet when she asks,
"What's wrong?"
I'm exhausted. I'm nervous.
I haven't been sleeping.
At 2 am I read ten different articles of Theodore Reik
before deciding maybe psychology isn't for me.
I'm in denial that there is a box of milk duds
melting in my purse.
My fingers and feet are swollen
blistered three month old
"treat myself" pedicure fading.
My muscles are spasming –
not in the someone breathing on your neck way,
but in the something moved outside my window
and I might die tonight way.
I don't want to eat.
I don't want to drink.
I just need a good old fashioned – you know –
give it to me factual,
call me dirty, get me wet,
traditional in all ways natural,
fuck.
But instead! I'm staying up later and later watching free porn,
too far gone, it's almost a disease, I'm lost
in click articles that tell me Jean Jacques Rousseau liked to get spanked,
and so do I.
I've been getting out my cute little purple vibrator more and more lately
so maybe
I won't go insane.
The doctors won't hold me down,
disguise this as illness
when they could just rub it out,
tickle the cute little clit from underneath
a hospital gown.
I as woman am used to inconveniencing men with my hysterics,
or inconceivable, unattainable,
too much work, orgasms!
But a dry as bone British physician invented
the electromechanical vibrator in 1880.
The patients and their husbands were so relieved,
as the women curled their backs and
unhooked long dead fingers from their hips.
Those doctors would place the first few vibrators
into the greedy open palms of husbands!
To cure headaches,
feelings of worthlessness,
depression, social anxiety.
The advertisements
boasted that their wives would be calmer,
happier,
and yes!
Even more willing to clean around the home.
It was not until the feminist movement that
finally!
There were women with louder lips than mine,
who asked that vibrators be put in the hands of women.
When I went to buy my first vibrator,
experienced and aware, but hardly equipped,
I was wide eyed. Inclined for the less-than-realistic.
"That one looks friendly!" Less intimidating.
Still technologically, a lot to handle.
Six settings to get me to midnight,
to get me to happiness.
My hands are still shaking, it isn't the caffeine,
thank god we found a cure
so I can finally: sleep, eat, and drink again.