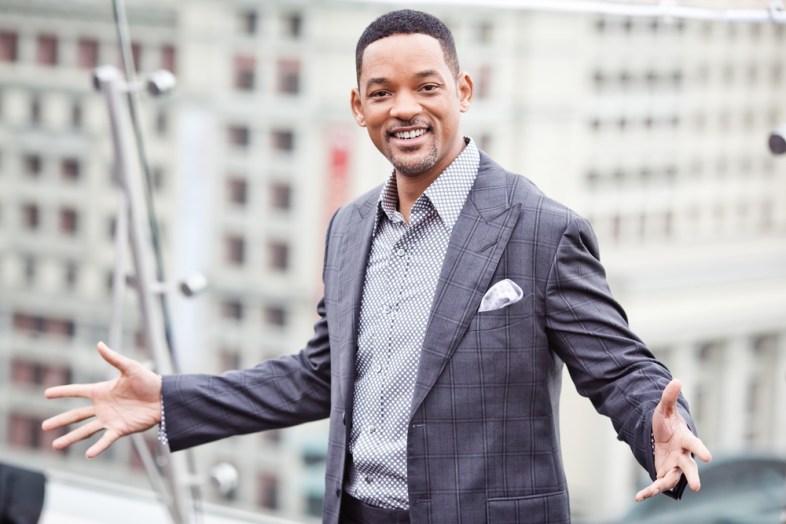 I miss Will Smith. Don't we all miss Will Smith? Remember the guy who couldn't do wrong. He won us over on Fresh Prince, sucked us in with his music and then clinched our lifetime affection with his ridiculous streak of entertaining movies. Well, after a good ten plus years as the biggest star on the planet he has had some rough times lately. Any realistic fan of his has to admit that he hasn't had a good movie since I Am Legend and that was seven years ago! We're all waiting for the Big Willie comeback and hopefully it's here as his new trailer was recently released.
[youtube https://www.youtube.com/watch?v=MxCRgtdAuBo%5DIn Focus, Will plays a seasoned con man that takes on the gorgeous Margot Robbie as his protege. The trailer gives is solid and keeps the hope alive that Will might be on his way back, but more interestingly as I watched him teach her how to be a con artist I began to reflect on all the lessons that Will has taught all of us over the years.
1. Don't have kids
This has to be the number one thing we've taken away from Will's life. I'm sure he is happy personally and yada yada, but look what it's done to his career. Not long ago he was the biggest box office draw out there and now he is getting second billing to his son in a movie in a M. Night Shyamalan movie. I mean he did okay when he had just the one kid, the one that no one knows the name of. That kid actually helped give us the classic 'Just the Two of Us'. The only thing that damn Willow and Jaden have given us is less Will. I think they were wrong when they said women can't have it all because clearly they were talking about Will.
2. How to sit through a horrible movie multiple times
Bad Boys, Independence Day, Men In Black, Enemy of the State. Will starred consecutively in those four great movies. With production like that the next one was guaranteed to be another classic. That was my thought process as I sat down to see Wild Wild West. Upon leaving the theatre I wasn't sure what to think. It had to be good because it had Will Smith. Still unsure I returned to see it again a few days later. I think I left that second viewing even more confused. So I did what any normal person would do and went to see it for a third time. Keep in mind I was 11 at this time so it wasn't that easy to get to the movies. The third time I even went by myself. I look back now questioning what type of parents would do that to their child. Of course I'm referring to letting them see this movie a third time and not leaving them by themselves.
3. Miami is awesome
He was ahead of the curb on this one. When the song 'Miami' came out I knew almost nothing about the city. Maybe that had more to do with me being nine and not a video hoe but who knows. Suddenly Miami was the go to destination. No one can convince me that the song wasn't the real reason that LeBron took his talents to South Beach.
[youtube https://www.youtube.com/watch?v=IwBS6QGsH_4%5D
4. Patterns are fucking crazy
I feel like I need to add nothing here, but to say enjoy these comments courtesy of Will and Jaden while promoting After Earth.
Will: I'm a student of patterns. At heart, I'm a physicist. I look at everything in my life as trying to find the single equation, the theory of everything.
Jaden: There's definitely a theory to everything.
Will: When you find things that are tried and true for millennia, you can bet that it's going to happen tomorrow.
Jaden: The sun coming up?
Will: The sun coming up, but even a little more. Like for Best Actor Oscars. Almost 90 percent of the time, it's mental illness and historical figures, right?
Interviewer: You and Jaden have acted in two movies together, including After Earth. Are you planning on a third?
Will: If you were a student of the pattern, you'd have to say we're going to do another one.
Jaden: [Points to his dad.] Like you worked in your family business with your dad. I'm just working in my family business with my dad. Patterns, boom.
5. Don't put family members on your album
Name two better albums than Big Willie Style and Willenium. You can't do it and if you think you can then you're a liar. With that being said once again our expectations were high for his follow-up Born to Reign. Spoiler alert: it was bad, real bad. There are many reasons how it could have turned out so, maybe he was too busy being a movie star to put his focus on music or he could have just ran out of things to say. Sure those could have been it or more likely the real downfall was when he decided to put the whole damn family on the album. Actually not the whole family as poor 'Just the Two of Us' kid was left out of the party. I would feel bad for him but he's Will Smith's kid so I think he'll be fine. This album never had a chance with a song on it called 'Willow is a Player.'
6. Make the sequels that no one wants
Who doesn't want Bad Boys 3? We all need it, clearly not as much as Martin Lawrence does but we still want it pretty bad. Knowing this what does Will Smith do? He makes Men in Black 3. Who was clamoring for that one? Please do tell me because I want to track you down so I can get you the help that you need. Admittedly MIB 3 wasn't as bad as the previous one, but why make that when there are so many more highways and buildings to destroy in Miami. If you won't do it for us then at least do it for Martin.
7. Open marriages sound awesome
Throughout our lessons there has been a lot of negative things said about Will's family. I would like to now take the time to apologize to Jada. I will never apologize to those devil offspring, but Jada deserves an apology due to the rumors that her and Will have an open marriage. These rumors came to light when it was speculated that Will was having an affair with Margot Robbie, his costar in Focus. I haven't found that special someone yet, but I can only hope to one day find a woman that would marry me and then let me hook up with the wife from Wolf of Wall Street. That's every great American's dream.
8. Don't do people favors
Will seems like a nice fella. I've never seen him give an interview where he wasn't fun and engaging. The problem might be though that he's too nice. For example Kevin Smith came to him and asked him to do a cameo in his movie. Will being a nice guy says yes immediately instead of finding out that there would be no Jay or Silent Bob and instead there would be Bennifer. Jersey Girl was a disaster, but just have to remember this for the next time. Yet flash forward a few years, it's been awhile since he has had a hit and the guy who wrote a few of his past movies wants him to cameo in his new supernatural fable Winter's Tale as Lucifer. Script? No need to look at all those words, Will will do anything for a pal. After seeing how well these favors turned out let's all agree to never do anything for anyone.
[youtube https://www.youtube.com/watch?v=ZhRYK9EYum4%5D
9. Kill anything and everything
Killing stuff is the key to success especially for Will. It doesn't matter what it is: robots, aliens, robot spiders, Haitian drug dealers, more aliens, vampires. That gives me an idea. In his next movie Will should just kill all of them at once. Look at all the money he has made for killing them separately, this movie would make all the money in the world.
10. Turn down game-changing roles
An exchange that might've happened:
Quentin Tarantino: Hey Will I've got a great opportunity for you. It's my follow-up to my Oscar nominated Inglorious Basterds. It stars you as a slave trying to find his estranged wife and seek revenge on her vicious owner. I already locked in DiCaprio, Waltz and Sam Jackson. I think this will be your comeback and score you an Oscar. What do you think?
Will: I'm not sold and as you know I've been on quite a roll lately. Haven't you seen Jada's show Hawthorne?
Quentin: No I haven't…but what's your concern?
WIll: This movie just doesn't seem realistic. I think instead I'm going to star in my next movie with my son and when I say star I mean I'm going to sit in a spaceship on the planet formerly known as Earth as Jaden gets to go handle all the action. It's from the guy who made The Village and The Last Airbender so you know it will be good. I'm thinking I could finally get that Kid's Choice Award I've been after.
11. People don't like black ghost caddies
I know this was the one that really shocked me. Who could have known that America wouldn't love the story of an all powerful black ghost caddie that helped a drunk war hero turn his life around. That had all the makings to be the next Titanic.
12. Will2k should have been a bigger deal than Y2K
In 1999, all we heard about was Y2K. Speculation was non-stop that the minute the clock hit midnight in the year 2000 that suddenly we would be living in the plot of The Terminator. The year came and went with no such issues. All the hype about Y2K did cause a tragedy though as the party anthem Will 2K and the album Willenium went under the radar. On New Year's Eve we all could have been dancing our asses off to Will 2K, but instead we were worrying if we could still play Tetris on our computers.
[youtube https://www.youtube.com/watch?v=RDsa6-xluHk%5D
13. Put your name in stuff
Growing up it most parents try to instill humbleness in their children. Will's parents clearly went the other way. He wants everything and everyone to have his name in it. His two biggest albums are Big Willie Style and Willenium. Meanwhile he named two of his kids Willard and WIllow. I can only imagine the titles of some of his movies if he had the power to name those. Men in Will would have been a very different movie.
14. Don't pay your taxes
In 1990, Will had established himself in the music business, but suddenly he was in deep debt due to unpaid taxes. With music not being enough to repay the government he turned his attention to other ways to make money. This lead to him making the greatness that is The Fresh Prince of Bel-Air. That eventually led to his movie stardom. I've already started hiding sources of income from the government hoping for similar success. Granted it didn't work out great for Al Capone or Wesley Snipes but I'm feeling good about it.
15. Studying isn't just for nerds.
History shows that being studious doesn't get you far. That all changed as Will plotted his movie career. Instead of taking random roles that he was offered, he decided to study the biggest box office hits of all-time to find common characteristics. This helped lead him to his breakout in Independence Day. So all you young aspiring doctors and lawyers, forget that and go study something really worth learning like Will did.
16. Parents just don't understand
He gets it.
[youtube https://www.youtube.com/watch?v=jW3PFC86UNI%5D
17. I might be into black dudes
Will has always been my favorite person in the world. Don't worry my parents don't take it personally. My allegiance had remained strong, but his struggles to make another good movie have really been tough on me. Finally the allure of others got to me and suddenly Idris Elba and Michael B. Jordan were in the picture. I hope that one day Will can return and prove that he rightfully takes back what rightfully belongs to him: my heart. Meanwhile I'm left to wonder what this seemingly black fetish means.
18. Being a poor gay drifter is lonely
For a while it seemed like it would be fun to be any character that Will played. Even in Pursuit of Happyness he got to be married to Thandie Newton and he ends up a sweet job. That thought though went out window when I finally saw Six Degrees of Separation. I hadn't avoided the movie, just never stumbled upon it. And after finally seeing it I can say I'm not about that life.
19. How to trick women into loving the fake you
We've always heard that you want someone to love you for you. In Hitch Will tells us that's bullshit. Instead you should hire a stranger to help you trick a girl into liking you. Albert Brennaman ends up getting the girl by being himself, but that was the least believable part of the movie. All of the guys in the beginning that Will helped seem to have done it right. This is a lesson that I can really get behind.