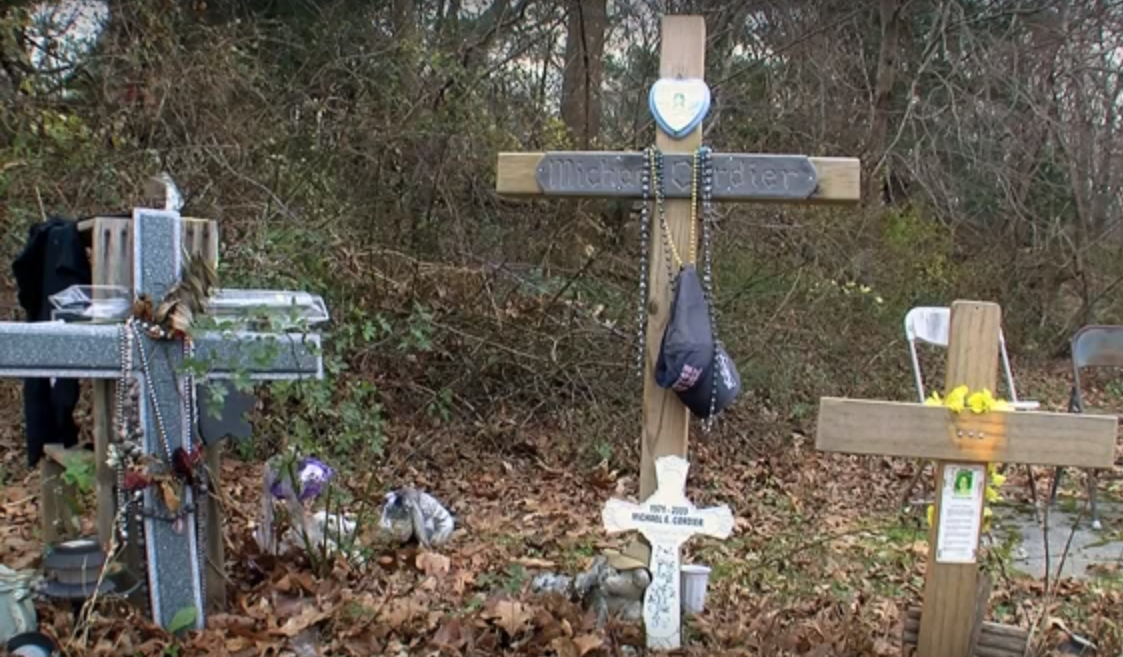 On February 17, 2003 someone discharged pepper spray to break up a fistfight in a Chicago nightclub. The noxious smell triggered panic. In the stampede, 21 people were killed.
In the aftermath, West Warwick, Rhode Island TV news reporter Jeff Derderian wanted to run a story on nightclub safety. Since he co-owned The Station nightclub with his brother Michael Derderian, Jeff suggested it as a venue for generic nightclub footage. Cameraman Brian Butler was at The Station on February 23, 2003. His camera caught excited, beer drinking, smiling heavy-metal fans.
At about 11:00 p.m., headlining band Great White began the song "Desert Moon" and tour manager Daniel Biechele flipped the switch to pyrotechnics, producing sparks.
Within seconds, sheets of flame raced up the wall. Thinking it part of the show, people shouted, "It's great!"
Realizing the truth, Biechele gasped, "I think I'm in trouble." 

Fire reached the ceiling. The band halted. Lead singer Jack Russell said, "Wow . . . this ain't good." He ineffectually tossed the contents of a water bottle at a wall.
Shrieks filled the air as people raced to leave the inferno. There were four exits but most people scrambled for the front door through which they had entered.
Some tried to leave through the stage exit only to be confronted by bulky bouncers blocking their way, intoning, "Band exit only."
The bouncers had been instructed that door was only for band members and associates. They behaved without flexibility despite the emergency.
Few people other than staff knew of the kitchen and bar doors.
100 people were killed. 230 were injured.
Only 132 escaped without physical injury. Great White guitarist Ty Longley died as did emcee Michael "Dr. Metal" Gosalves. Ninety-six of those who perished were killed in The Station. Four died later while hospitalized. Sixty-four children under the age of 18 lost one or both parents.
Sparks had ignited flammable foam that soundproofed the walls.
In the days after the tragedy, the Derderians and Great White disputed whether the band had permission for pyrotechnics.
CNN reported, "A statement released by brothers Michael and Jeffrey Derderian [co-owners of the Station nightclub] read: 'At no time did either owner have prior knowledge that pyrotechnics were going to be used by the band Great White.'"
Dominic Santana, owner of the New Jersey nightclub Stone Pony, claimed Great White had used pyrotechnics during a show at his nightclub without permission. He said, "We do not allow pyrotechnics and it got us by surprise."
Great White lead singer Russell and manager Biechele asserted they had the Derderians' permission. John Barylick in Killer Show points out that there is reason to believe the Derderians gave permission since the club had a history of pyrotechnics in shows. For example, in 2000, shortly after the Derderians purchased the venue, heavy-metal band W.A.S.P. – which was managed by Biechele – used pyrotechnics. Biechele flipped a switch that caused lead singer Blackie Lawless's crotch to erupt with showering sparks.
Barylick points to several instances shortly before the fire in which clubs withheld permission for pyrotechnics and Great White did not use it.
CNN further stated, "Rhode Island fire marshal Jesse Owens said a licensed pyrotechnician must apply for a permit to use fireworks during a performance." 

No one with Great White had applied for the permit and Biechele had no pyrotechnician license. Writing about previous shows, Barylick reports, "At none of the venues where Biechele shot pyro did he secure the required pyrotechnics permits."
The National Institute of Standards and Technology (NIST) asserted a
sprinkler system
could have contained the fire and saved lives.
Rhode Island had enacted a state building code in 2003 that required sprinklers in places of public assembly that could be occupied by more than 300 people. However, the "grandfather" clause excluded buildings like The Station that were constructed before that requirement. Barylick writes that although a sprinkler system would "have cost only $39,000" the Derderians had not installed one and without sprinklers, "patrons who did not escape The Station within ninety seconds of ignition stood little chance of survival."
The Derderians purchased The Station in March 2000 from Howard Julian and signed a lease with the Raymond Villanova realty company to rent the property.
In May 2000, the Derderians had paid a visit to Barry Warner, who lived close to The Station and had repeatedly complained about its noise under previous owners. The Derderians assured Warner of their hope that he would not be disturbed. Warner, who worked for American Foam, suggested they "use polyurethane foam for sound insulation."
The Derderians ordered polyurethane foam from American Foam and installed blocks of it over the walls and ceiling on The Station.
Early in 2001, Jeff reported on-camera about the fire hazard posed by foam mattresses. Jeff told the audience that "polyurethane foam" is called "solid gasoline" by fire experts.
However, he failed to connect this story to the insulation at The Station.
On December 4, 2003 a grand jury voted 200 indictments against Biechele and both Derderians. They were charged with two counts for every lost life under separate theories of the crime.
As survivor Gina Russo and writer Paul Londardo reported in From the Ashes, the first theory "was criminal negligence manslaughter, which results when the accused ignores the bodily risk to others and death results. The second, misdemeanor manslaughter, results from a lesser crime in which death results."
Against the advice of his lawyers, Biechele entered into a plea agreement by which he pled guilty to 100 counts of involuntary manslaughter on February 7, 2006. He called his plea an effort to "bring peace."
The plea agreement meant Judge Francis J. Darigan Jr. could sentence Biechele to a maximum of ten years imprisonment or as little as probation with community service.
Prosecutor Randall White urged a sentence of ten years. "The devastation wrought by the defendant in unparalleled is our state's history," White asserted. 

White reminded the judge that Biechele had not gotten the legally required permit to light pyrotechnics. White commented, "Biechele's failure to get a permit in Rhode Island was not an unwitting, innocuous oversight but a deliberate, intentional decision not to abide by Rhode Island law."
Biechele's attorney, Thomas G. Briody, noted that Biechele pled guilty despite his lawyers' advice. Briody stated, "He's the only man to say, 'I apologize.' . . . Dan Biechele committed a misdemeanor that night without any way of knowing the stage had been set for what the Attorney General is calling the perfect storm. . . . I submit that a brutal, draconian sentence like ten years in prison is not warranted by Dan Biechele's conduct."
Judge Darigan asked Biechele if he wanted to say anything before the court passed sentence. 

Biechele frequently paused to choke back tears as he said,
"Since the fire I've wanted to tell the victims and their families how truly sorry I am for what happened that night and the part that I had in it. I never wanted anyone to be hurt in any way. I never imagined that anyone ever would be. I know how this tragedy has devastated me but I can only begin to understand what the people who lost loved ones have endured. I don't know that I'll ever forgive myself for what happened that night so I can't expect anyone else to. I can only pray that they understand that I would do anything to undo what happened that night and give them back their loved ones. I'm so sorry for what I've done and I don't want to cause anyone any more pain. I will never forget that night and I will never forget the people that were hurt by it. I'm so sorry."
Survivor Russo experienced sympathy for Biechele whom she called "broken" but noted that, although he was "anguished," any sympathy survivors had was "tempered by our own pain." Her fiancé, Alfred Crisostomi, had died in the fire and she had suffered burns over 40% of her body.
Judge Darigan sentenced Biechele to four years imprisonment plus three years probation.
While jailed, Biechele penned 100 handwritten apologies to victims' families. He gave them to the Probation Department that contacted the families to distribute these letters. Some accepted the letters and others refused them.
Biechele was released from prison on March 19, 2008 after serving less than half his four-year sentence. He refused to talk with reporters and entered an automobile driven by a lawyer. His attorney said Biechele wanted to be a "private person."
Jeff and Michael Derderian changed their pleas from "not guilty" to "no contest." In September 2006, Michael received four years imprisonment plus three years probation just as Biechele had. Jeff was sentenced to three years probation and 500 hours of community service. Michael received a harsher sentence than Jeff due to a greater involvement in the buying and installation of the foam.
Jeff's community service was appropriate. A USA Today article reported, "He completed his community service requirement last year [2007] with a local fire and rescue company and with a national agency that works for burn survivors."
Michael served more than three years of his four-year sentence. Part of the reason he served more time than Biechele may have been that Michael was less than a model prisoner. According to Boston.com, "Since being sent to prison, Michael Derderian has been disciplined for breaking the rules at his work release job and in prison. He lost his work-release job and was transferred from minimum to medium security."
He was paroled in October 2009.
Lawsuits were filed against several defendants including American Foam Corporation, Anheuser-Busch Inc. (which had advertised the concert as well as supplied beer), the Town of West Warwick (which had inspected The Station and not found it a fire hazard), and Great White. All defendants settled. The sum total of all settlements was slightly over $176 million.
As a result of the fire, the grandfather clause exempting buildings built before the mandatory sprinkler law was abolished and all Rhode Island nightclubs are required to have sprinklers.
Families of the killed and survivors sought for years to have the site of the horror turned into a permanent memorial. Property owner Ray Villanova formally donated it to the Station Fire Memorial Foundation on September 28, 2012.
The Station Fire Memorial Foundation website states that the memorial will be "a celebration of the lives of the 100 lost directly as a result of the fire."