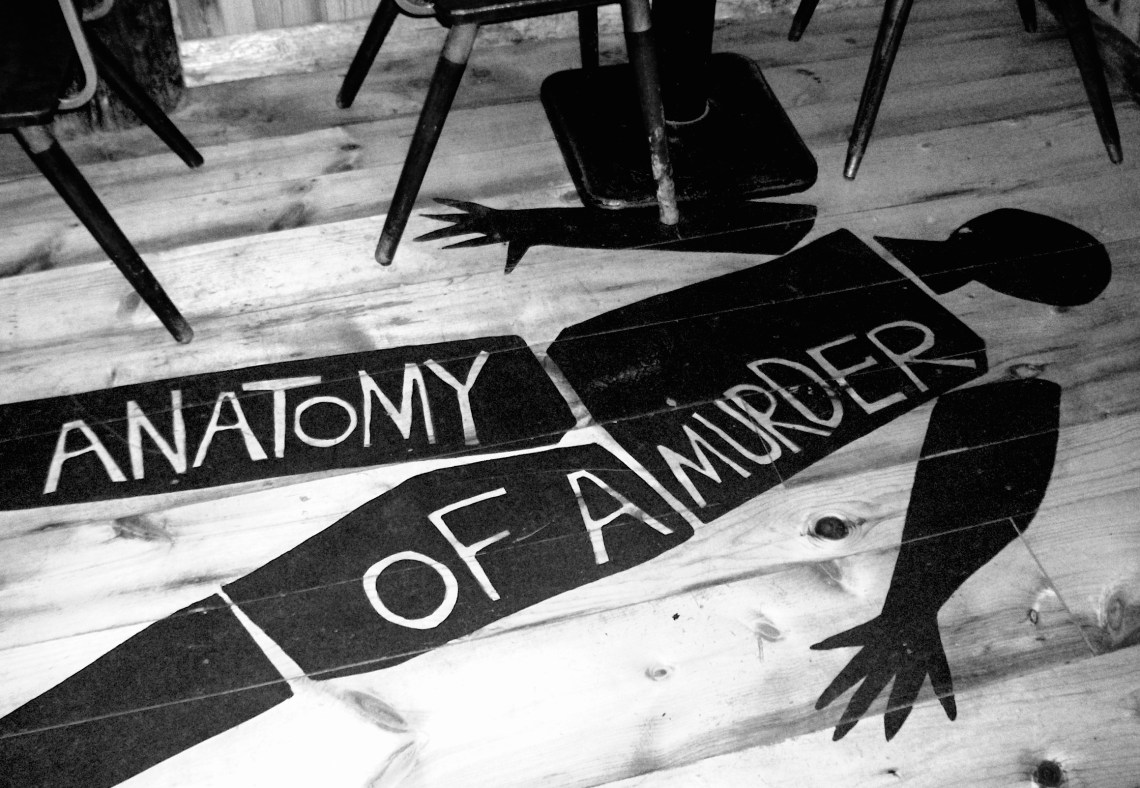 It was half past midnight on the night of July 31, 1952 and the Lumberjack Tavern of Big Bay, Michigan was filled with chatting and drinking customers along with popular music from the jukebox and the acrid aroma of cigarette smoke.
Suddenly the door burst open. A mustachioed man in the uniform of a U.S. Army Lieutenant strode to the bar. Behind that bar was the Lumberjack's owner and bartender, short and stocky Maurice "Mike" Chenoweth. Without speaking, Lt. Coleman Peterson raised his 9 mm. German Luger automatic pistol and fired six shots directly into Chenoweth. The bartender collapsed to the floor behind the bar and soon died.
Peterson lowered his gun, turned, and strode out of the bar. The manager of the bar, Adrian Wentzel, later stated that he rushed to the front door and followed Peterson out of it. According to Wentzel, he said only one word, "Lieutenant." Peterson turned to face the Wentzel. Wentzel recalled that Peterson asked, "Do you want one through the head?" Then Peterson turned back around, leaving Wentzel behind.
Peterson drove back to the mobile home he shared with his wife Charlotte, a vivacious, curly haired and bespectacled woman four years his senior.
A veteran of both World War II and the Korean conflict, Peterson, 38, had returned from Korea to America in March 1952. He had been assigned to duty in the logging and resort village of Big Bay in June 1952.
Peterson's reasons for the killing would form the crux of the dispute between prosecution and defense at his trial. Peterson claimed he had been awakened at about 11:45 PM. that night. Charlotte had stumbled through the door of the trailer, disheveled, badly bruised, and sobbing. She told him that she had gone to the Lumberjack Tavern, as she had several times before. When she decided to leave, Chenoweth had offered her a ride home. She had no reason to be suspicious of him as he and his wife had visited the Petersons at their trailer and he was on friendly terms with both Charlotte and her husband. However, she said that Chenoweth had driven her to the woods instead of her home. Then he threatened to kill her, slugged her repeatedly, and raped her. After the rape, Mike had again slugged and kicked her. As Peterson comforted his wife, he also wiped a fluid that appeared to be semen from one of her legs. He spent about an hour calming his wife and trying to help her. Then he grabbed a pistol and headed for the Lumberjack Tavern.
Charged with first-degree murder, he was defended by experienced attorney John Voelker. The bar full of witnesses made it impossible to claim Peterson had not killed Chenoweth. He pleaded not guilty by reason of temporary insanity. He claimed to have been plunged into temporary insanity by the rape and beating of his wife. Voelker asserted that Peterson had been in the grip of a condition known as "irresistible impulse."
Marquette County Prosecuting Attorney Edmund J. Thomas prosecuted the case Assistant Attorney General Irving Beattie assisted Thomas in the prosecution.
Judge Charles O. Arch was the trial judge.
According to the defense, Peterson had not gone to the bar with the conscious intent to kill Chenoweth. Rather, Voelker argued that Peterson "went there to take the deceased into custody; to hold him for the Police." However, he armed himself because Chenoweth was known to keep guns behind the bar.
Voelker asked Lumberjack Tavern manager Adrian Wentzel "whether or not [the] deceased owned a number of pistols." Wentzel replied, "He did."
Coleman Peterson testified to his distress upon finding Charlotte "hysterical." In fact, he testified that she was "so hysterical I wasn't sure that she knew who had done this to her. I made her swear that it was this deceased."
Voelker asked, "What was your purpose in going to the tavern?"
Peterson answered, "I was going to grab that individual, so help me."
Voelker asked what happened when Peterson arrived at the Lumberjack Tavern. "I got out of the car," Peterson answered. "Walked into the tavern. I wasn't even in the tavern when I saw him watching me through his rear bar window. I watched him. And he watched me. And close to the bar he whirled around on me."
"What happened after that?" Voelker questioned.
"I can't – from there on it is a jumble. My next recollection is back in the trailer. My next coherent recollection is back in the trailer."
Psychiatrist Dr. Thomas Petty testified for the defense. He had conducted a psychiatric examination on Peterson from September 3 through September 5, 1952. Dr. Petty testified that at the time of the shooting Peterson probably had a "dissociated reaction" due to the "psychic shock" of finding his wife hysterical and hearing her say she had been raped and beaten. He also said that this mental state is "known as an irresistible impulse." The doctor further stated that Peterson "was unable to distinguish right from wrong" at the time of the shooting.
However, the prosecution suggested that Peterson had killed out of simple jealousy. Witnesses were called who testified that he had once accused his wife of flirting with another soldier. This flirtation took place at the Lumberjack Tavern. Just outside the tavern he had struck his wife.
The prosecution argued that Peterson suspected his wife of being voluntarily intimate with Chenoweth and had killed him in a jealous rage. Prosecutors argued that Peterson himself might have inflicted the bruises on Charlotte.
The trial took six days. The jury returned with a verdict of not guilty because of temporary insanity.
Immediately after the acquittal, Peterson was ordered to undergo psychiatric examinations to see if he might still have a condition that merited confinement in a hospital for the criminally insane. It was found that he had regained his faculties and he was released.
Voelker went to see his client, expecting a grateful Peterson to happily pay the $3,000 fee to the attorney who had worked so hard and so cleverly to secure his freedom. Instead, he found the mobile home gone. Peterson had left a note for Voelker. In it, Peterson said he had "an irresistible impulse to leave."
Cinematic Immorality: Anatomy Of A Murder
John Voelker had previously written books under the pseudonym Robert Traver. However, the book he based on the Peterson case, Anatomy of a Murder, published in 1958, was the first book of his to make best-seller. It assured him of a comfortable income. As a result of its success, he resigned from the Michigan Supreme Court in 1960 to devote himself full time to writing.
In the meantime, he also helped director Otto Preminger to make the film Anatomy of a Murder that was released in 1959. The bar owner who is killed before the cameras begin rolling is named Barney Quill.
Jimmy Stewart plays defense attorney Paul Biegler, Ben Gazzara plays Lt. Frederick "Manny" Manion, and Lee Remick appears as his wife Laura. Arthur O'Connell plays Biegler's pal and fellow lawyer Parnell Emmett McCarthy and Eve Arden plays Biegler's secretary Maida Rutledge. Brooks West plays prosecuting attorney Mitch Lodwick and George C. Scott appears as prosecutor Claude Dancer. Orson Bean plays a psychiatrist testifying for the prosecution and Kathryn Grant plays the bar's manager, a woman rumored to be the dead man's girlfriend but whose true relationship with the dead bar owner comes as a jolt to both characters and audience.
The casting of Judge Weaver was especially creative. He was played by real life attorney Joseph N. Welch, who had shot to fame in the Army-McCarthy hearings of 1954 when he asked Senator Joseph McCarthy, "Have you no sense of decency, sir, at long last?"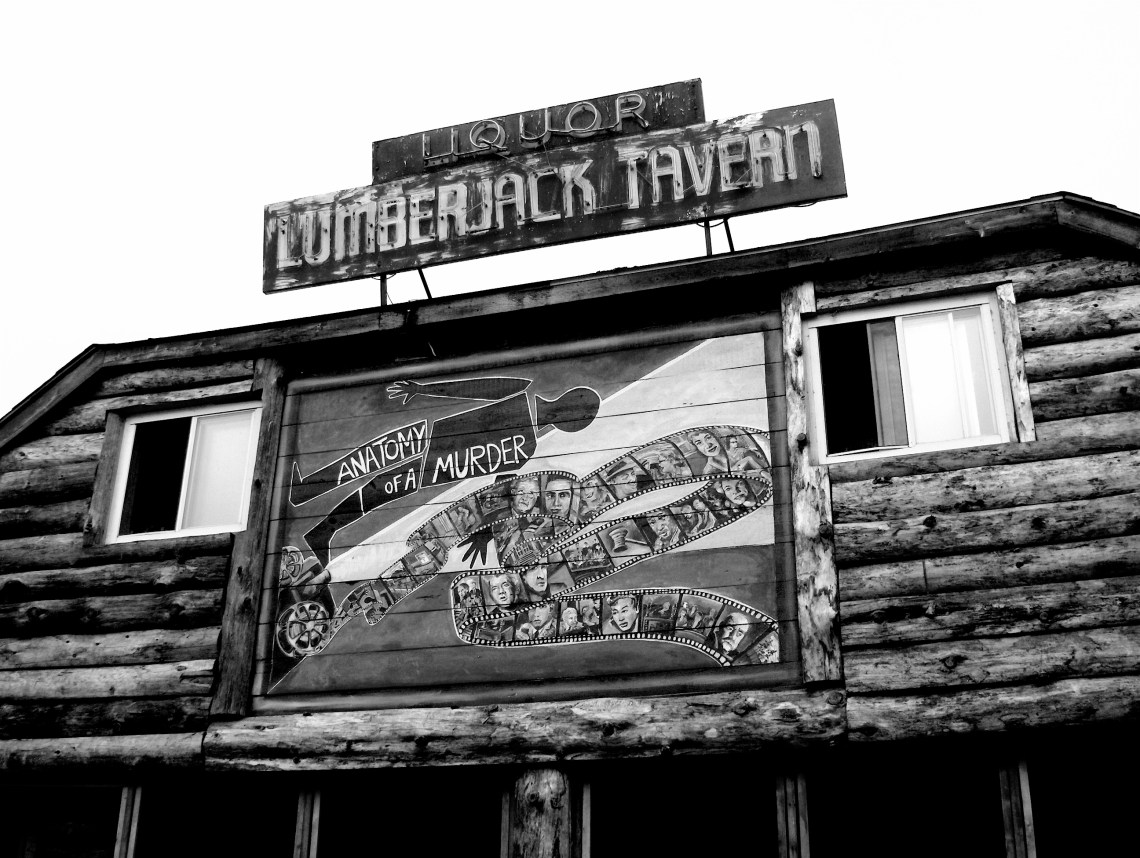 Anatomy of a Murder boasts uniformly fine performances. Stewart is a standout with his folksy but flamboyantly intelligent attorney. Gazzara possesses a suitably haunted appearance. Both he and Scott bring a special intensity to their characters. Welch's Judge Weaver is authoritative and thoughtful.
Perhaps what makes Anatomy of a Murder most impressive is the singularly brilliant performance of Lee Remick. Ironically, she almost did not give that performance. Lana Turner was originally cast as Laura Manion. However, Turner would not play the part unless she was allowed to wear a high-fashion wardrobe. Preminger insisted Laura be dressed in clothing suitable to a housewife married to an Army Lieutenant in 1959. Thus, the part went to Remick, at the time a relative newcomer.
Remick's Laura possesses an aura of old-fashioned femininity and submissiveness. She likes men and is flirtatious with them. This seems to make the obvious yet culturally important point that a woman need not be a shy virgin to be a rape victim. Was Laura raped? The audience is told that she passed a polygraph supporting this assertion. However, she tells the story in such a way that we never know. She could be lying. She could be telling the truth. Remick's performance is brilliant in striking this borderline chord that keeps us ever wondering.
Like the case upon which it is based, indeed like so much of life, Anatomy of a Murder gives no clear or easy answers. This all-too-lifelike vagary helps make it a masterpiece.
The case of Lt. Coleman Peterson, his victimized wife Charlotte, and the slain bartender Mike Chenoweth lives on in a motion picture that will never fail to captivate viewers.