[youtube https://www.youtube.com/watch?v=ItsOJUpK-cY&w=560&h=315%5D
One of the most horrifying atrocities in American history began on the morning of December 14, 2012 in Newtown, Connecticut when Adam Lanza, 20, shot his sleeping mother, Nancy Lanza, 52, four times in the head with a rifle. Leaving the rifle there, he took up other firearms and drove to the Sandy Hook Elementary School that he had attended as a child.
Finding the front doors of the school locked, Lanza shot his way through the adjoining glass panel.
Alarmed by the noises, principal Dawn Hochsprung and school psychologist Mary Sherlach raced to the entrance. Lanza shot them dead. He shot two other school staffers in the hallway who survived.
Lanza entered the school's main office, but saw no one because people successfully hid. He returned to the hallway and entered Classroom 8 where he shot to death two adults and 15 children. He went to Classroom 10 and shot to death two adults and five children.
A school staffer called 9-1-1.
CBS News's John Miller reports, "The first police officer on the scene was confronted by the glass window that Lanza had shot his way through to get past the locked door. The officer advanced into the school and saw the gunman, from a great distance down a long hallway, perhaps a couple of hundred feet." Lanza ducked into a room and killed himself with a shot to the head.
Including himself, Lanza had killed 28 people, 20 of them children.
[youtube https://www.youtube.com/watch?v=6X7cVDxYd6A&w=560&h=315%5D
Courage And Quick Responses
The death toll could have been higher, but for the quick thinking of teachers who locked classrooms and who herded children into closets where teacher and youngsters huddled as shots rang out. School superintendent Dr. Janet Robinson commented, "A lot of children are alive today because of actions the teacher took."
Richard Wilford reported that his son, Richie, recalled hearing loud noises sounding like "cans falling." Richie said his teacher briefly left the classroom to investigate, then returned, locked the door, and commanded the children to huddle in a corner.
According to Melissa Makris, her son Philip was in the gym when he heard shooting and screaming. Makris said, "The gym teachers immediately gathered the children in a corner and kept them safe."
First-grade teacher Kaitlin Roig brought her students into a bathroom. She recalled, "It was horrific. I thought we were going to die."
Little ones also displayed courage. The Associated Press reported, "Robert Licata said his six-year-old son was in class when the gunman burst in and shot the teacher. 'That's when my son grabbed a bunch of his friends and ran out the door,' he said. 'He was very brave. He waited for his friends.'"
Mistake And Clarification
Writing for ABC News, Richard Esposito, Candace Smith, and Christine Ng report, "In the early confusion surrounding the investigation, federal sources initially identified the suspect as Adam's older brother Ryan Lanza, 24." This mistake was made because Ryan's identification was found on Adam. Telegraph Media Group reports, "To his horror, [Ryan] found that his name was flashing up on the television news networks, wrongly accused of the massacre. He fled the office, jumping on a bus to return home to the house he shared in New Jersey. Shaken, he told his neighbor in an online message that he thought his mother was dead and he knew who was responsible for the multiple murder. 'It was my brother,' he said." Police cleared Ryan.
Adam Lanza's carnage was the second worst school shooting in American history, exceeded only by the 2007 Virginia Tech shootings in which Seung-Hui Cho murdered 32 before killing himself. Lanza's mass murder is the worst shooting at a pre-college level school, exceeding the 1999 Columbine High School shooting in which Eric Harris and Dylan Klebold killed 13 before committing suicide.
Adam Lanza left no document proclaiming his motives. Clues to his state of mind were found in the bedroom at the home he had shared with his mother. Black trash bags were taped over its windows. Items found included video games such as Left for Dead and Battlefield, articles and books about mass murders, especially school shootings, and weapons including firearms, knives, swords, and spears.
Adam Lanza: Lonely and Lost
The picture that emerged of Adam Lanza was a not unexpected one of high intelligence coupled with overwhelming solitude. Telegraph Media Group quotes a neighbor and former classmate as stating after the slaughter, "Adam Lanza has been a weird kid since we were five years old. As horrible as this was, I can't say I am surprised."
Adam Lanza was born on April 22, 1992, the second of two children of executive Peter Lanza and stay-at-home-mom Nancy Lanza. Friend Gina McDade describes Nancy as a "very protective, very hands-on" mother. McDade said the Lanza home was "beautiful" and praised Nancy as "a good housekeeper." McDade remarked that "her kids really came first" for Nancy.
In The New Yorker, Andrew Solomon writes, Adam "didn't speak until he was three, and he always understood many more words than he could muster. He showed such hypersensitivity to physical touch that tags had to be removed from his clothing. In preschool and at Sandy Hook, where he was a pupil till the beginning of sixth grade, he sometimes smelled things that weren't there and washed his hands excessively. A doctor diagnosed sensory-integration disorder, and Adam underwent speech therapy and occupational therapy in kindergarten and first grade."
Entering middle school troubled Adam. Solomon writes, "Instead of sitting in one classroom, he had to move from room to room, and he found the disruption punishing. Sensory overload affected his ability to concentrate." Nancy photocopied textbooks "in black-and-white, because he found color graphics unbearable." Adam also "avoided eye contact, and developed a stiff, lumbering gait."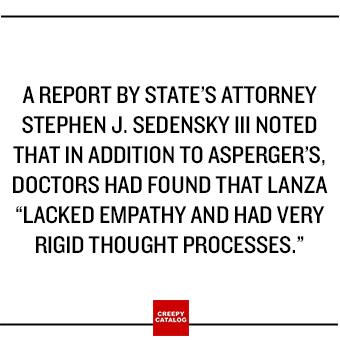 When Adam was 13, psychiatrist Dr. Paul J. Fox diagnosed Asperger's syndrome, an affliction the American Psychiatric Association has since subsumed into autism spectrum disorder.
Dan Lynch attended fifth grade with Adam Lanza. Lynch called Lanza "extremely introverted" and "always anxious and nervous." Lynch recalled that when the class viewed a sex education film, Lanza said he felt like vomiting and needed to leave the classroom.
Olivia DeVivo, who attended school with Lanza, commented that he appeared "uncomfortable" with others. She also said, "I think he went so unnoticed that people didn't even stop to realize that maybe there's actually something else going on here – that maybe he needs to be talking or getting some kind of mental help." She observed his isolation, saying, "I never saw him with anyone."
In The New York Times David M. Halbfinger reports that Lanza carried a black briefcase to his 10th grade honors English class, where he "sat near the door so he could readily slip in and out." When the teacher called on Lanza, he responded intelligently but was "nervous and fidgety, spitting his words out, as if having to speak up were painful." Halbfinger says peers described him as usually walking "with his hands glued to his sides" – maintaining the "stiff, lumbering gait" he developed in middle school.
A report by State's Attorney Stephen J. Sedensky III noted that in addition to Asperger's, doctors had found that Lanza "lacked empathy and had very rigid thought processes."
In 2006, Ryan left home to attend college, leaving Adam home with Mom and Dad. In 2008, when Adam was 17, the Lanzas divorced. Dad moved out. Alimony enabled Nancy to remain a stay-at-home-mom.
Reuters reports that Tim Arnone, who met Lanza when they both attended Sandy Hook and attended Newtown High School with him, remembered Lanza as "driven hard" to get good grades by his parents, especially his mother.
After the tenth grade, Nancy homeschooled Lanza. She also taught him one of her favorite hobbies. CBS News reported, "Nancy Lanza was a gun enthusiast and often took Adam Lanza target shooting with her."
As Adam approached adulthood, Ryan graduated from college and was hired at a brokerage firm. Adam got his high school diploma, but floundered. Neither working nor in college, he spent increasing time in his room. He grew alienated even from Nancy, communicating with her through email even though they resided in the same house. An acquaintance reports Nancy said of her son a week before the tragedy: "I'm worried that I'm losing him."
A Nation Grieves
On the day of the tragedy, Connecticut Governor Dan Malloy commented, "Evil visited this community today."
President Barack Obama ordered flags at the White House, and at government facilities across the country, flown at half-staff out of respect for the Sandy Hook victims.
The President also spoke to the media in the White House pressroom. Obama said, "The majority of those who died were children – beautiful little kids between the ages of five and ten years old. They had their entire lives ahead of them – birthdays, graduations, weddings, kids of their own." Writing for The Guardian, Ewen MacAskill noted that Obama often choked up with "tears welling in his eyes" as he spoke. MacAskill elaborated, "Such emotion from the president is unusual, at odds with Obama's reputation for being overly cool."
The Newtown shootings were reason to weep.