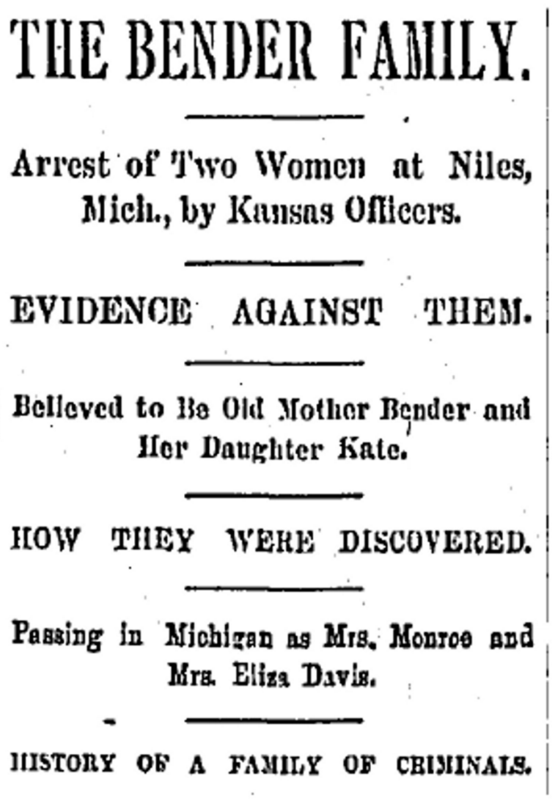 In the aftermath of America's Civil War, the United States government forcibly relocated Osage Indians from Labette County in Kansas to a designated "Indian Territory" in what would become Oklahoma. The land formerly occupied by the Osage was made available to non-Indian homesteaders.
Five families of "spiritualists" settled in western Labette County in 1871, a few miles northeast of the area in which the town of Cherryvale would be founded in 1872. One of these families was the Benders who presented themselves as John "Pa" Bender, Sr., wife "Ma" Bender, son John Jr., and daughter Kate. Both John Jr. and Kate were adults when the family settled in Labette County.
Pa and John Jr. went there before Ma and Kate. The men diligently constructed a cabin and barn and dug a well. When the buildings were almost finished in the fall of 1871, the male Benders sent word to Ma and Kate to travel to the area.
The cabin was partitioned into the Bender home in back and a combination inn, grocery store, and restaurant in front. Kate placed a sign reading "Groceries" above the cabin's front door.
Located in a lonely section of the Osage Trail, the Bender business appeared to offer a place to dine and sleep for weary travelers. The Benders would run this establishment from the winter of 1871 through the spring of 1873.
Ma and Kate planted a garden and orchard on the property. They were often seen cultivating vegetables and fruit trees.
The Benders had emigrated from Germany. Pa and Ma both had heavy accents that sometimes made it difficult for people to understand their English. John Jr. and Kate spoke fluent English with slight accents. Pa Bender was a tall, big-boned man with piercing black eyes under bushy eyebrows and a ruddy complexion.
Ma Bender was heavyset and unfriendly. She claimed to be a psychic who could communicate with the dead. She boiled herbs and roots that she claimed could be used in spells. Neighbors sometimes derided her as a "she-devil."
John Jr. was tall, slender, and handsome. He was friendly, but sometimes burst out laughing for no apparent reason so some people called him a "half-wit."
The stunningly attractive Kate was the most outgoing Bender. Calling herself a psychic and spiritual healer, she gave lectures on spiritualism and conducted séances. The Benders distributed notices advertising her supposed supernatural talents. She sometimes lectured on spiritualism. Although she was popular, some viewed her occult interests as "satanic."
People in Cherryvale and surrounding areas began noticing that quite a few travelers in the area were never heard from again. By spring in 1873, the number of disappearances triggered alarm. The Osage Township called a meeting at the Harmony Grove schoolhouse in March 1873 to discuss this concern. Among the 75 people who attended this meeting were Pa and John Jr. Bender.
At that meeting, people expressed special concern for respected physician Dr. William H. York who went missing while searching for George Loncher and his elementary school age daughter.
Both Benders remained silent as those around them decided to obtain a search warrant that would permit them to search every farmstead in the area.
Within three days, Bender neighbor Billy Tole was driving his cows past Bender Inn and noticed that the Bender farm animals appeared unfed and the property abandoned.
Tole reported this to Township Trustee Leroy F. Dick who formed a search party. Dr. York's brother, Colonel A. M. York, joined the search party. Searching was delayed for several days due to bad weather. When the search party went to the Bender property, they found the Bender cabin emptied of food, clothes, and other personal possessions. They were shocked by the terrible smell inside the former inn and home. The discovered a trap door that was nailed shut. After prying it open, they found a hole that had clotted blood but no bodies.
The entire search party worked to physically move the cabin to one side so they could search underneath. No bodies were found there either.
A man noticed an area around the garden on which the dirt appeared disturbed. Almost as soon as they began digging, they found the body of Dr. William H. York because the grave was so shallow it barely concealed his feet. He had been buried face down. Upon examining the corpse, the search party found that his skull had been bludgeoned and throat slit.
Further digging turned up 10 intact bodies and some dismembered body parts. Most bodies were those of adult men, but there was one woman. An adult man and small girl were buried together. They were determined to be George Loncher and his daughter, the people for whom Dr. York had searched. No marks were found on the child's body, so some believed she had been buried alive. A body was found in the well.
A brother of Dr. York who was not part of the search party offered a $1,000 reward for the arrest of the Bender family. Kansas Governor Thomas Oborn offered a $2,000 reward for the group's arrest on May 17.
Investigators soon learned that the Bender family was not what they appeared to be. Kate Bender was Ma's daughter from a previous marriage and John Jr. was not related to anyone else in the family.
Pa Bender's real name was John Flickinger. Ma Bender was born Almira Meik. As a teenager, she married George Griffith. Almira had several children including Kate, whose real name was Eliza Griffith, during this marriage. George Griffith died suddenly and she married several times afterward. Investigators believed she murdered her first and subsequent husbands before finding her homicidal soul mate in John Flickinger. She may have killed three of her own children to prevent them from reporting her crimes to law officers. John Jr.'s real name was John Gebhardt.
Regardless of how the fiendish family formed, their modus operandi was diabolical. Tired and hungry visitors would stop in for a meal and were seated at a table with their backs to the canvas that separated restaurant, inn, and store from the Bender living quarters. They were seated in a chair directly above a trap door. Friendly Kate would chat with visitors until either Pa or John Jr., on the other side of the canvas, struck them from behind with a hammer. Kate and Ma Bender would go through the victim's clothes, taking cash and valuables. Kate would ensure death by slashing the person's throat. The would be dropped through the trap door into the hole. Later, at night, the corpse was buried.
Since many travelers intended to settle and purchase machinery, horses, and livestock, they often carried large amounts of cash. Even if they were not carrying much cash, the Benders could steal their horses.
However, these ghastly crimes did not make the Benders wealthy. The total take from their victims was estimated to be $4,600, a pony, a saddle, and two teams of horses and wagons.
Reporters from as far away as New York and Chicago, along with the merely curious, flocked to what was soon known as "The Devil's Kitchen" or "Hell's Acre." Many people grabbed pieces of a bloodstained bedstead, the cabin itself, or surrounding shrubbery as mementos.
While 10 intact bodies were found, the unidentifiable body parts coupled with reports of missing travelers led many to conclude that the Benders murdered over 20 people.
A search party organized to find the Benders learned that they had traveled to the town of Thayer approximately 12 miles north. There, they bought tickets to a train traveling north to Humboldt. The train's conductor reported that John Jr. and Kate left that train at Chanute and took a train southbound for the Red River area near Dennison, Texas. There were reports that they went to an area along the Texas and New Mexico border while Ma and Pa Bender stayed on the train until Kansas City where they transferred to a train bound for St. Louis.
The Bender story then gets mired in myth. Many people claimed to have been with posses that found and killed the Benders. However, no such story was ever proven and no one ever collected the rewards offered for Bender capture. Sightings of Benders continued into the early 20th Century.
In 1961, the Bender Museum was founded in Cherryvale for the Kansas Centennial Celebration. A replica of the Bender cabin was built with antiques inside to duplicate its furnishings. More than 2,000 people visited it during its first three days of opening. The Dick family gave three Bender hammers to the Bender Museum in 1967.
Some Cherryvale residents found the museum ghoulish and disliked associating the town with the Bender crimes. The Bender Museum closed in 1978 and a fire station was built on the site. The artifacts that were in it were transferred to the Cherryvale Museum where they remain.
A "Kansas Historical Marker" of the Bender murders is displayed at the US-400 and US-169 interchange at the Montgomery County Rest area.
The tale of the Bloody Benders remains one of the most horrifying stories of the Old West. It is also one of the most haunting because the ultimate fate of these terrible murderers is likely to be forever cloaked in mystery.