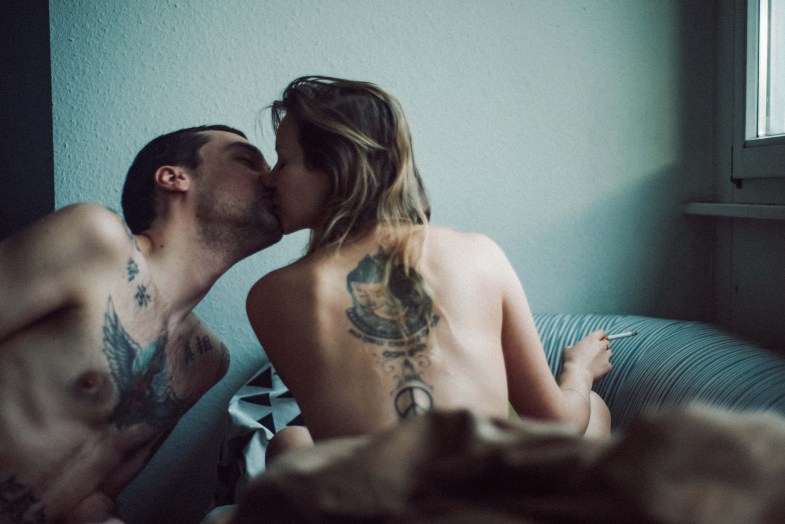 When I divorced, I believed I'd never have sex again. In the last three years of my first marriage, I could count on one hand the number of times my ex-husband had any desire for sex. I believed this proved that I was undesirable.
I unfolded a different story about myself and my sexual allure when I got out there in the dating world and discovered that a 36-year-old woman with 2 kids wasn't a deterrent. In fact, most men I met found me alluring, charming and downright sexy.
Of course, there was that one guy. He set everything afire within me: my passions, those secret fantasies, and more. It was a heady experience after being out of the dating game for almost eighteen years.
But there was something I couldn't quite get at first. We'd see each other exclusively for weeks upon end. Then every time we would begin to get close and emotionally intimate, he'd ghost me.
After six months of his contrasting behavior of undivided attention, ghosting, then being too busy to get together, I finally understood that I was dating a player.
For a long time, though, it didn't matter to me that he was a player.
Before I became a life coach, I was a project manager for hire and traveled heavily. He relocated to another state for work and we scheduled exciting trysts all over the US. When I traveled alone, though, the excuse of him as a "boyfriend" kept those male coworkers from hitting on me.
And though my future life coach self would have a word or two of strong advice about this "relationship," I will confess that I dated the player for five years. Yes, we'd get hot and heavy and then, predictably, he would ghost me.
Sometimes, the movies have it right about players. Those charming skirt-chasers with the witty lines and the ability to romance the socks off of most women. Because the truth is, players are a lot of fun to date.
Until they're not.
It turns out, there are some actual advantages to dating a player.
If you're fresh from heartbreak, a player is a great rebound guy. The last thing you want is more heartbreak, right? I put up with his behavior for a long time because focusing on him meant I had an excuse not to open up to others.
Players are fun-loving, which means you'll have a great time when you're together. After years of marriage to a man who was rarely happy, I was ready to kick back and laugh. Learning that life didn't have to be serious all the time was eye-opening and put me on the road to understanding that my happiness mattered.
You'll feel like the most beautiful, desirable person in the world when you're together. Years of a dying sex life, including no sex for the year before my divorce left me feeling not just sex starved, but undesirable and unattractive.
A player's focused attention on everything about you from the way you laugh to the way you sip your coffee does wonders for your confidence.
He will be attentive digitally, which will make you feel even more desired. Yes, all that digital attention will make you feel like his one and only, which is heady. FYI, a player likely has a stable of girls in his little black book (aka his phone) and he'll save his thumbs by sending the same exact text to a handful of ladies…
A player will encourage you to wear beautiful lingerie, which will make you feel sexy as hell. Personally, I love how sexy lingerie channels the most powerful parts of my femininity. Research has shown that what you wear does affect how you feel about yourself. Go for the sexy lingerie, but only the stuff you really like.
The sex is usually hot. Yep, I put up with dating a player for a hell of a long time because no matter how long it had been since we'd been together – a week or six months – the sex was hot. After my years in the sexual desert, I became more adventurous both in and out of the bedroom after time between the sheets.
If you want to stretch your sexual boundaries, a player will likely be game. Want to try a threesome? Go to a strip club? Play with some light bondage? Sex in a risky place? Pretty much every kinky thing I'd thought was tantalizing, he was willing to try.
Don't want your family involved in your love life? When I first divorced, I didn't want my kids meeting anyone I was dating casually because I didn't want them to get attached to someone until I was sure he was a keeper. A player is a good choice because he usually doesn't want the complication of meeting the family.
So… what made me decide to end it?
It's possible you'll put up with a player's behavior for longer than you might imagine. And the truth is, there are a multitude of reasons why.
No matter what you may tell yourself, it can be hard not to fall in love with a player. Because of all the great reasons to date one will eventually add up to feelings. Yep, I fell in love with him in spite of his behavior. I let my feelings grow because I was afraid of getting hurt by dating others. Yes, despite the fact that he was regularly hurting me. One year, I even gave him up for Lent.
I put up with his behavior because he told me he loved me and I felt loved when I was in his arms or sitting across the dinner table from him. I substituted this relationship as a way to really allow myself to not get too close to a man emotionally.
But let me be frank. No matter what the movies may depict when it comes to a sexy man-about-town, even if he loves you back, the odds are, he'll never commit. On more than one occasion, he told me that he was "all in". That he wanted the more.
And yes, you guessed it, no matter how many times he begins to lure you towards a real commitment, his own fear will get in the way.
And honestly, I put up with his behavior because I didn't believe I deserved better.
Until one day, I did.
Yep, we had a hot and heavy couple of days together at a hotel in a city where neither of us lived at the time, and when I went back home to the real world and the stress of a dying parent, he ghosted me. Yet again.
I realized that not only did I want more from a relationship, I deserved more. I deserved feeling loved even when life got complicated. I deserved feeling whole and desirable on my most challenging days.
I wanted to share my daily life with someone, not just an occasional weekend.
I deserved to be someone's priority, not just another girl in a skirt chaser's little black book.
So, I made the decision that I was done. I told him it was time to let go, and though afterwards he sent me text after text that he loved me. I realized that I deserved a man who showed me he loved me through his actions, not just on text.
I moved on.
I stopped responding to his texts.
I opened myself up to the fear of love and made huge, sweeping changes in my life. I fell in love. I left my home in Texas and moved to Ohio to create a life with a man who made it clear through his actions that he was deeply in love with me.
Why I don't regret dating a player.
Though I went through a lot of ups and downs, I don't regret dating a player. I learned a lot about life, sex, and relationships. I learned what qualities I needed in a long-term relationship – like laughter and great sex. I learned what qualities I didn't want, too.
Most of all, I learned about myself and finally blossomed into the person who saw herself as a lovable life partner. That I didn't depend upon a man's attention to prove to myself that I was desirable. I didn't need romancing to feel confident in my own skin.
I discovered that what turned me on the most was my own existence.
I've sure learned a lot about love in the time since my player days. I've been thrilled to create a love life with a man who I absolutely adore.

This post originated on Attract the One.