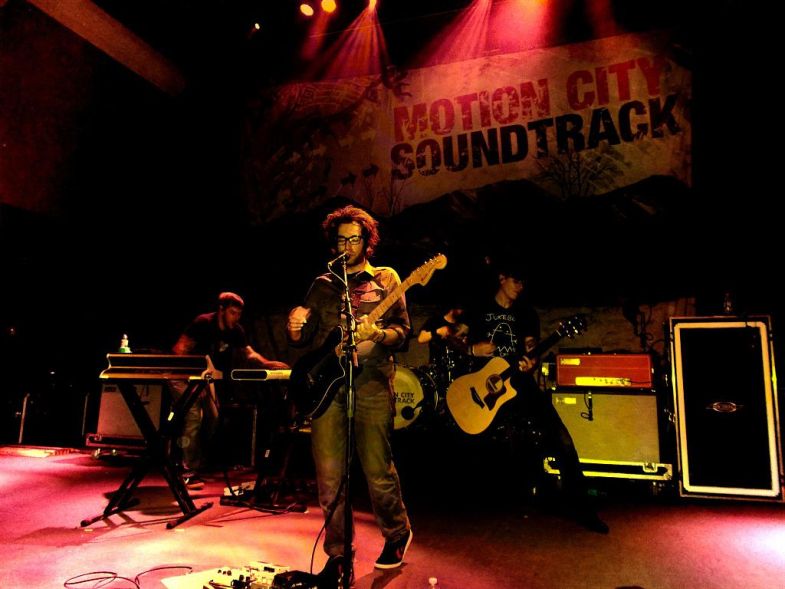 Since 2004, if you asked me what my favorite band is, the answer would always be the same: Motion City Soundtrack. This Minneapolis-based band stole my heart over a decade ago, when my younger brother sent me a link over AOL instant messenger saying, "You've got to hear this song."
From the first chords of their breakout single, "The Future Freaks Me Out," I was enamoured. For the next several years, their CDs would represent various chapters of my life, and I'd have a song that signified each friendship, relationship, and important event. 
One of the things I've always loved about this band, aside from their catchy riffs and usage of a moog, is their lyrics. Their lyrics are clever, filled with quirky phrases, and above all else, always feel so personal. The words are so specific that you can't help but feel that they were truly written about you. 
Motion City Soundtrack is currently on tour to celebrate the 10-year anniversary of their CD, "Commit this to Memory." I was fortunate enough to see them in Boston last week, where they performed that album in full, complete with a killer encore set list. The concert was a perfect blend of nostalgia and new emotions – and that's how you know a band is truly your favorite. The songs that meant something in 2005 mean just as much in 2015.
So, to celebrate the longevity of this kickass band, here's 14 powerful lyrics for almost any mood:
1. When you're feeling grateful for your BFF / significant other / sibling:
I want to thank you for being a part of my forget-me-nots and marigolds

And all the things that don't get old.
2. When you're mourning the loss of an ex-friend:

 Shiver away, after the years passed us by

Make no mistake, we don't know who you are.
3. If you're at a party and you really should have stayed in:
Oh why did I come here?

These humans all suck

I'd rather be home, feeling violent and lonely.
4. When you need an anthem:
She's always eating Captain Crunch

She sings a lot of Ben Folds Five

She's scared to death of cobra snakes

Just like Indiana Jones.
5. When you're ready to hustle: 
It's been a good year, a good new beginning

I'm through with the old school, so let's commence the winning.

I've been a good little worker bee

I deserve a gold star.
6. When you reunite with your ex-BFF:
It got so cold

The words just froze

We had to wait til summer to find out what was said.
7. When you fall hard and can't find the words to describe it: 
You're the metaphors I can't create to comprehend this curse that I call love.
8. When you're contemplating breaking up:
I had a pocket full of dreams

But I gave them all to you

Now I think I want them back

So can you tell me if I'm crazy or confused.
9. When you're loving that single life: 
I rock the Haro sport

I rock the cowgirl blues

I rock too fast for love

I'm footloose in my velcro shoes.
10. When you sense the end is near:
It seemed like a dream

A beautiful scream

That echoed forever

And made us not afraid to feel a thing

And after it ends

We'll try to be friends

They say that what doesn't kill us makes us who we are.
11. When you are getting old, fast:
But now it seems that days run away like wild horses over the hills.
12. When you first start dating someone and you hope it lasts:
Only time will tell if violins will swell

In memory of what we used to call in love.

13. When you're contemplating the possibilities:
As I gently sip this drink

I think about my lack of future

And all the places I could learn to fall in love.

14. When you're determined:
The sad truth of the matter is

I'll never get over it

But I'm gonna try

To get better and overcome each moment

In my own way.