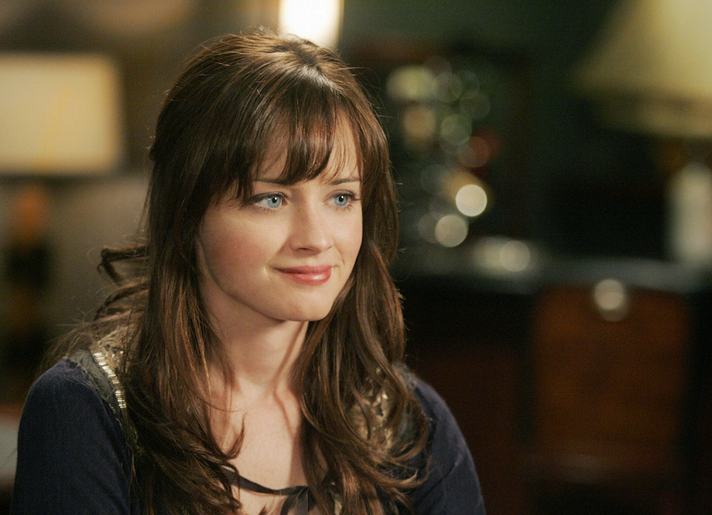 If I had to choose between the two, I'd pick a great TV series over a fantastic movie any day. Maybe it's because I'm a fan of binge-watching, especially with Netflix at my fingertips. More importantly though, TV allows us to be part of a continuing story that lasts longer than two hours. We fall in love with certain shows and look forward to watching the next chapter every week. We grow along with the characters, and we feel like they become a part of our lives, and vice versa. 
Whenever I get hooked on a show, I like to wonder if I'd hang out with these characters in real life. I find myself musing: Would this person make a good wing-woman? Would this girl be a good confidante?  Does this character remind me of anyone I know? 
Of course, we all do this. Every girl who has ever watched "Sex and the City" has decided which of her friends is the Samantha, and no one wants to get dubbed the Carrie of their clique. 
There are always going to be protagonists whom we love to hate (Don Draper, I'm looking at you), but no one actually wants to be friends with that volatile archetype. I mean, Piper Chapman is fascinating to watch, but would you ever pick her as your maid of honor? Sometimes, you need a show that contains likeable characters, ones that you'd kill to be besties with. 
Here are five past and current characters who would be the perfect real-life sidekick:
1. Rory Gilmore from "Gilmore Girls"
Anyone who has ever watched "Gilmore Girls" has wanted to be transported to Stars Hollow immediately. Who wouldn't want to get a cup of coffee at Luke's Diner, then stroll through the town common? Someone without a soul, that's who. 
Rory is every girl's dream best friend. She is compassionate, funny, intelligent, and a bookworm. She's the kind of girl you'd want to browse Barnes & Noble with before getting a latte and gossiping. She is always up for getting cheese fries or ice cream, and won't let you feel guilty for either one. She knows how to balance academics with a social life, and she also can throw a kickass theme party. Remember the episode where she pulled together a Quentin Tarantino themed party? Enough said.
2. Maria DeLuca from "Roswell"
I'm throwing it back here – back to the glory days of The WB and UPN. For the uninitiated, "Roswell" was a gem of a TV show, focusing around four aliens that survived their 1947 spaceship crash in Roswell, New Mexico. Of course, the aliens took the form of human teenagers. Attractive human teenagers, might I add.
Maria is a non-alien, and she is arguably one of the most interesting characters in the series. When we first meet her, she's portrayed as this quirky sidekick. Over the course of the series, she evolves into this down-to-earth woman who would make an amazing friend for several reasons.
First of all, she is one hell of a secret keeper. You can literally tell her anything and know that it's being taken to the grave. She's the type of friend who would be candid with you if you were about to purchase a heinous dress, and she wouldn't hesitate to lecture you on getting a grip when you're hung up on the wrong guy. She's brutally honest when she has to be, and she's also fiercely loyal. In the show, she repeatedly risks her life for those she loves. That kind of selfless behavior is why you'd want her in your corner every time.
3. Shoshanna Shapiro from "Girls" 
Regardless of how you feel about HBO's "Girls," it's hard not to like Shoshanna. She's cute and somewhat strange, with endless amounts of energy. Her innocence is endearing, and despite her ditzy demeanor, she's actually quite observant. 
Shoshanna's a fast-talker, so it would take some effort to keep up with her — but she'd be the perfect person to talk to when you have something super juicy to share. Underneath Shoshanna's perky exterior, she's actually pretty #deep, so she'd be a great listener. You'd have a blast with her at a middle school esque sleepover. You'd undoubtedly stay up all night, alternating between giggling and having very serious conversations. 
She's also got killer style, so she'd be the one you'd call when you're dying to browse Forever 21 for party dresses or cat T-shirts.
4. Jenny MacArthur from "The League" 
Every girl needs a tough female friend. One who isn't afraid to stand up for herself, as well as defend the people she loves. Jenny is definitely that girl. It also doesn't hurt that she's got a repertoire of vulgar jokes and she can out-sass anyone.
Jenny is the girl you'd drink beer with while watching a sports game, or while parsing a "Bachelor" episode. (And you know she'd be down for a Bachelor fantasy league!) She'd give great advice because she isn't afraid to tell it like it is. She'll vent with you, but tell you to quit whining if you're being annoying. 
When you're feeling impulsive, you'd immediately text her first, because she loves adventure as much as you do. If you're the type who avoids risk-taking, she'd push you outside of your comfort zone (in the best way possible).
5. Seth Cohen from "The OC"
Adding a guy BFF to the mix is crucial. Sometimes you need perspective from the opposite sex; getting a guy's opinion on certain situations can be eye-opening. 
Seth, fondly referred to as "Cohen" by others on the show, is the epitome of the perfect guy friend. He's sensitive while maintaining a solid sense of humor, and he's full of pop culture references to spice up any conversation. He'd be the first to volunteer to participate in a "Lord of the Rings" marathon, or challenge you to a Mario Kart race. As a bonus, he's enthusiastic about the holidays and would help you plan the perfect Chrismukkah party. Just try not to fall for him. Unless your name is Summer Roberts, that game's only ending in heartbreak.