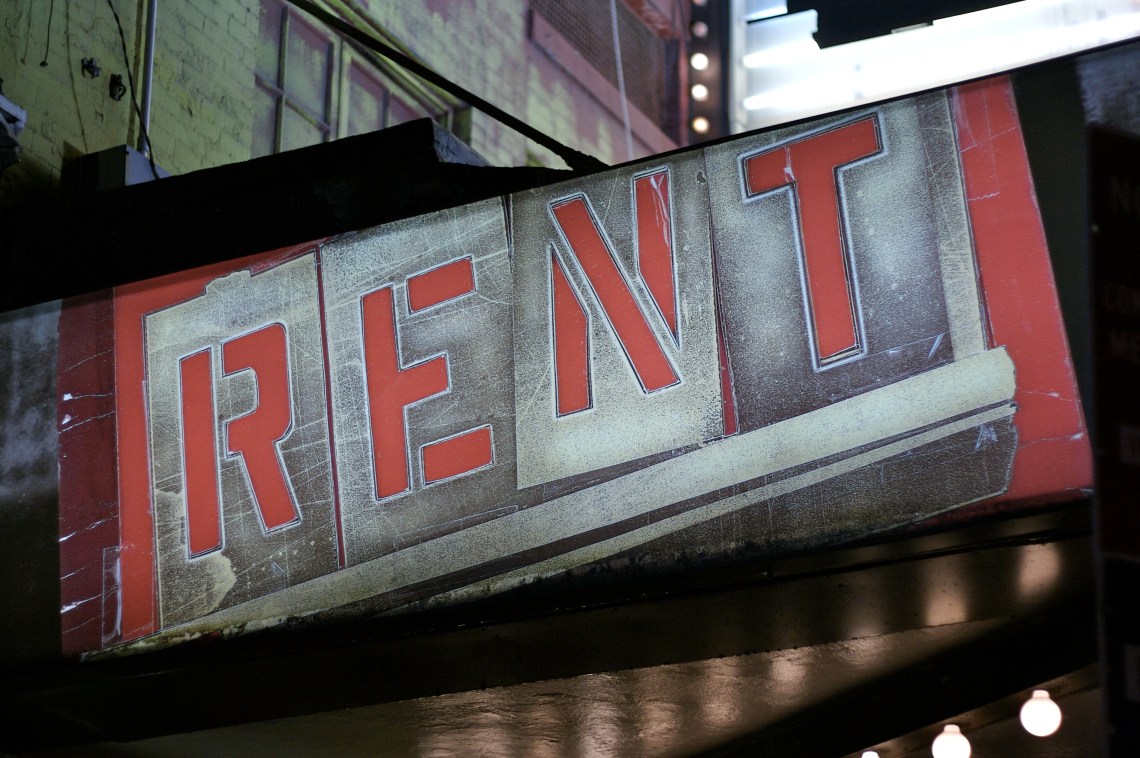 "RENT" is one of those musicals that continues to shape lives of theatre kids, no matter what generation. Its success can be credited to the show's powerful music, compelling themes, and colorful characters.  Although various details of the story might seem dated to some, the overall message is a universal one, making it relatable to people of all ages.
For you theatrically-inclined millennials, "RENT" may have marked your first exposure to Broadway or musical theatre. It might have been the first show you became totally addicted to, blasting the 2-disc cast recording any chance you got. You may have dubbed yourself a "Renthead," and you probably still know all the words by heart.
So, close your eyes and remember the feeling of walking into the Nederlander Theatre for the first time. Here are ten ways "RENT" left a significant impact on your life for years to come:
1. It made you want to live in the moment.
The mantra that gets repeated throughout "RENT" is the powerful lyric, "No day but today." There are characters in the show whose lives have a definitive expiration date due to their struggle with HIV, but truthfully, all of the characters acknowledge that life is precious and should be valued. In one of the most dynamic songs, the show's narrator, Mark Cohen, sings the line, "I don't own emotion, I rent." All things in life are temporary, and this show helped open your eyes to that fact at a young age.
2. Christmas Eve will always be linked with the opening number.
It's pretty hard to write the date "December 24" without adding in your head, "9pm, eastern standard time. From here on in I shoot without a script!" The "Tune Up" song will forever be embedded into your brain, and you wouldn't have it any other way.
3. You made it a goal to visit Life Cafe, and you were devastated when it closed.
The real Life Cafe was located in the East Village of NYC, where the story of "RENT" takes place. In a totally meta fashion, Jonathan Larson, the creator of "RENT", spent many hours at the restaurant, where he wrote the story and script for the show. To take it one step further, the characters of "RENT" are regulars at Life Cafe. (This is basically the musical theatre version of "Inception.")
4. "I'll Cover You" is still the most romantic song you've ever heard…
…and you can't listen to the reprise without crying. You strive for a romance like Angel had with Collins, and you view their relationship as one of the purest ever to exist in theatre. The song touches upon the main theme in "RENT", reminding you that even love is temporary: "I think they meant it when they said you can't buy love; now I know you can rent it…." You were taught to value the love in your life, keeping in mind that every day is a gift.
5. At some point, you've owned a pair of turquoise leggings.
Neon turquoise leggings were essential to belting "Out Tonight" with the cast recording. You could totally nail that high note, and your favorite part of the song was that it contained a sexy "meow." You would climb all over furniture in your bedroom while singing, pretending that your desk chair was metallic scaffolding as you embraced your inner Mimi.
6. Your life will not be complete until you dance atop a table in a busy restaurant.
One of the show's best numbers is "La Vie Boheme" (which takes place at Life Cafe, of course!) The song reaches its musical climax with characters dancing and singing on top of tables, toasting to various people and things. It's almost impossible not to be inspired while watching this musical number, and there's no doubt that you wanted to pump your fist along with the last line: "Viva la vie boheme!"
7. There was one character that completely summed up your teenage years.
Depending upon your personal experiences, you might have been a brooding Roger, or a pensive Mark. Perhaps you were a carefree Mimi, or the diva Maureen. Part of the appeal of "RENT" is its relatable characters. You connected with them, and there was always one in particular that you felt was written with you in mind.
8. "RENT" taught you to let go of regrets.
Mimi's songs were full of good advice. She famously sings, "Forget regret or life is yours to miss." This is a lesson that you have taken with you in all the years that passed since you first saw this show. You've learned that the very act of looking backwards takes you out of the present, and you end up missing out on the world around you. This musical has taught you to make peace with your decisions and find comfort in your past.
9. You had one friend with whom you always sang "Take Me Or Leave Me."
The duet sung by Maureen and Joanne in Act II of "RENT" has become one of the most popular songs in the musical theatre repertoire. Furthermore, this song was fun as hell to sing with your friends. You had to switch off playing the two roles, mostly because saying "pookie" was way too fun.
10. "RENT" demonstrated that all love is equal.
No matter what your background, demographic, or experiences – you couldn't help but admire the passion and companionship that existed between all of the pairs throughout the story. Love is love, and there is no greater proof of that than the romance and strength that propel the characters in "RENT".