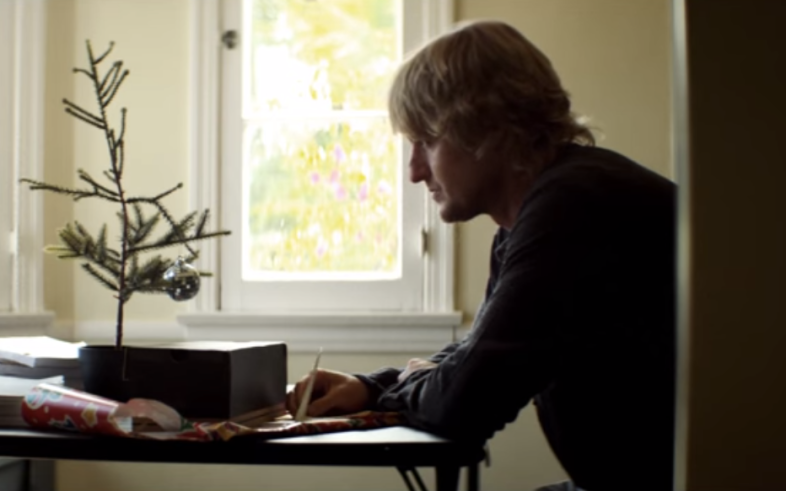 When the whole world is telling you that you should be happy — as happy as you've been all year if possible — it just makes you that much more aware that you aren't. We don't like to talk about it or think about it, but not everyone gets their chance at a glistening silvery Christmas morning with pine logs, maple syrup, brine turkey and storybook togetherness with beloved relatives and a snowy glow of presents and tinsel.
Maybe you've lost a loved one. Maybe you just haven't found one yet. Maybe you lost a job, or you're having to work. Maybe you're far away from the ones you'd like to be with. Maybe you can't afford a tree and presents. Maybe you're in a hospital. Maybe you had to move and you don't have any new friends. Maybe you struggle with depression.
The trick is to remember nothing lasts forever; if you can keep holding on, eventually things will change. But until then, it's nice to have a few songs to hang a lonely hat on.
Still, until then, festive crooners and orchestras may just be rubbing salt in the wounds. So where do you go to find sad Christmas songs? Mostly, it's blues-y niche artists and indie-emo performers who branch out from the traditional carols. Over the past two years I've kept tabs on some suitable Christmas songs that articulate how we're really feeling — and make us feel less alone.
I try to find the ones off the beaten path (Last Christmas or All I Want for Christmas Is You have beaten my listening ears to death), but some of them are still more contemporary and recognizable:
28) If We Make it Through December – Merle Haggard
A grizzled face and a hat pulled low seem exactly the anthem for the working class who may find themselves tending a lonely drink on Christmas Eve.
27) It's Not Christmas Without You – Katherine McPhee
A hopeful and ultimately happy ending, but plenty of military wives will find this appropriate.
26) What Do The Lonely Do at Christmas – The Emotions
What indeed?
25) 25th December – Everything But the Girl
Maybe the breakup was inevitably the right thing to do. But come Christmas morning…it still hurts.
24) Lonely Christmas – Sylver
It's a more contemporary Asian pop sounds, but still worth a listen.
23) Christmas in LA – The Killers
22) Just A Lonely Christmas – The Supremes
Old school loneliness courtesy of the Supremes.
21) Another Lonely Christmas – John Eddie
Another old-school country song, but worth the listen.
20) (It's Gonna Be A) Lonely Christmas – The Orioles
Reaching further back into the decades, we remember people have always been lonely at Christmas.
19) Christmas Without You – The Lonely Hearts
Swing it up with this obscure lonely Christmas ballad.
18) Christmas Lights – Coldplay
"Still waiting for the snow to fall, and it doesn't really feel like Christmas at all…"
17) Lonely Without You (This Christmas) – Joss Stone & Mick Jagger
If getting your groove on brings you out of a funk, this is your song.
16) Christmas is the Saddest Day of the Year – Jill Sobule
Maybe it won't always be, but for someone feeling this way, you can at least sing along.
15) Wintersong – Sarah McLachlan
This soulful classic is perfection for the listless, disconnected distance that loneliness sometimes lends us during the Christmas season.
14) Lonely Christmas Night – George Baker
A 1978 classic reminiscing on family memories past.
13)  Lonely This Christmas – K.T. Tunstall
A slow and melancholy lamentation recognizing the unavoidable feelings at Christmas.
12) Calling on Mary – Aimee Mann
11) Colder Than Winter – Francis Black
Another post-breakup anthem when you're feeling a little lost.
10) I'm Not Really in the Christmas Mood This Year – Foxtails Brigade
Quiet, simple and to the point. Some years, it just doesn't happen.
9) Miss You Most – Mariah Carey
Sometimes Christmas just accentuates the feelings we already deal with the other 364 days of the year.
8) My December – Josh Groban
Remember how much we'd give away just to have somewhere to go to, someone to come home to? So does this song.
7) Just Another Lonely Christmas – John Eddie
Another semi-country song helps us cope with being forlorn once again.
6) In the Bleak Midwinter – Katherine Jenkins
It doesn't always fix the feelings we have, or the situations we face, but thank God there are bigger things in the universe than just us.
5) River – Sarah McLachlan
Sometimes you just want to get away with it all. This emotionally intimate anthem vocalizes those feelings.
4) Christmas Blues – Holly Cole Trio
What's the use of stopping if there's no one on your list? Christmas blues. If you've got 'em, flaunt 'em.
3) Get Me Through December – Allison Krauss
Is there any mood Allison Krauss can't set with her soothing jazz blues voice?
2)  Better Days – Goo Goo Dolls
This song became more mainstream, but it was written as a Christmas song and toasts the possibility that maybe something better will come down the pike.
1. Where Are You, Christmas – Faith Hill
This song may be popular, but it never fails to recapture, not Christmas, but the mournful feeling that you've lost Christmas — lost Childhood itself. And that you gave it up, you were even in a hurry to give it up, to grow up.
Postscript: If you're lonely and alone this Christmas, the single most important thing you can do is get out and do something. Serve the homeless. Go to a bookstore or coffee shop. Someone's having to tend the quiet businesses that have to stay open. Nursing home residents need someone to talk to. if your day is given up for lost, spend it on making someone else's day somehow. The best way to forget about your own troubles is to focus on someone else's. Trust me.