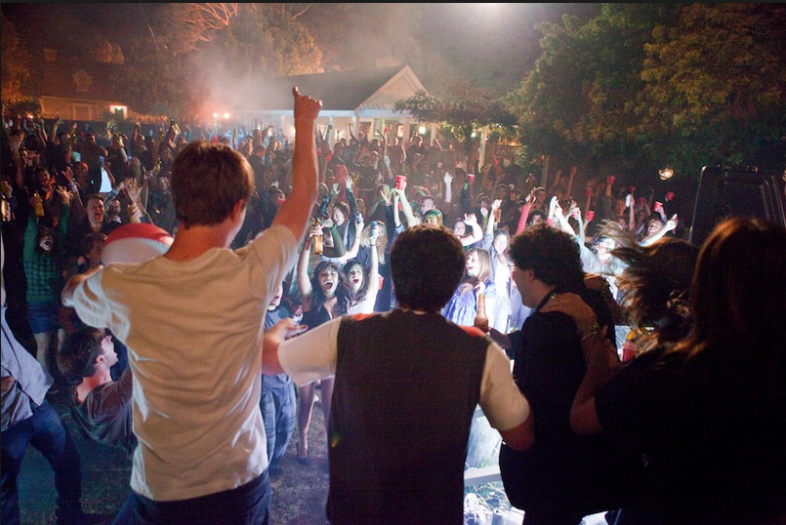 We here at the NSA have been receiving a lot of negative press lately.  Now all of this hullabaloo about us "spying" (if you could even call it that) on you is…true. But come on guys! The N.S.A stands for National Security Administration. We're just trying to keep all of you guys safe from people who may want to hurt you or this great country of ours. A little peak into everyone's privacy never hurt anyone! Still, we wanted to apologize to anyone who may have been offended by our actions. So to make amends, WE'RE THROWING A HOUSE PARTY!!!! A complete and utterly SPY FREE house party.
Why throw a house party you ask? Because they're a lot of fun! Good music, nice drinks, people to mingle with, hose parties have everything you need to have a good time. Get ready to have some fun, because at our house party we're going to have a bunch of drinks! We'll have a wide assortment of beer, liquor, vodka, AND soft drinks for those of you who stopped drinking last year…but it's not like we know who stopped drinking last year. Cleaning up after a good house party can be a chore, so we just ask that you throw all your empty drinks in our recycling bins. And you won't have any trouble finding our recycling bins because we've put a big label on each one that says "FINGER PRINT SCANNER", but those aren't finger print scanners, they're recycling bins! Good old fashion $10,000 recycling bins that make a scanning sound when you put something in them.
There's nothing like throwing down on the dance floor! And at our house party, we booked DJ Pri-VC, and she'll be breaking out hits that'll make you want to move that body! Make sure to cherish these memories by taking a bunch of photos of you and your friends on the dance floor, share them on social media sites, and use the hash tag #NSAHousePartay. We highly encourage using this hash tag since it'll be awesome to see what a good time everyone had at our house party! I mean, it's not like we'll use #NSAHousePartay to hack into your social media accounts and monitor your past, present, and future Internet activity. That shit would be plausible Cray Cray!
Our House party is going to be great, but alas, all great things must come to an end at some point. So when you think you've partied enough for the night and are ready to go home, grab a gift basket! Again, we here at the NSA are very sorry for upsetting the public with our behavior, so we've prepared some apology gift baskets to make amends. Everyone coming to our house party get's one! Every basket includes candy, nuts, an air freshener, tiny bottles of expensive drinks, and a plain old white t-shirt. Yep, a plain old white t-shirt that doesn't double as a tracking device. Sure there may be a suspicious blinking red light on your t-shirt, but you'll barely notice it over all the comments you'll be getting over your White-T like "nice new shirt!" ,  " boy that looks comfortable", and even "that shirt's dope! Especially that blinking red light on it, make sure you don't cover it up. And I'm not a part of the NSA, just a normal guy in high tech windowless van."  Get a gift basket before you go! And if you forget, we'll make sure you get that white t-shirt…
Again, The National Security Administration is all about keeping you guys safe! And we're sorry if our spy methods ticked a lot of you guys off. But come to our house party so that we can squash this turmoil. We are the NSA, and we want to be your friend! Your close, close, inappropriately close friend…