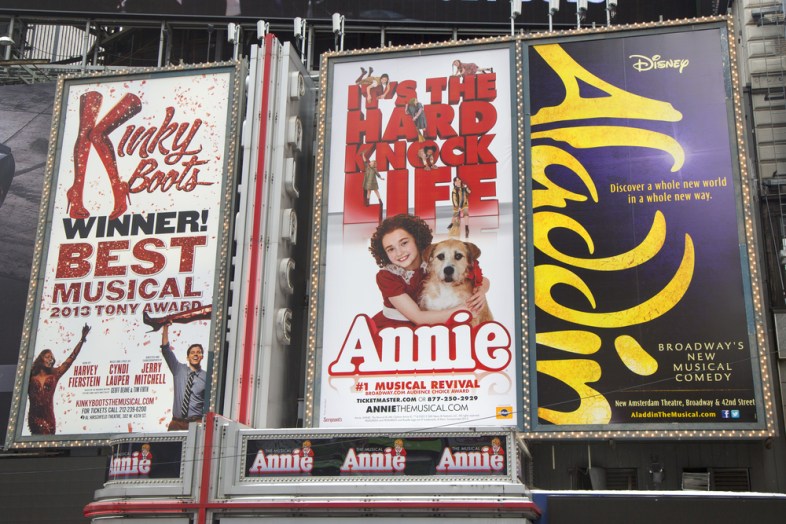 In a world of nothing new under the sun, and a fear of original ideas in the entertainment industry, is it any wonder that recent Broadway musicals have been based on popular movies? If Rocky, Heathers and Back to the Future can transition from screen to stage, then I say any flick is fair game. Here are a few ideas I came up with for movie-based musicals. To all of you producers out there reading this: Call me. Let's do lunch!
1. The Riddler on the Roof
The bright lights of Broadway are beaming the Bat signal! An adaptation of the poorly conceived and ill-received movie Batman Forever, this version features show tunes and set pieces that are sure to get your nipples as erect as those on the Dark Knight's chest plate! Holy hit parade, Batman, this production is full of bat-tastic moments! The Riddler dances atop the skyscrapers of Gotham, Two-face does a marvelous duet with himself, and the Boy Wonder sings like a robin on his touching rendition of "If I Were a Batman."
2. The Best Little Gore-house in Texas
Based on The Texas Chainsaw Massacre, this fantastic, cannibalistic cavalcade will have you tapping your toes and covering your eyes! A road trip gone wrong leads a group of friends to a remote ramshackle house. Here they encounter a family of sadistic singing psychopaths with a hunger for haunting melodies and human flesh. As the buzzing chainsaw sings, so does Leatherface, the creepy masked crooner of the bunch. His final twirling dance is a dazzler, reminiscent of Fred Astaire and Ginger Rogers (if Astaire had worn a freakish fright wig and Ms. Rogers was a gas-powered killing machine).
3. The Kink and I
We all know how 50 Shades of Grey came to be: Erotic Twilight fan fiction becomes titillating bestseller, which is made into blockbuster movie. What next? Why, a shameless song and dance money grab, of course! And the steamy subject matter is even hotter under the klieg lights! The sparks and riding crops fly when Ana Steele meets 27-year-old billionaire Christian Grey, a CEO into BDSM. Cultures clash as Ana is drawn into Grey's kinky love/hurt relationship. A show stopping moment is the arousing song "Getting to Blow You."
4. Annie Get Your Staple Gun
That 90s gag fest, Jackass: The Movie, gets the full Broadway treatment as Johnny Knoxville, Steve-o and the rest of the gang bring their painful (and painful to watch!) pranks to the stage. The addition of musical and lyrical accompaniment gives the tired concept a stirring shot to the scrotum, in a series of vignettes featuring fancy footwork, snappy tunes and comical self-mutilation. Paper cuts, road rash, anal antics and more are highlighted in the disturbing ditty "There's No Business Like Gross Business." Other numbers include "Doin' What Comes Unnaturally" and "Anything You Can Spew, I Can Spew Better!"
5. De Palma Mia!
Sex and violence meet sax and violins in this over the top musical version of Brian De Palma's already over the top Scarface. With a 100-piece live orchestra and 100s of dead bodies, this cocaine-fueled, blood-drenched story of drug kingpin Tony Montana's rise and fall is a spectacle not to be missed! You'll love the high steppin' hoofin' and the high as a kite coke snortin'. The symphony of power hungry mayhem reaches a crescendo as Tony sings "Say Hello, Dolly, to My Little Friend!" while he guns down an entire hit squad in a beautifully choreographed dance of death.