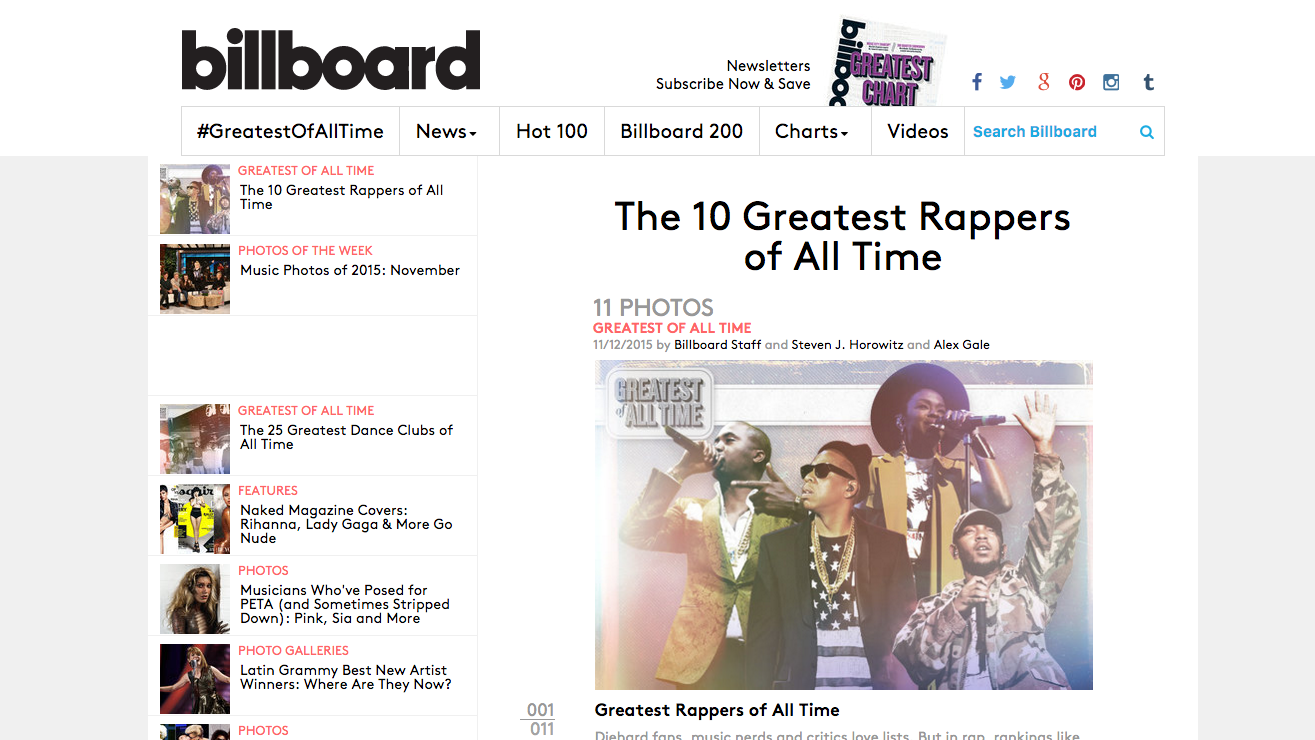 So, Billboard decided to release an abomination of a "Top 10 Greatest Rappers" list a few days ago. Not only were there some shocking entries, but it left the Internet baffled as to how such a credible publication could be so reckless.
In Billboard's defense, it is impossible to come up with a Top 10 list for such a subjective topic that spans over 30 years. That is why we have come up with this new list that includes some objective measures:
Top 10 Greatest Rappers By Era
This list is more inclusive and more fair, as it doesn't pit a Kendrick against a Rakim for example. Here are the disclaimers…
Disclaimer #1: This list assumes "great" means "great rap artist", not just lyrics or ability. For example, Maurice Green is a better sprinter than Jesse Owens, but Jesse Owens is greater.
Disclaimer #2: This list is based on the following criteria. Rapping ability (flow, delivery, wordplay etc); Strength of catalog; Impact on culture; Longevity; and "it" factor.
Disclaimer #3: There are only 5 honorable mentions per era. Sorry Prodigy, Luda, and Ja.
Disclaimer #4: Just because someone is Top 10 in one era does not mean they are greater than someone who did not make it to another era. Some era's are easier than others to get into.
Disclaimer #5: To be included in an era, a rapper has to have released material that is relevant to disclaimer #2 within that era.
After 4 hours of arguing and thousands of messages here is THE list.
1985 – 1995
10. Nas
9. Snoop Dogg
8. Ice Cube
7. Kool G Rap
6. Chuck D
5. Slick Rick
4. LL Cool J
3. Big Daddy Kane
2. KRS-One
1. Rakim
Honorable Mention: Tupac, Method Man, Q-Tip, Queen Latifah, Ice T
1996 – 2005
10. Scarface
9. Common
8. Ghostface Killah
7. 50 Cent
6. DMX
5. Eminem
4. Biggie
3. Nas
2. Tupac
1. Jay-Z
Honorable Mention: Jadakiss, Big Pun, Lauryn Hill, Raekwon, Busta Rhymes
2006 – 2015
10. Fabolous
9. The Game
8. Rick Ross
7. Young Jeezy
6. T.I
5. Kendrick Lamar
4. Lil' Wayne
3. Jay-Z
2. Kanye West
1. Drake
Honorable Mention: J Cole, Nicki Minaj, Pusha T, Lupe Fiasco, Eminem
And there you have it. Let us know your thoughts! P.s. the consensus, undisputed Mount Rushmore of Hip Hop is Jay-Z, Tupac, Nas, Biggie.
Contributors:
@FlexGodDaps
@AshleyBmarc
@Ayeshald
@Plat0la
@TheBWNG
@Gerald_tweets