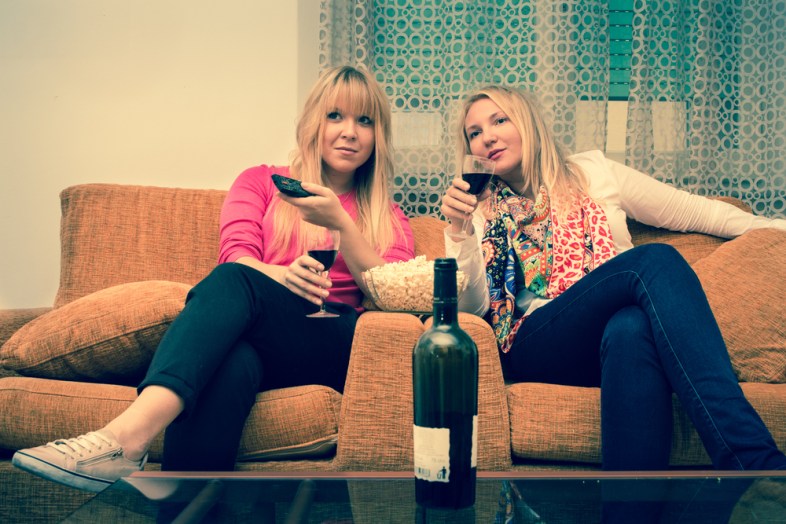 This is a good wine drunk. Not a "your friends hate you, your ex lost two pounds, and Hulu doesn't have the 6th season of The Good Wife" wine drunk. Here, you're happy, you're dancing, and you may even be doing laundry?! What! Now, no wine time can be complete without a playlist, and that's where I come in to help you get the ball moving and the Pinot flowing.
DISCLAIMER: Any solo wine drinking can go from popping bottles to crying your eyes out within hearing five seconds of a Sam Smith song, so please respect the power of your song choices. Also, I placed them in an order that I think is most natural, so get with me. But also you can shuffle it up, I don't MERLOT your preferences, LOL.
Got To Be Real – Cheryl Lynn
[youtube https://www.youtube.com/watch?v=tlCC1XojRzM%5DRemember that time Carrie Bradshaw fell while walking the runway in a blazer and underwear? But then remember when she got back up (after gesturing to her friends for 30 seconds, SO CAJ) and continued to strut her heart out? Yeah you do. It was so symbolic, and more importantly set to this song. This night is your runway, and yeah you may have fell in the sense that you haven't done any dishes yet, causing you to eat your pizza on top of your pizza box from last night, but YOU'LL GET THERE!
I Will Survive – Gloria Gaynor
[youtube https://www.youtube.com/watch?v=XZGwHtGBZJU%5DThis is a classic and perhaps THE solo anthem we all need. Even if you're a lil' broken-hearted or discouraged when you first listen to it, Gloria will have you belting out this chorus in no time. Plus, flashbacks to the Season One finale of The Comeback, anyone? You are your own Valerie Cherish, babygirl. And you WILL survive. 
Don't You Worry 'Bout A Thing – Stevie Wonder
[youtube https://www.youtube.com/watch?v=BOz3p6k5O2g%5DI don't want you to think I'm super cool and listen to music that isn't Top 40. I mean I do, but I find most of these songs through Shondaland—whether it be Greys or Scandal. This is the case for this gem of gems. It's literally impossible to not start dancing with an Olivia Pope Camille long-stemmed wine glass from Crate & Barrel (invest in yourself, people) in your hand when this song comes on. White hats on. But not if you're drinking red, cause let's not take chances.
Private Dancer – Tina Turner
[youtube https://www.youtube.com/watch?v=d4QnalIHlVc%5DThis somehow turned into my 2014 anthem, even though I'm neither an exotic dancer or shy when it comes to dropping it as low as I can go (pretty low, btw). While you may not be familiar with this classic, you for sure know Tina's timeless anthem Proud Mary, and let me tellll you this is a close second. Listen a few times and then get your choreography on lock to perform in your mirror five times in a row at 3 AM. Your neighbors will love!!!
That's The Way It Is – Celine Dion
[youtube https://www.youtube.com/watch?v=T6wbugWrfLU%5DRough day? Well you're not gonna let get the best of you, NOT TONIGHT! As the last song on this list, you are content with your night and can now come to terms with your life. Now, the only thing you need to worry about is the amount of wine left in your (second) bottle and how Celine is doing with Rene's troubling health. #Pray4Rene