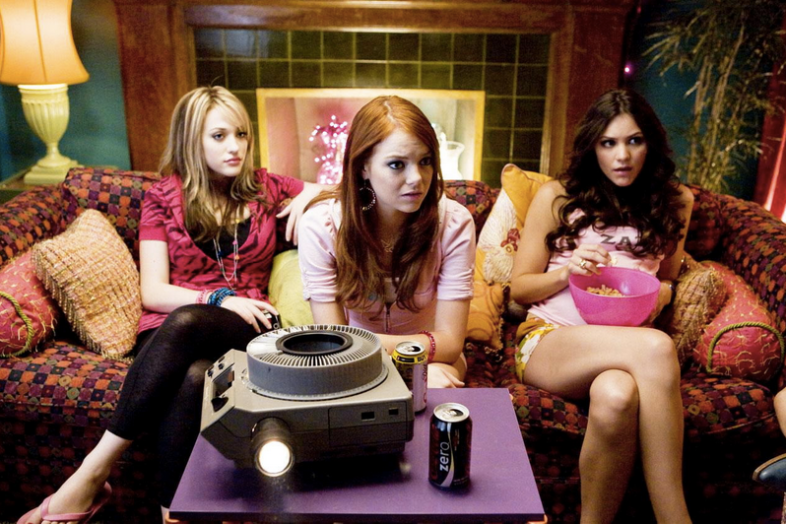 The most ridiculous yet incredible college memories are made with your roommates. Yes alcohol plays a roll in the madness that goes on, but the times when you're procrastinating work and cooking dinner can also lead to some great stories. There are moments where you swear you could have a camera crew following you around, and that's when you realize you are living with the best damn people possible. Whether it's soberly, angrily, or seriously, these are the conversations you know all too well:
1. "Why is there a video of me twerking to Anaconda as your Snapchat story?"

As you yell into the room across the hall because you realize your twelve seconds of twerking (if you can even call it that) to Anaconda will be seen and re-played by your entire grade.
2. "I just bought all healthy food because I seriously need to eat healthy." *three hours later* "I'm having some of your Oreos."

The rule: Calories don't count when it's your roommate's food.
3. "Is that my shirt?"

These are the first words thrown at you when you walk in the door from class. Um, yes it is, but you're so not sorry. With so many closets, you never have to be a repeat outfit offender again.
4. "Would you be my friend if I looked like this?"

*As you're making a ridiculous face* Seriously, this is important, you need to know.
5. "Come downstairs, we're getting drunk."

Amen! Roommate (noun): someone you can always count on drinking with. At least, that's what the definition should be. If you've had a bad day, the chances are that one of your roommates is willing to help you forget it.
6. "Can I borrow your deodorant?"

This is not disgusting, it's fantastic. Your house practically doubles as a drugstore. When you run out of a toiletry, there's a good chance someone else has it. So, if the choices are to smell like last nights alcohol in class or wear your roomies deodorant, sharing deodorant always wins.
7. "In ar broom ta bar"

This is the drunk text that means in the bathroom at the bar, obviously. Your college roommates know how to decode your drunk texting like Morse-freaking-Code, and it's incredible.
8. "You have your period? I do too!"

The best part about having roommates is that you're all on the same cycle, and even though it's been well established there is something so exciting about it. Probably because being on your period together means that you "literally can't even" with someone else. 
9. "Why does he like my Instagram's, but doesn't text me?"

This is a very serious conversation that takes place around the kitchen table. Commence some serious sh*t talking, because no one likes your roomies Instagram's but doesn't text her. Conclusion: He is so done and not allowed in our house.
10. "Do you think this is normal?"

*As you're naked and pointing to your boob* What's the point of living with girls if you can't check each other out to make sure everything looks okay? It's like having several doctors, always on call.
11. "I walked in on you straddling him in our family room last night."

The morning after a night out conversation. It's hard to decide whether your roommates are the absolute best for remembering everything you did last night, or the absolute worst because they won't let you forget.
12. "NO that's my good side! Can I have it? Please? My hair part works better on that side!"

Taking pictures in college is as mandatory as assignments. So, fighting for your good side or not being on the end (please no, not the end) is a necessary evil.
13. "I'm freaking out about the future, and life, and everything."

When it comes down to it, the best life-chats are with your roommates. Whether you like to admit it or not, they know you better than you know yourself. They are the people who are there for you when you get home from class after bombing an exam, the girls who hold you up while you walk home from the bar, and the people who you share your best news with first. In the end, it's these girls who have your best interests at heart; for these reasons and more, your roommates are the most incredible people.