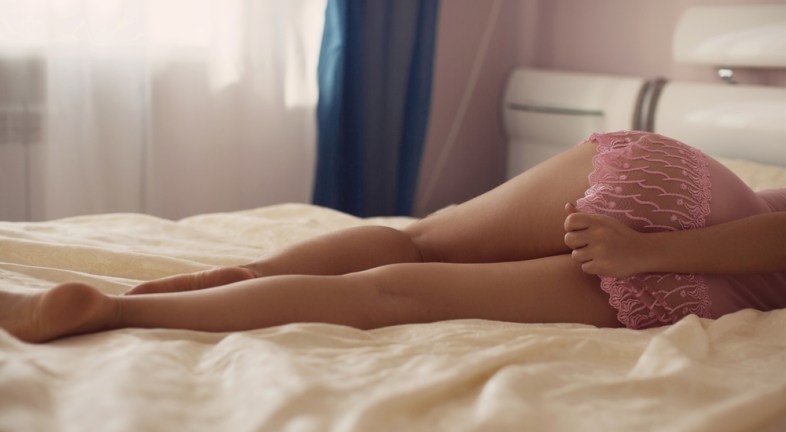 Cosmopolitan recently released a list of the hottest porn sites.
To be honest, I've mostly been getting my kicks from trolling the "eggplant friday" hashtag on Instagram. So I jumped at the opportunity to give the free sites they listed a try, and throw in some honest commentary.
The sites range from your standard porn, to audio-only, and even a site dedicated to highlighting all the pros of the uncircumcised D. Read on for some real talk on these seven sexy sites.
Star Rating: 3/5
When I visit Tumblr pages I'm used to seeing things like funny GIFs, or inspirational quotes, or pictures of girls with nice hair watching sunsets. It's kind of weird to see a Tumblr full of porn GIFs … but essentially that's just what Lady Cheeky is.
It's classier than the porn you're usually used to seeing, with black and white GIFs that are pretty hot. There's a lot of vag on this site, and not enough D in my opinion. You also inevitably end up getting tired of scrolling for new GIFs to DJ to.
Star Rating: 2/5
This site looks like something straight out of the 2000s. It's uber-hard to navigate, and you really need to know exactly what it is that you're looking for to find your category of choice.
One highlight of this site is their dirty stories section. Pretty much any sex scenario you could ever dream up can be found here, along with some things you probably never wanted to visualize (like Star Wars porn).
Star Rating: 5/5
A Tumblr full of audio-only sex sessions. You'll find everything from orgy noises to the sweet sounds of dudes and ladies flying solo.
This site great if you have a vivid imagination and just need some noise to bring your dirty thoughts to life. It's kind of like listening to your neighbors go at it, but with less awkwardness/shame.
4. Orgasmic Tips for Girls
Star Rating: 1/5
It's basically a LiveJournal of teenage girls writing down their thoughts about sex in a stream of consciousness kind of way. I'm pretty surprised this one made the best sex list for women, to be honest. Seems like something dudes would be way into.
5. Pornhub (the gay section)
Star Rating: 4/5
True story, Pornhub was actually my first experience with porn back in the day, so I have a special place in my heart for this site. Albeit, the main section is pretty basic and raunchy.
But if you're into watching dudes get themselves off while you get off, the gay porn section of this site will make you pretty happy.
Star Rating: 1/5
I'm sorry, but this is some really weird shit. Hysterical Literature is a series of episodes where women read stories … while they have a vibrator in them. Not dirty stories either — they're reading the straight up classics (the one I watched was a woman reading Sleeping Beauty).
Granted, it's definitely … umm, entertaining. But not something I could get off to.
Star Rating: 4/5
If you're not into foreskin, you just might be after visiting this site. It's a Tumblr that includes a mix of all the questions you've always wanted to ask about the uncircumcised penis, answered by a dude who has one — with videos of this guy jerking off. Lots, and lots of videos.
In fact, there's one where he jerks off for over 15 minutes. It's actually kind of impressive.