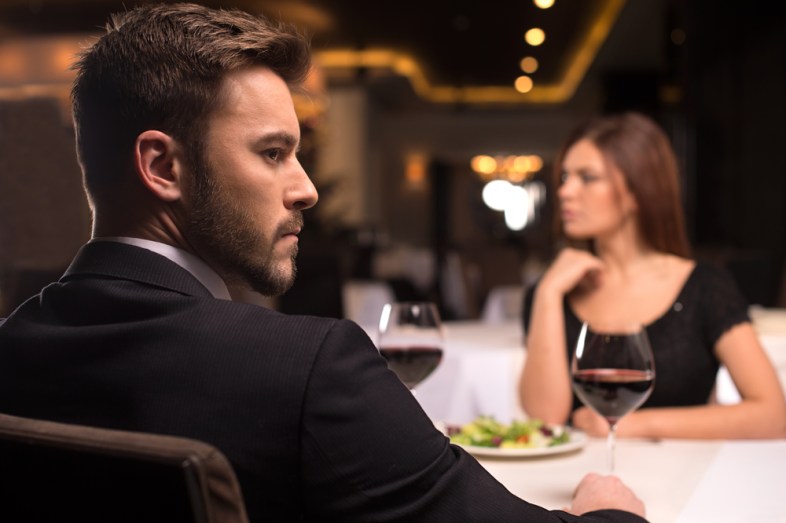 Think that ghosts, witches and goblins are frightening? Try being on a date with some of these terrifying people. These daters were tricked into thinking they were in for a treat—but things got freaky quicker than a D-list scary movie. They give a whole new meaning to "dating horror stories."
Just how creepy are we talking? We're willing to bet that none of your first dates from dating sites or mutual friends have concluded with someone asking to watch you pee (but just watch), or climbing up your balcony (it's not as romantic as Rapunzel made it seem). Putting your fate in the hands of a matchmaker isn't even a safe bet, as Ricki, 23, found out the hard way, when she was set up on a date who, despite the obvious answer, kept insisting, "We are having fun. This is fun. Aren't you having fun?"
If you're brave enough, read on for some hair-raising dating tales worthy of being told around a campfire, Are You Afraid Of The Dark style, and be happy —so happy— that these didn't happen to you. Also, be sure to comment below and share any horrifying dating stories you may have. If it's crazy enough, we may just add it to the list.
1. The tale of the IBS faker. "Over drinks at a bar my date revealed many interesting details about himself. He used to live on 'the streets.' He claimed to have 'beat Spina Bifida.' He had had a fiancé in Japan who was open to him dating women while he was in the States. After all those amazing revelations I let him know our relationship would not be romantic. As we walked out of the bar he appeared to be suffering from some sort of stomach cramp. He told me he suffered from severe IBS and desperately needed a private bathroom. I have family members who suffer from Crohn's disease so I felt very sympathetic to his situation. I offered to let him use the bathroom in my apartment. After he had finished using the bathroom, he says, 'I know you said we could just be friends and that's fine. But, I was wondering if I could just watch you pee before I leave. I only want to watch.' P.S. — I did not let him watch me pee." — Miranda, 33
2. The tale of the silverware collector. "I made reservations at a nice restaurant for a date with a woman I met online. We sat down to eat, started with some small talk, and as the evening went on, things got completely bizarre. Every few minutes the waiter would go into the back, probably prepping to go home. My date gets up, walks to the empty table next to ours, grabs the salt and pepper shakers, sits back down and puts them her purse, and says nothing. A few minutes later, the waiter leaves again, and she goes to two separate tables and grabs the silverware. She comes back sits down again, and puts them in her purse. So I say, 'What's up?' She responds, 'I just need this stuff.' Out of the blue, she invites me back her place. She goes to her kitchen and dumps out all the silverware and shakers into a kitchen drawer. Then she asks if I want to smoke. I pass. She lights up and begins smoking a joint. She gets to the point that she can't even talk she is so stoned. I say, 'Hey, I think I'm going to take off now.' She barely nods ok before she collapses on the floor next to the couch. No more online dating for me." — Joe, 45
3. The tale of the salivating cop. "One time, I went on a Match date with a NYPD Transit cop. He showed up 15 minutes late, slammed 4 scotches and then told me he was on Vicodin because he had gotten a Cortisone shot in his hand earlier that day. After 40 more minutes of virtual silence and him staring at my chest like a starving infant, he asked to drive me home. Never date a cop." — Joanna, 30
4. The tale of the early bedtime. "We went out to dinner, and he kept saying over and over that he was so tired, and had to make it an early night. He dropped me off at home, but I wasn't about to call it a night just because he was lame, so I met my friends at a club. Lo and behold, there he was! My friends and I taunted him so badly, he ultimately did end up making it an early night."  — Pam, 54
5. The tale of the crooked matchmaker. "A lot of Orthodox Jews rely on matchmakers to set them up, so I decided to give it a try. I met my 'match' at this loud sports bar and already knew it was going to be bad. I told him he looked nice, and got nothing in return. He timed the date. How do I know this? He kept checking his watch and got frustrated when I didn't know what I wanted to order. The entire date felt like an interview. Then he calls me out on it and tells me I am required to ask him three questions. We had already gone over all the basics. I had told him all about my job at a startup when he said to me, 'I don't understand what the issue is. This is a date. This is fun. You work in a stressful environment and somehow manage that. How can you not handle this—we are having fun. This is fun. Aren't you having fun?' After exactly an hour and a half he announced the date was over. I was not done with my drink. He did walk me to the subway but I never heard from him again, thankfully." — Ricki, 23
6. The tale of the leg shaving activist. "I met a guy on OkCupid that was cute enough, and he suggested one of my favorite wine and tapas bars in the city. I apparently didn't read his profile thoroughly enough, and he started making really insane, ridiculous statements — and wasn't joking. To name a few: 'Gay people shouldn't have the right to vote because they aren't real citizens,' 'Women shouldn't have the right to choose if they shave or not — no man wants to touch that,' 'But you'll quit your job when you get married, right? And stay at home?' After I excused myself to the bathroom, I calmed myself down, laid down a $20 and walked across the street to a gay bar and shared my story. I got free (and much needed) tequila shots all night." — Lindsay, 26
7. The tale of the fertility fetish.
Me: (chewing main course)
Him: It's really nice to be here with you.
Me: (smile, still chewing)
Him: You're a very attractive girl.
Me: (more of the same)
Him: So… are you fertile?
Me: (refrain from spitting food all over him, chewing slower now)
Him: I'd like to have children sooner rather than later. I mean, I am almost 35 now.
Me: Um. I'm not sure. I've spent a lot of time making sure I'm not fertile due to the miracle of birth control.
Him: What are you using? Are you willing to stop taking it? I mean, how quickly do you think you could get pregnant?
Needless to say, I did not stop taking birth control and there was not a second date." — Steffi
8. The tale of the serial killer enthusiast. "My date and I found that we had a mutual morbid interest in true crime stories. He told me he had a collection of pieces that infamous convicted criminals had done while serving their time in prison, and out of sheer curiosity I agreed to go back to his place to check them out. His house was packed from wall-to-wall with serial killer memorabilia: photographs, articles of clothing the killer had worn, news clippings, artifacts collected from crime scenes, handwritten letters…anything you could even remotely link to a famous serial killer, this guy had won at an auction and was now proudly displaying in his home. It was terrifying!" — Kasey, 26
9. The tale of deception. "I was very excited to meet my date because his photo looked like a young Matt Lauer (wearing a bathing suit, six pack abs, with full head of hair.) I was in the waiting area and some guy walks up to me and says, 'hi', but I didn't think it was my date. This guy looked more like Willard Scott with no hair and a very large stomach. It WAS my date. I asked him how old his picture was and he said 20 years! UGH!" — Barbara
10. The tale of the persistent suitor. "A guy I knew in high school asked me to go out for drinks, and when we got to the bar, his line of questioning was very strange; he definitely wanted to know a lot more than how I had been since high school. His questions included, 'Are you into hair pulling?' 'Are you into dirty talk?' and 'How many guys have you been with?' A few days later, he texted me complaining that I was ignoring him and that he had real feelings for me. I didn't respond with more than, 'I'm sorry, I don't feel the same way.' I received random texts from him for months that I never replied to. Then he texted me 6 months after our date asking if we were 'cool.' I said yes, and we engaged in pleasant conversation until he began bombarding me about a relationship. I said I wasn't into anything physical, because that was obviously all he wanted. He said he understood, but the next day I got this text: 'I lied yesterday. I want a physical relationship. And I want it with you.' Needless to say, after that he was BLOCKED." — Megan, 25
11. The tale of the breakdancer. "I was on a date with a single mom, and in order to make the date work we'd need to pick up her son from his job and bring him home at some point during the date. His name was Mitch, he was about 25 and pretty bulky, and didn't speak a word to me or make eye contact at all, which was fine, I get that it's weird to meet a guy that's on a date with your mom. He was silently eating as the subject of conversation turned to how Carol and I both danced a bit in college. Mitch looked up and with a mouthful of half-chewed fries said, 'I dance.' He went back into his shop, and came out with a huge piece of cardboard and a boombox. He laid them down, pointed at me and said, 'You and me, right now.' He then did some breakdance moves about as well as a large guy could. After about a minute and a half he got up and said it was my turn. Not wanting to chicken out, I decided I'd give it a go. The cardboard was ridiculously wet with Mitch's sweat for the short amount of time he had been on it. I started what I remembered from an old routine, but within a few seconds I slipped on the sweat and fell directly onto the boombox. Mitch, who had returned to his garlic fries, was now laughing so hard that he began throwing up into a potted plant on the patio." — Jon
12. The tale of the animal wrangler. "His profile was nice but a red flag should have been raised when he informed me that he didn't talk on the phone but would answer all e-mails and text messages. I ignored that flag and went out with him anyway. Our dinner date was not normal. He would only meet me for Happy Hour at Applebee's and then he informed me that if we continued dating he would have to kill my dog because he didn't like animals. Let's just say the date was over after that and I never spoke to him again." — EA, 35
13. The tale of the balcony climber. "Apparently, my date followed me home, which was not hard to do, since we met at a cafe five minutes away from my place. He decided that it was a great idea to try to climb up my balcony to see me. There I was staring at him at 3 am, deciding whether I should pull him into my window, or just call the cops and let them collect him off the pavement. I ended up pulling him in — and getting him out of the front door." — Elena

This post originally appeared at YourTango.