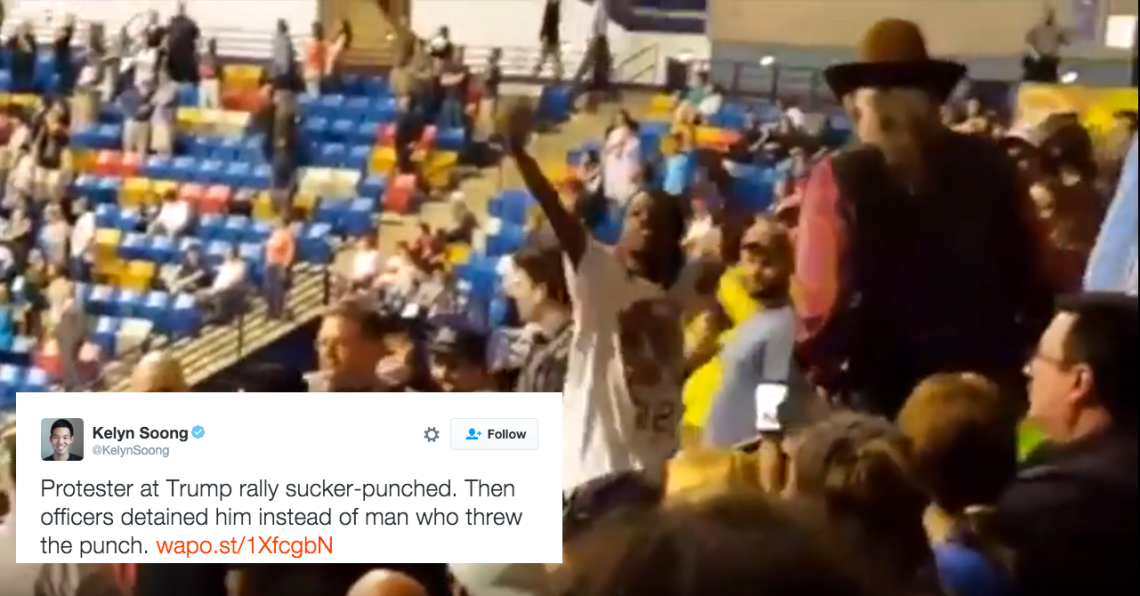 This happened at a Fayetteville, North Carolina rally last night. The phone video isn't great but you can clearly see BLM protesters being led out of the rally by security when a man in a cowboy hat and a vest (seen above) decided to sucker punch one of the protesters. Security then takes the man who was punched to the ground while the attacker appears to be left untouched. Reaction from social media has been swift.
https://twitter.com/therobfoster/status/707968257848844289
https://twitter.com/ptsdjedi/status/707955853404585984
https://twitter.com/wearethe77cents/status/707949488439222273
Aaaand here we have the Brownshirts. https://t.co/qEJErdE3DA

— Mikey (Rainbow Showers are Golden) Alexander (@mikeyhatesit) March 10, 2016
The below video of the attack shows the event both before and after it occurred and from multiple angles. Tensions between BLM protesters and Trump supporters have been increasing at these rallies over the last few weeks but had mostly just been yelling, pushing, and shoving. This is the first time an assault of this nature has occurred.