On Sunday, two armed individuals attacked a cartoonist convention in Garland, Texas which touted itself as a kind of free speech protest. All of the cartoons represented at the convention focused solely on cartoonist's depictions of Muhammad which is considered offensive to some sects of Islam.
The two attackers managed to shoot and wound a security guard outside of the event however they were subsequently shot and killed themselves by police officers before they could attack anyone else. Police, fearing that the car they used to get to the event had explosives in it, called the bomb squad after the two were killed. No explosives were found.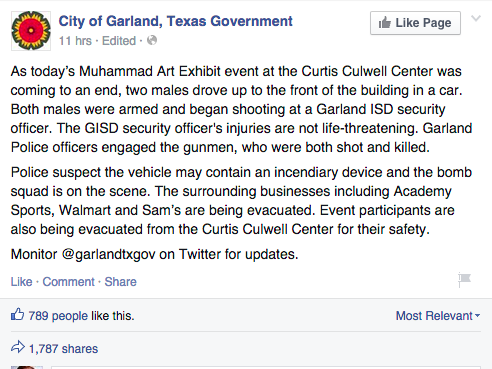 CBS and others have released the name and image of one of those involved in the attack. His name is Elton Simpson and he was previously involved in a terror investigation in 2011 wherein he attempted to travel to Somalia in order to engage in jihad there.
One suspect in #garlandshooting has been identified as Elton Simpson, official says – http://t.co/HrTyJfLzRV pic.twitter.com/Qefd7QZdO6

— Brian Ross Investigates (@BrianRoss) May 4, 2015
Prior to the attack, the following tweet was sent out however it's unclear whether or not this is Simpson's account or some other. There are also reports that the two individuals who carried out the attack were pro-ISIS.
https://twitter.com/servantjihadi14/status/595068849730400256
Details on this will undoubtedly continue to come out and a number of questions still remain.