What is a merkin? I was unfamiliar with this term until recently, when I found several news stories about Evan Rachel Wood's slated full-frontal nude scene in the upcoming HBO series Mildred Pierce, based on the classic Joan Crawford film from 1945. Wood was nervous about the scene, in part because the downstairs region of her body didn't conform to '30s standards, when women were not in the habit of sporting landing strips or any other number of bikini-wax variations. But Kate Winslet, her co-star and no slouch to undressing for the camera herself, told her not to worry; she could wear a "wig" – or, more properly speaking – a Merkin, to cover up those meat blinds and look more authentic.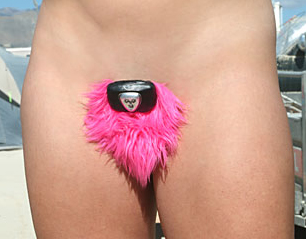 The Merkin has its origins in ancient history, as early as 1450, according to the Oxford Companion to the Body. The vag wig was originally used for health and sanitary reasons (crabs, or pubic lice were a common problem), because without the marvels of modern medicine, sometimes little could be done other than a full-on shave. Left with no pubic hair, some women opted to wear a wig over that region.
There is a darker side to the story: afflicted with various sexually transmitted diseases and forced to work all the same, prostitutes had to cover up evidence of their downstairs afflictions.
Over time, the Merkin evolved into something more than just a cover up for an area that, if it weren't for health concerns, would otherwise be left unshaved. Mentions of the Merkin appear in classical literature, such as in Alexander Smith's A Complete History of the Lives and Robberies of the most Notorious Highwaymen (1714): "This put a strange Whim in his Head; which was to get the hairy circle of [a] prostitute's Merkin…this he dry'd well, and comb'd out, and then return'd to the Cardinal, telling him he had brought St. Peter's Beard."
Men also wore the Merkin centries ago, when women were not allowed on the stage. The pubic wig proved to be a method of covering up their junk (this idea was suggested in Joseph Harker's Notes and Queries).
In more recent times, the Merkin has evolved into an erotic toy, used as a decorative object. According to merkinworld.com, "the wearing of a pubic wig is a sensory experience. The wig can allow the wearer a certain 'jouissance' as it is made of fibre/hair that has been selected by the wearer, and it is worn on an erogenous zone."
As an erotic accessory, the Merkin knows no bounds; it can be used by men in drag, or it can act as a decorative object, suggestive of sexual innocence, promiscuity, or any other number of sexually charged meanings. Merkinworld.com offers customized Merkins for adventurous clientele curious about sprucing up their bush area.
Of course, the most mainstream and famous use of the Merkin relates to its use in Hollywood. Up until the creation of the Motion Picture Association of America (MPAA) in 1966, there were was very little, if any, nudity depicted in Hollywood productions. The MPAA freed up studios and filmmakers to do whatever they wanted – but each film would be submitted to the MPAA board and assigned a rating (in theory, this avoided government censorship, but it amounted to the same thing because movies are made specifically with MPAA rating guidelines in mind).
The MPAA is notorious for being hypocritical about their rating policies regarding depictions of sex and nudity, and here is where the Merkin comes in. Although a Johnson can be shown in its full glory, female genitalia or meat blinds cannot be depicted unless a film is given the NC-17 rating – which ensures that it won't play anywhere, and will instead probably be released "unrated."
In an age when landing strips and variations thereof are the norm, the Merkin allows contemporary actresses to cover up their downstairs region and meet the MPAA guidelines.
The feminist blog Jezebel famously documented the 14 most famous uses of the Merkin in cinema and television history; highlights include, of course, Kate Winslet in The Reader, as well as Amy Landecker from the recent Cohen Brothers' film A Serious Man, and Patricia Arquette in Human Nature, who made her own Merkin because she didn't want to show her own pubes.