The first thing we noticed as we entered the tunnel was its slope, which I think we all expected, except instead of sloping down into the earth the hole slanted upwards, ascending into the mountain. Out flashlights and headlamps illuminated the earthen walls yet saw no immediate end to the tunnel, which seemed to extend almost impossibly far.
Markus led the way, followed by Anthony, Forrester, and myself. I looked in awe at the almost circular hole that could almost comfortably fit a tractor within, provided you never intended to turn around. It was maybe a hundred yards into the tunnels depths that we first noticed a change and felt hesitant to continue. The air felt cool…yet thicker. It was uncharacteristically more humid than any of us were used to. At first, we dismissed it as a result of being underground until we also began to realise we also felt lighter. Not only that, but the air somehow seemed thinner, like we were suddenly much higher in altitude, even though no mountain on my property was more than a few hundred feet tall. As our nerves began to take hold, Markus noticed what seemed to be an opening ahead, possibly into some sort of cavern. With none of us wanting to be the first to suggest turning back, we all agreed to at least see where the tunnel led before heading back.
After another 50 or so yards, Markus came upon the opening and froze. When asked what it was, it seemed all he could do to manage a wordless stutter, apparently rooted in place by whatever it was that he was witnessing until Anthony made his way beside him to shine his own light into the opening. I caught a brief glimpse of green on the ground before Anthony turned his head back and slowly, disbelievingly called Forrester and myself forward.
Exiting the tunnel, we stepped into…I still don't know how to describe it, a Jules Verne novel? The center of the earth? All that I know is that I now think of it as hell. What looked like greenish-black moss and algae covered the ground around us and giant, impossible plants grew amongst the moss. Various black-leaved ferns grew several yards, like those you would see in pictures of tropical climates, some growing upwards and branchless, maybe 10 feet tall with leaves like black pine needles reaching for the sky. And there was a sky. As impossible as it sounds, the four of us stood in silence, in a tunnel dug into a mountain at our backs, staring into a night sky. At first, my mind didn't want to believe — it reeled at the idea. I first rationalised that they were some sort of glowing insects on the cavern roof, that there was no way they could be stars, but it wasn't long until I realised that the size and shape was wrong, even for stars. Together we stared into a night sky dotted not by distant suns, but by distant galaxies.
All around us, under an alien night sky, life grew up from the ground. The trunk of some massive tree reached towards the night sky just to the right of us, nearly a 100 feet high and four feet across, yet instead of branches, it looked more like an asparagus stalk, sprouting tightly packed, pale looking pods that resembled mushroom caps. Another tree looked not dissimilar to a spanish dagger cactus, yet with the same black leaves as the alien fern and almost three times larger than it should be with bark that resembled alligator skin, dotted with large white flower towards its apex. Around us countless alien plants grew, too many to recall had I even noticed them, because that was the moment something grabbed Anthony.
Our first warning was a rapidly approaching series of clicks, but apart from that, the thing was impossibly quiet, swooping down from above with blinding speed and snatching Anthony up, carrying him screaming into the darkness as the rest of us were knocked to the ground by a gust of wind. By the time we were up and calling for Anthony, he was gone and Markus was running after off into that alien landscape, screaming his Anthony's name as Forrester and I gave chase.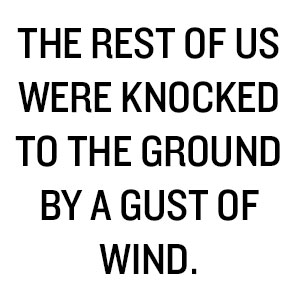 Our chase was hampered by how light our bodies felt, every step propelled us farther than we were used to, which made it difficult to balance ourselves at any speed. Regardless, Markus had enough of a head start that by the time we caught up to him, he'd already started firing. He was aimed into the branches of some alien tree above him, firing shot after shot until something fell at his feet. Following his gaze, it was too dark to see high enough into the tree, but bringing the scope of my .308 to my eyes, I saw the creature. Through the green colouring of my night scope, I couldn't make out the color of its feathers, but the creature was huge. It was large enough to steal a small horse into the sky. The creature was armed with talons the length of my arm, which were wrapped around a branch, a long, needle-like beak protruding from the centre of a flat, only vaguely bird-like face. The creature seemed like some unholy union between an owl and some reptilian creature. Its face was almost entirely free of feathers and covered in a scaly skin with a pair of forward-facing eyes so large that they seemed to take up more than half of its head. It sat on the branch, letting loose a series of bizarre clicks until one of Markus' bullets struck its abdomen and it took off, flying away into the night.
We looked to Markus and saw him crouched down over Anthony's crumpled form — he had fallen from the branches when Markus had started firing. Even before making my way to him, I knew he was dead. The fall was too high, his body looked too twisted. When the light from my flashlight illuminated his body, I immediately wished it hadn't. The creature's talons tore his chest, stomach, and legs open. From the state of his innards — as they lay splayed around him — it was apparent that the creature had begun to feed before Markus started firing upon it. As we stood in stunned silence around Anthony's corpse, Markus began to moan, a low, woeful sound, as if his body and mind couldn't reconcile whether to be violently ill or if he should cry out in anguish. Forrester and I stood silently, neither of us certain of what to do. We were unable to process that our friend was dead until it slowly dawned on us that none of us knew where we were. In our haste to save Anthony, we had left behind our only means of returning home.
It was at that moment I truly began to feel what others describe as despair, a feeling of such hopelessness fueled by the loss of one of my dearest friends and the crashing realization that we were alone, trapped in a place that had likely never before been seen by human eyes. I felt what seemed like tears of panic and sorrow begin to form. My breathing quickened as panic threatened to consume me. My heart hammered away — I know not whether from fear of from adrenaline, yet through some means I will never fully know, I was able to keep my composure, possibly because I still refused to believe that any of what was happening was real.
When we tried to tell Markus of our situation, a fury seemed to take over, adamantly refusing to leave Anthony's body where it was while we tried to explain to him through panicked whispers that it was too dangerous to try to carry him with us, especially if other creatures like the one that had carried him away were lured by the smell of blood. Markus ignored our reasoning, instead muttering with only passing moments of coherence as he calmly attempted to reinsert Anthony's innards back into the torso. Markus mumbled that it would be okay, that things were lighter here, that he would take Anthony home and patch him up, that he'd be okay as long as he got him back out into Paint Rock Canyon, because where they were was so impossible that it would be impossible for him die there too. His ravings became louder and louder as Forrester and I frantically tried to calm his growing madness.
From where the next creature came from, I still do not know, but like everything else on this world, it was monstrous and impossibly large. It made no noise when it grabbed Forrester between its massive pincers and Forrester's attempts to scream were cut off by a gurgling wheeze when he was torn in half, as if all the air and blood were trying to escape from his lungs at once. In the dim torchlight, the creature seemed jet black, as wide as a feral pig, yet its serpentine body trailed more than 15 feet behind it. Its head seemed to be little more two giant eyes that had formed into one, yet was like that of an ant while the rest of its body was like that of a centipede, covered in a insectile, chitinous exoskeleton that seemed almost reddish-brown in color.
Blood and viscera spilled onto the alien soil as Forrester's legs fell away from him, the same wheezing, gurgling sounds escaped from his lips for what seemed like minutes. I am ashamed to admit it, but at that moment, panic and fear took their hold on me and I found myself stumbling back, toppling over Anthony's crumpled body. I crawled backwards in an attempt to escape the nightmare that was illuminated before me. My last memory was the sounds of Markus chastising me followed by several rounds of gunfire and a sharp pain as something struck the side of my head, followed by the darkness of unconsciousness.
When I awoke, I found myself alone. As images and memories of what had happened returned to me, I sat up in a panic. I was back within the tunnel, presumably carried there by Markus, but the bodies of Anthony and Forrester were nowhere to be seen. In the distance, I heard no gunfire, no screams, no clicks from some monstrous raptor soaring through alien skies, scanning the land for prey. Out of fear, I refused to call Markus' name, instead I fled down the slope of the tunnel, and refused to look back. Not even when I exited the tunnel back onto familiar earthen soil and ran to the waiting vehicle did I dare look at that tunnel, terrified that I might see that gargantuan insect-like creature pursuing me.
Everything following that was a series of calls, first on short-wave radio and then to the sheriff on my landline once I found myself back home. Search parties were mobilized, questions were asked, I was treated for shock, underwent numerous evaluations, was asked whether it could have been a mountain lion — whether my mind had created the scenario to deal with the trauma. They found the tunnel, but it led nowhere. No alien world lay beyond. It simply ended with an earthen wall some 10 feet in. Officially, it was dismissed an abandoned illegal camp being used as a mountain lion den, but there were rumors that there was no sign it had been used by either. People began to talk, to say I had snapped and killed my friends. But I know what happened, what continues to happen.
Whenever I find the corpse of a deer or an elk, I know it was some hellish, clicking, avian creature that slaughtered it, flying forth from whatever doorway is contained within that canyon. I know I can't ever sell this place, for I am the only one who knows the signs to look for, for the tunnels to cave in. I haven't found any more since that night, but I know they're out there, leading to the bodies of my friends who've been left to rot in some unknowable hell, under the sky of a world between galaxies in the darkest region of existence.
And yet I can never truly call it hell, because if it was, then why did the tunnel ascend?